Photos Courtesy of Rafael Nuri/BiDoll
One of my highlights of 2016 was a chance to explore the world of ball-jointed doll (BJD) artist Rafael Nuri. I wrote a profile of her and her prolific imagination, and Nuri was a treasure-trove of ambitious future plans, and her outpouring of work was truly admirable. I guess the best comparison is to never-resting author Stephen King or Joyce Carol Oates. Neither of those writers ever seems to take a break. Such is the incredible work ethic of Rafael Nuri. She is devoted to her life's work, because dollmaking is her passion.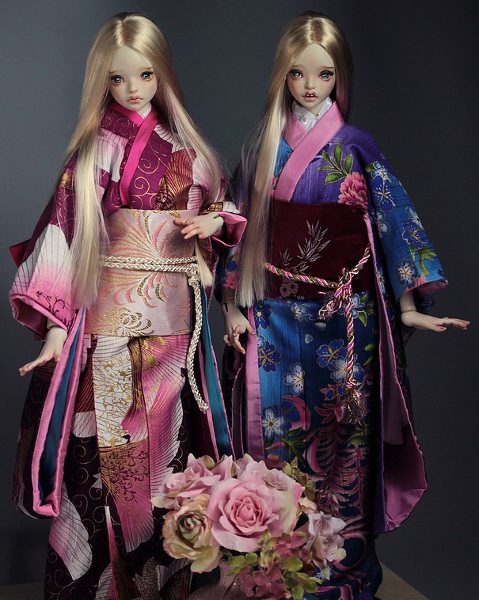 Creating under the company name of BiDoll, Nuri is drawn to the dual nature of the doll as both an art form and as a hands-on totem. "The name 'BiDoll' consists of two parts — the beginning part 'Bi' is a word-forming element that means 'two, twice, and double.' Combined with the second part 'doll,' the name means simply two dolls or two characters of one doll," she defined for me.
"I use that 'double' meaning in creating my dolls very often. My 'Aurora' has two characters and she can easily change her look from a noble queen to a gentle, long-haired angel. I use this 'double play' with characters in almost every doll I create."
Beyond imbuing her dolls with a double persona, a mirror identity, Nuri herself creates with a nom de plume. Her actual name is Yana Tsiarentsyeva, but she made a professional decision to pursue a career under a pen name. "In 2009, I started to work as a makeup artist for the Asian BJD dolls under the nickname of Rafael," she revealed. "When I launched BiDoll, I realized that my last name is just too hard to pronounce and even just to read in English. Because of this, I took my great-grandfather's last name, which is Nuri."
One of the fascinating components of Nuri's life is that her connection to dolls began very early on. It is a bonding that began when she was a young child in Russia. However, she didn't simply want to hold or play with her dolls. She wanted to try to make them on her own: "I insanely loved dolls! I would draw them on paper and cut them out with scissors. I would then store them away in a very big box. When my mom found this big box, she decided she would take me to my first art school for kids. It was the dolls that led me to this artistic side of my life!"
While residing in Russia, before she immigrated to the United States, Nuri began a path toward a life in the arts. Her tucked-away doll drawings opened up an education that lasted for more than 13 years. "I first graduated from Art School N1 in Minsk, and then I entered the very famous Belarus Glebov's Minsk State Art College and graduated with a design major," she shared. "After that, I studied at the Belarus State Academy of Arts and got my bachelor's degree in virtual media. I feel I got all the possible education I could get!"
When she reflects upon her BiDoll business, Nuri credits her years as a collector as one of its most important building blocks. She empathizes with the desire to buy and own a particular style or type of doll. That craving for "the best doll possible" is what influences her designs and creations. "When I have an image in my head, I really want to have that doll in my hands as well. My desire is so strong that nothing can stop me. My dream will come true," she stressed. "I would have to say that I am inspired by my desires. The doll is what I like the most in the world. There are plenty of ideas, and they are everywhere. But I only want to make the dolls that I would wish to have myself."
Due to her intense art background and education, Nuri was able to gravitate to the role of doll artist. Interestingly, the outspoken and candid artist doesn't think the mechanics of doll making are the most important requirement: "The most important part of making a doll is not the knowing how to do it, but rather what dolls you are making and why. I often meet artists who begin sculpting and do not think what they do. The reason they start sculpting first might have different reasons. For example, they might be afraid of materials or they might not believe in themselves. I think this is not right. All objects need to be designed first!"
Rafael Nuri is adamant that the origin of any creation should stem from these two key decisions: design and define. She maintains, "The artist should first understand what he or she is creating and what goals are trying to be reached. The basis for any successful project is a well-defined goal. I first define the goal of my project or product line and then I act. I really believe that the materials, the skill, and the knowledge will follow!"