As I strolled through Toy Fair this year, the annual orgy of too many toys, games, and video diversions assembled under one roof, I felt my head throb and my toes pinch. Several hours of trekking beneath the bright, blinding lights and hearing the constant hum of electronics can become noticeably grating, and I admit I did fear a Manchurian Candidate sort of hypnotic/synaptic blitz.  ("The next time you see a Disney Princess, you will lash out. You will lash out. Disney Princess. Next time. See it. Lash.") Luckily for my mental well-being, and for the safety of our world leaders, no such subconscious intrusion occurred, but I did have an irritable edge to me by the time I emerged into the sunlight 7 hours later.
What happens to mild-mannered reporters like me that can turn them from Brenda Starr to Ninja Star after a day spent at the Javits Convention Center? Well, I think it has to do with sensory overload and just too much of a good thing. There're too many possibilities to fully understand and appreciate. For instance, how many places exist where you can bump into the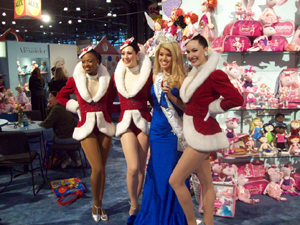 Rockettes flanking Miss America, while a PR rep explains that Cathy Rigby as "Peter Pan" is waiting in the wings? Just at Toy Fair—just at the Alexander Booth.
For the uninitiated, Toy Fair is the February unveiling of what will hopefully be both "hot" and "cool" for the upcoming 2011 retail year. Vendors from around the world descend upon New York City to sell their wares to dealers and retailers. This is the place where the business of play occurs. Yes, Virginia, there really isn't a Santa's Workshop where all those toys and games are made. Instead, companies and their factories from around the globe crank out the goods, and then these finished products and samples are shipped to Manhattan for their trumpeted debuts.
Amid all of this commerce, I did feel like a spy in unfamiliar terrain. As a member of the media and a collector, I am seeing all of these items with a different mind-set from the buyers and shop owners who crowd into the booths to pick and choose their inventory. For me, the response is all visceral and visual. "OOOOH, that is adorable." Or, "AAAAAH, that is just gorgeous."
It's a lark as I walk through the "miles of aisles" (hey, trademark that, fellows!) and rubberneck at the plastic and vinyl goodies. It's a dizzying and emotional. For the dealers who throng around the baby dolls and the latest fashion accessories, it's a matter of dollars and cents. Beyond that, it's the survival of the fittest. Their choices of what to buy and what to stock their shelves with will determine the course of their store's survival for this year. Will they pick winners or losers? Will they be having a hard time keeping their choices on hand, or will they have to come up with new ways to say "discount"?
Because of the reality of what's occurring—will a choice result in feast or famine—it's always quite odd that so many absolutely wacky moments happen, and they wait around every corner.
Imagine my surprise as I walked along a lane and saw a businessman on a mini scooter. One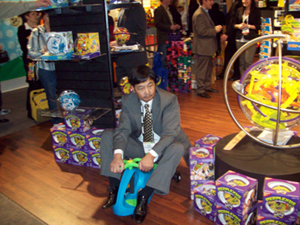 moment, he was standing vertical, clipboard in hand. The next second, he was buzzing past me, lower than even the smallest Shriner toy car. I waved to him as he vroooomed away, and he saluted as he dodged oncoming, and unsuspecting, pedestrians.
One of the powerhouses at Toy Fair is Mattel. I wended my way to their impressive real estate domain, and the runaway number-cruncher was far in the distance. Occupying their own corner of the building, Mattel is a world unto itself. As I waited for my appointment, I wondered if a Barbie lookalike or a Ken wannabe would be escorting me through the paraphernalia. As it turned out, my tour guide was a sensible and practical young woman. She immediately filled me in on what the scuttlebutt was at Mattel.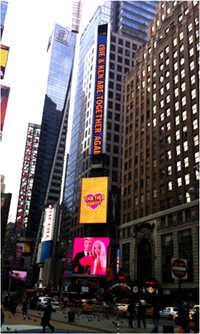 The big push was all about Barbie and Ken. Would they get back together again? A Web site had been set up to record what voters felt, and the public would make the ultimate decision whether the two lovebirds should hook up once more. (They're like the Burton and Taylor of the toy set. Can't live together, yet can't live apart.) As she told me about the campaign, which has been saturating my Twitter feed for about a month now, I listened politely. "What do you think?" she asked me.
"Too little, too late," I opined.
"But he's taken out billboards to woo Barbie," she persuaded.
"Midlife crisis," I retorted. (And it's true, Ken does turn 50 this year.)
Leaving Mattel, and heading wherever my feet would lead me, I was unprepared for the single upcoming event that would convince me that some people NEED to be part of a duo—their pizzazz merely fizzles alone. It takes two to pop. As I rounded the corner, my understanding of what constitutes a couple came clear.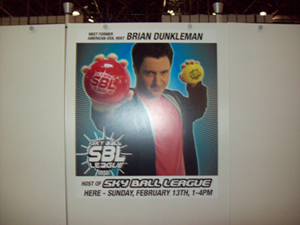 Before me, on a wall, was a photo of Brian Dunkleman, appearing the next day at Toy Fair, to shill for something called the SBL. For a nanosecond, I thought he was going to speak on behalf of the Symbionese Libeartion Army, the radicals that kidnapped Patty Hearst back in the 1970s, but then I realized that was the SLA. I was setting up to take a photo of the former American Idol (AI) host's new gig, when a voice said to me, "Why bother with a poster when you can have the real deal?"
And, yes, ladies and gentlemen, that's how I met Brian Dunkleman. His new employer, the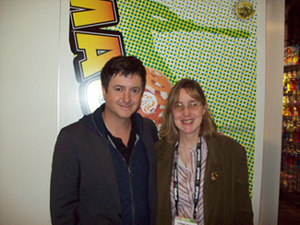 founder of the SBL, which stands for "Sky Ball League," took me by the arm and introduced me to his new league's face.
For a good Warholian 15 minutes I was their only media contact as they both pitched to me the idea of starting a new sports league consisting of nothing but superball-like toys, lots of hope, and high energy. They are aiming for TV coverage, future endorsements, and waves of popularity across these fruited plains as they travel these 50 states looking for team members to compete.
Caught up in their fever, I encouraged them, and even likened their underdog Rocky themes to a popular amateur hour.
"It's like an athletic 'Star Search,' making stars out of unknowns," I offered. "I'd say it's like 'American Idol,' but . . ."
"That's cool," Dunkleman replied knowingly.
And as I looked into his eyes, I thought THIS would be the beauty of Toy Fair. If during his manic trek to kick-start the SBL league, he manages once more to catch the eyes of a FOX producer. Realizing the errors of their ways, they woo him back to Hollywood, and reunite him with his golden-haired partner, Ryan Seacrest.
For me, that would be the epic pairing, the duo that should have been.
All I can say is that life is unkind and unfair and unexpected. Who knew that when AI debuted 10 seasons ago, Ryan Seacrest would go on to become a media mogul? And his co-host Brian Dunkleman the punchline of a million late-night jokes. Today, Seacrest dates professional dancer hottie Julianne Hough. Dunkleman is promoting a fantasy league that will consist of the untrained and the unprofessional. Who could have predicted it? I couldn't, and neither could he. But that's the way the (Sky) ball bounces!