Spend just a few minutes talking to Doris Mixon, of Lake Elsinore, Calif., and you'll soon realize you're in the presence of an avow­ed doll lover—and a colorful, down-to-earth straight shooter.
She's brutally honest, whether the subject is some of the early dolls that triggered her collecting passion ("I collected crap," she says bluntly) or her entry into the doll-designing arena (she compares her first version of the fashion doll "Felice La Rouch" to a substance-abusing lady of the evening). Mixon, who is perhaps best known for offering unique—and sometimes, risqué—dolls and doll clothing through her Fashion Boul­evard Web site, is equally enthusiastic about her commitment to helping fellow doll artists see their designs go from concept to reality. "I like to help people who have a following," she says simply.
Mixon's desire to share the spot­light motivated her to organize the Red Carpet Glamour Fashion Doll Event. The convention, scheduled for June 13-15 in Ontario, Calif., allows attendees to dress their own convention dolls in one of eight gorgeous gowns. In addition, they can meet and mingle with the likes of independent doll artists Doug James, creator of the CED fashion dolls and clothing; Sam Dawson, who designs cutting-edge fashions for her Empire Clothing line; Paul Pham, a doll re­painter who is known for elaborately transforming the faces and skin tones of various sybarite fashion dolls; and Cindy Friesen of the Red Silk Thread fashion line. Giveaways include a "Christ­ina St. Claire" doll, an assortment of clothing and other doll-related items.
"I want to show people how talented these independent people are," Mixon says. Most of the event participants have direct ties to Mixon, who is either manufacturing some of their clothing designs at her Far East factory or helping them create or retool their fashion dolls. Dawson, for example, relies on her longtime friend to produce several collections of clothing annually. "My business has grown exponentially after pairing with Fashion Boulevard," she says. "Instead of putting out two lines a year, I can now put out five or six. I reach many more customers now that there is no limit on how many pieces I can produce."
Mixon's own obstacle-laden experiences with factory mishaps have played a major role in fueling her determination to assist those who often are bumped to the back of the production line due to the relatively small size of their clothing orders. She knows firsthand the frustration and anxiety that results from waiting for fashions to be manufactured and dolls to be produced. But most of all, she realizes the importance of offering quality products at affordable prices to collectors who share her love of miniature models and their ensembles and accessories.
"I know they're going to come back," she says of her customers who repeatedly buy Fashion Boulevard's outfits, which range from $45 to $65, and shoes, which are usually less than $10. "I don't want people to say, 'This isn't a fun hobby.'"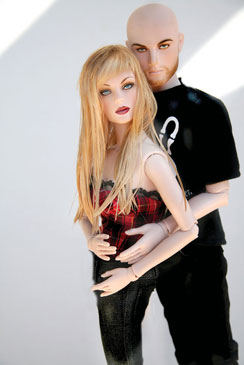 Fun was in short supply for Mixon during her formative years as a budding doll lover. She had barely started school when she and her three siblings were separated from their parents and put into a series of foster homes. Thus began a revolving-door existence filled with lots of rules but little affection. One early experience at a convent school run by strict nuns was particularly traumatic for a second-grade Mixon, whose beloved "Shirley Temple" doll was promptly confiscated and put into the community toy box. "By the time I found her, she was ruined," Mixon recalls.
Mixon, who later reunited with her mother and fell hard for all things "Barbie," survived her troubled childhood with her love of dolls intact. As an adult, she married her husband, Robert, and had two daughters. During the 1980s, she began collecting practically any type of fashion doll that caught her attention, from porcelain creations to Avon offerings. "I never really cared much for the dolls; it was the fashions that I loved," she says. She soon narrowed her focus to vintage Barbie, "Tressy," "Candi" and other fashion dolls. Once again, it was primarily the clothes that captured her attention.
A brush with a fashion icon prompted Mixon to leap from collecting doll clothes to making them herself during the 1990s. When she learned that de­signer Bob Mackie would appear at an Ontario, Calif., doll show, Mixon decided to enter. No matter that she had no designs to present; this was a chance to meet Mackie. "I had always sewn for my older daughter's Barbies, so I said, 'I can whip up some clothes,'" Mixon recalls. The task proved harder than expected, but she managed to create several acceptable garments and carted them off to the show. While there, Mackie introduced himself, praised Mixon's items and shook her hand. "I just froze. And he's looking at me and smiling and trying to get his hand away because I couldn't let his hand go!"
From there, Mixon's reputation grew. Her first-to-know list for new clothes attracted ever-escalating prices. "I would get, like, a thousand dollars for an outfit," she recalls. "It kind of took over."
She started her first company, Mixon's Fashion Fantasies, about 12 years ago. She also made a major impression at the Hollywood Gene Convention, where she won several awards for some of her one-of-a-kind fashions. That exposure led to a job designing clothes for Paradise Galleries. Other design jobs followed, but Mixon felt stifled creatively and was disappointed that few of her designs were actually made.
So she decided to go into business for herself just before the turn of the millennium. Armed with the name "Fashion Boulevard"—inspired by a "produce boulevard" section at a grocery store—Mixon hired a factory to create her own fashions and accessories. She also created outfits for the DAE Vivian line and was involved in every aspect of production, including box designs. The limited-edition outfits sold well through time, and Mixon set her sights on creating her own fashion doll. Problems soon ensued with the prototype's size (20 inches) and material (porcelain). Ultimately, she was able to commission a scaled-down 16-inch hard-vinyl version that was named "Christina St. Clair" and released in 2001. "She was too cartoony," Mixon says candidly. "I got massacred on the (doll) boards. I loved the ensembles, but the dolls. … The hands were like paddles, and when they sat down, they did the V-split.
"Back to the drawing board, Mixon found another factory to revise Christina's sculpt and redo her body in softer vinyl with bendable knees. At that time Felice La Rouch was also created. The end result was problematic: Her hair did not suit Mixon, and the facial screening for both dolls was garish. "It was awful," she says. "The clothes were fabulous; the dolls, oh my God. The bodies were okay, but the heads were just gross."
Still determined to get the doll formula right, Mixon had another head sculpted for Felice and ordered a large amount of outfits from a factory in China. Then she learned that the operation had unexpectedly been shut down, and her clothes and advance payments were casualties. At that point Mixon had had enough and was ready to quit the business for good.
In 2006 a friend approached her with an opportunity to take over a struggling factory in China. Mixon would provide funding, and he would run things. After thinking about the pros and cons of owning her own operation, Mixon decided to take the chance. A loan from her husband's 401(k) savings provided the necessary start-up money, and Mixon suddenly found herself in the driver's seat of a fledgling company. She kept only a skeleton crew, paid the back bills and began manufacturing her Fashion Boulevard clothing. She produced classic designs, as well as edgier items such as dominatrix outfits with whips and handcuffs ("It was just tongue-in-cheek," she says) and an assortment of funky shoes, all affordably and competitively priced. Mixon also decided to cut expenses by eliminating packaging. As a result, Fashion Boulevard items come in cellophane bags. "This way I can put five or six outfits in a small, little priority mailbox, and it's five bucks," she says. "People love it."
In 2007 Mixon finally saw her dream doll come to life, so to speak. A ball-jointed resin Christina St. Clair was released, sporting a facial screening de­signed by Sam Dawson. Several months later, Mixon's first male doll, "Robert Bandacourt," also with a Dawson facial-screening design, premiered. Both dolls were produced in limited editions of 30 or less. (Mixon had also previously reintroduced the Felice head on a new resin body.) More characters, including the mysterious "Zukira," are planned for upcoming release.
Meanwhile, Mixon juggles orders for Dawson, Doug James—she's redesigning his 19½-inch CED doll as a resin ball-jointed figure with reworked features and extremities—and other designers while constantly thinking up new doll-clothing temptations for her growing fan base. Magazines such as Elle provide inspiration for garments that can be tweaked and scaled down. Her clothing lines also continue to expand: She currently offers ensembles for the popular fashion doll "Ellowyne Wilde."
"I try to do contemporary—a little Goth and fetish," she says. Most of all, Mixon is enjoying the privileges that come with running her own manufacturing show. She relishes the fact that she can produce as many—or as few—numbers of clothing editions and accessories as she likes. "I really, really love what I do. I love it now. I tell you what: I didn't love it," she says. "Now, I don't have to wait on a factory."
Check out Mixon's dolls and designs at www.fashion-boulevard.com. The site also contains information about the Red Carpet Glamour Fashion Doll Event.