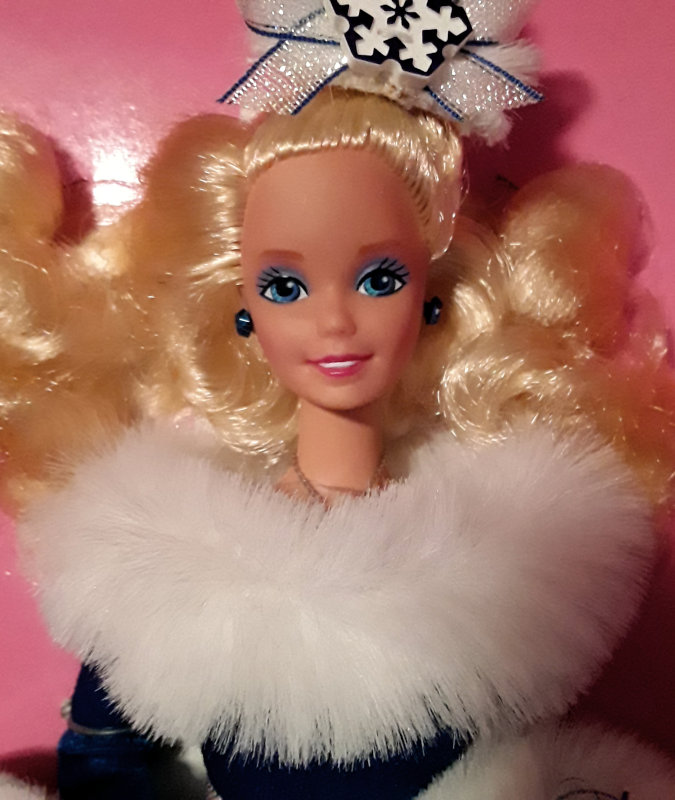 By A. Glenn Mandeville
Q: I enjoyed seeing more of the beautiful FAO Schwarz dolls in your column in the January/February [2021] issue. I have a beautiful Barbie from FAO Schwarz still in the box in a blue dress that looks very familiar to me. I'm sure you know more to the story about this beautiful doll. Can you perhaps estimate a current value?
A: I'm glad you enjoyed seeing more of the FAO Schwarz specials. Yes, there is quite a story to your doll. This gorgeous doll dressed in blue velvet with white faux fur trim originally retailed for $58, which was rather low for FAO Schwarz exclusive dolls.
The beautiful dress is virtually a copy of the red velvet dress that actress Vera Ellen wore in the 1954 movie "White Christmas." I was told at the time that Paramount, the studio that produced the movie, owned the rights to that dress in red. I cannot verify that this information is correct, but in my opinion it makes sense. Therefore Mattel, liking the dress, had no choice but to make it in another color, and blue would have been perfect for a holiday fashion.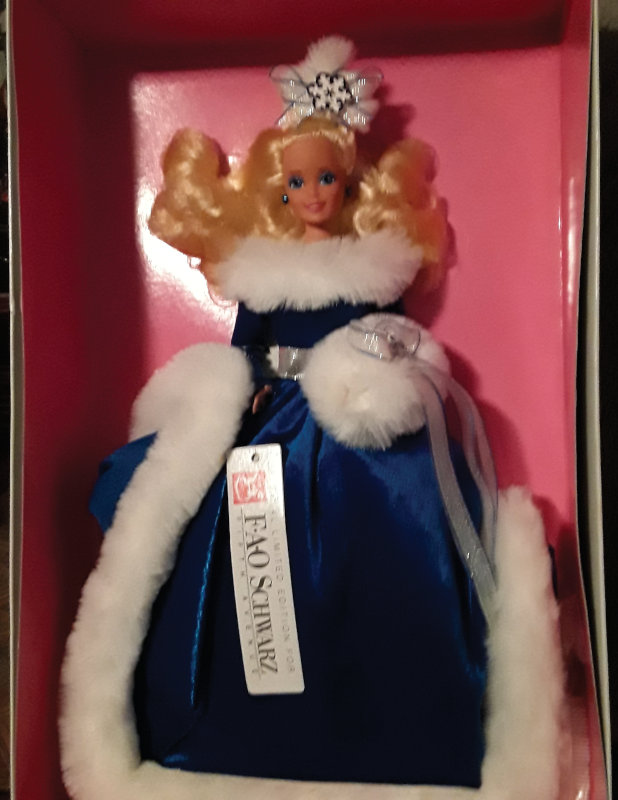 Adding more to the story is that at the time, Mattel was making earrings in red and blue that sometimes stained the dolls' ears, similar to the way the early dolls reacted to pearl earrings. Mattel and FAO Schwarz immediately issued replacement heads with silver earrings that did not stain the ears. Not all dolls were affected, and many examples, like yours, were fine. It seemed that only later issues of that doll suffered from that problem.
This is a great doll, with beautiful facial screening, and it looks stunning in any holiday display. But as I pointed out in the January/February issue, there are so many collectors that do not know about the FAO Schwarz exclusive dolls and are hesitant to buy them sight unseen, such as on a website or an internet auction.
In researching a value, I found out-of-box examples at what, in my opinion, are low prices and mint-in-box examples in the $75 range, with some higher and lower. My advice is still the same as it was months ago, which is that this would be a great time to buy these dolls, which I feel are undervalued at the moment. This is a great piece of history and captures the essence of one of the great fashions from a classic 1950s movie.
A. Glenn Mandeville is the author of numerous books on dolls and doll collecting and writes his Curious Collector column for each issue of DOLLS magazine. Send your queries about vintage and modern dolls, with photos, to Curious Collector.
Subscribe now to get access to DOLLS online archive of past issues!