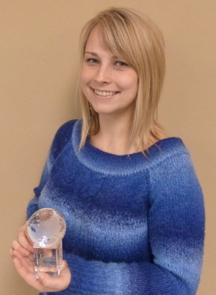 Iola, Wis. – Jan. 9, 2013 – DOLLS magazine publisher and former editor Carie Ferg received a special VIP Award for Outstanding Achievement in the 2012 Colliii Awards. The Colliii Awards are the largest online dollmaking competition in the world.
"We wanted to present the 2012 VIP Award to Carie Ferg as a recognition of the dynamism and innovation she has brought to the doll industry over the past few years," said Colliii Awards Director James Carlsson. "The VIP Award is presented every year to a person or organisation that has made a significant contribution to the doll world. It was Colliii.com's pleasure to present this to Carie as a token of appreciation for her hard work."
Past VIP Award winners include DOLLS' Editor-at-Large Jill Jackson for her work with "Doll Reader," the Biemann family from Schildkröt dolls in Germany, and such artists as Stephanie Sullivan.
For more information about the competition, go to www.colliii.com/en.