"Marguerite," a 16 ½-inch OOAK from 1998.
The hallmark of a true artist is vision and verity — Maggie Iacono has both in spades. Her notion of what defines a doll is lovely and
The recipient of the Jones Publishing Lifetime Achievement Award for 2012, presented at the IDEX Premiere 2012 Debut of Dolls and Doll of the Year (DOTY) Awards Banquet held Jan. 27 in Orlando, Fla., Iacono embodies what the award was created to celebrate: A veteran in the dollmaking world who has honed her craft for 25 years or longer and who has continued to elevate her art form during the decades.
According to Joe Jones, the founder of the prestigious honor, "The recipient must have maintained or increased the quality of their product during their time in business. There is never more than one winner per year. Anyone can nominate someone for the award, but past recipients are specifically solicited to nominate a candidate."
In the case of Iacono, many of the past winners of the Jones Publishing Lifetime Achievement Award are both her friends and her fans. Helen Kish, the 2010 recipient, is an unabashed admirer of Iacono's gentle and elegant creations. "Maggie has a gift. She is able to sculpt something precious out of cloth, imbue it with soul, and make it come to life. This is why I collect Maggie's dolls and would, even if she wasn't such a dear friend. My Maggie Made dolls fill me with joy every day. They are the only dolls Tamas and I have in our living space — not even my own dolls occupy that space!
"Maggie also has many blessings in her life; not the least of whom is her devoted husband, Tony, who always touches my heart with his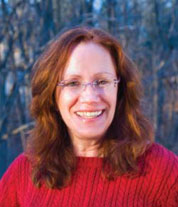 introduction to all of their programs by declaring that he lives in beauty … and then he shows an image of Maggie and their three lovely daughters. Tony is the unsung hero in the story of Maggie, as Tamas is in mine. He is the man who makes it possible for Maggie to concentrate all of her creative energy on the art of her dolls rather than the technical (and sometimes nearly impossible) engineering feats that her art requires."
When the woman of the hour learned that she was being singled out for this recognition, she said her immediate reaction was to take stock of what she had achieved and come to terms with how long she has been actively involved in her artistic pursuits. "I am very proud and honored. I don't think of myself as having been making dolls all that long, but something like this puts it into perspective, and it has made me realize that I have come a long way."
Iacono has been working her magic for 31 years, and after three decades, she still finds ways to challenge herself and to amaze her admirers. For 2012, she is following a new path: "I have sculpted a new body (both a new doll body and mine, actually, since I just ran the Philadelphia Half Marathon for the first time),"  Iacono said. "I will be unveiling a different age, namely, a 'tween doll. This has given me a whole new fashion to play with. I've also brought more vibrant color into my work recently. This opens up a new world when not choosing just pastels.
"Additionally, I also have started creating a few felt animals, specifically birds. I created 'Peter' from 'Peter and the Wolf,' with his hunting conspirators — the small bird and the duck. Making a boy alone is a departure for me. Figuring out how to make these birds gave me a fun and creative break from dolls, to design something entirely different."
Interestingly, this new step forward is also a nod to her company's origins, which wasn't exclusively doll-based at inception: It was originally Maggie Made Dolls and Bears. Eventually she moved away from teddy bears and became recognized as a leading proponent of classic, lyrical felt dolls.
"I entered the doll world from the sewing end of it," she said. "I was taught at an early age to sew my own clothes, so it follows that I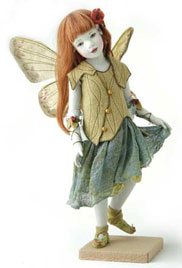 would choose, as my medium, cloth and later felt. When I had children of my own (three girls), I had a blast sewing outfits and toys for them, which included stuffed animals, dolls, and teddy bears. Then I had to make another doll and another doll, trying different patterns and techniques as I went along. At first, these were very simple cloth dolls.
"As my obsession grew, I wanted a more realistic face and body for the doll. The combination of the sculpted face and felt turned out to be a perfect fit for me. I began sculpting and inventing ways to mold felt. A great deal of experimentation went into the process of educating myself on how to create the perfect doll. I wanted a doll body that could be posed by having multiple joints. This went through many evolutions to come to the unique jointed doll I have today.
"The costuming of the dolls has always been the challenge and entertainment that I enjoy the most. I have gone from very simple uses of plain, unadulterated felt to much more sophisticated manipulations — painting, dying, embroidery, weaving, printing, airbrushing, and fusing with other types of fabric, to name just a few. I like to think of it as putting a work of art on a work of art."
One of her close friends and confidants, Robert Tonner, owner at Tonner Doll Company, has always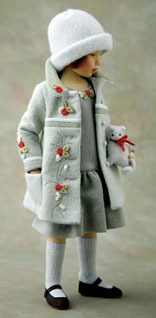 helped her to maintain and promote her confidence. "All I can say about Maggie winning the Lifetime Achievement Award is — it's about time!" Tonner said. "I can think of few artists who stay so profoundly to their artistic vision, and at the same time, constantly reinvigorate and reinvent that same vision. Maggie (and you can't just say Maggie — it has to be with Tony in there!) has a refined and gentle sensibility that shines through her work. Each and every time they introduce a new line, the beauty of their work takes my breath away. I've known Maggie for many years and it is always just as wonderful and fun to see her and Tony on the road, where our paths inevitably cross. All I can say is the only thing more beautiful than her dolls is the person that makes them."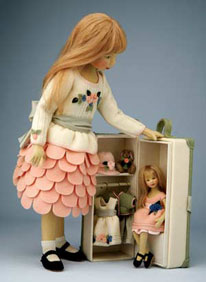 Tony Iacono, Maggie's supportive spouse and partner, acknowledges his wife's success, as well as the burning need she had to follow her dreams: "Since I have known Maggie, which is over 35 years, I knew she was happiest when creating something. When she chose dolls as a medium to express herself, I watched her take her talent for sewing, her eye for colors, her incredible taste for fashion, and her dedication to always strive for perfection and bring them all together in one of her dolls. Being right next to her over the years, I am lucky to see her creative process firsthand. I love that she is being recognized by her peers and chosen to receive the 2012 Lifetime Achievement Award. As a family, my three daughters and I are forever proud of her."
Twenty-three years ago, the Iaconos decided together to transform Maggie's part-time, thriving avocation into a full-time, full-blown business. In doing so, both of their lives were refocused and re-energized.
Tony Iacono left a successful career in retail and assumed all of the household duties to allow Maggie Iacono to unleash her artistic talent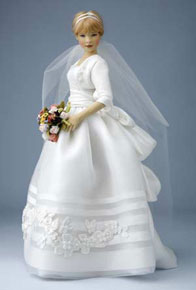 and visions. "Little by little, Tony has taken over various parts of the production and the business end of things," Maggie Iacono said. "My children grew up amidst all of this and were lucky enough to have two parents at home all the time. My three girls have also done various parts of the production over the years as well.
"Emily has played with a video camera since she was 6 and went to school to learn videography. She is in charge of our video productions, which we like to show at our events, and Amy likes to write the scripts for them. They all are invaluable for their opinion on my work and have all developed a great eye for what does and doesn't work on a piece. It's very much a family business, and that is a great source of pride."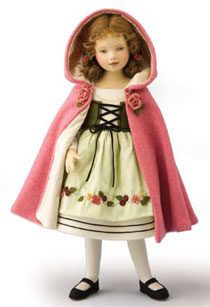 Wendy Lawton, the 2006 Lifetime Achievement honoree, expressed respect and admiration for her fellow recipient: "Jones Publishing's Lifetime Achievement Award has come to represent artists who brought a unique vision, a recognizable look, and a commitment to quality to our industry. Maggie has earned this award on all counts with her artistry, innovation, and quality. Her dolls will stand the test of time and will be treasured in fine collections for years to come."
And 2007 recipient Virginia Turner seconded the sentiments: "I have always admired her dolls. The dolls and Maggie are truly a class act."
Because the nominees are voted on by previous recipients, as well as the editors, publishers, and the award's founder at Jones Publishing, the peer review holds an enormous weight of significance, keeping it true to Joe Jones' vision: "This is the highest award in the doll or bear industry, and it will continue to be presented to worthy recipients for many years to come."
Maggie Iacono's body of work was deemed award-worthy by this select group, and DOLLS and Teddy Bear Review publisher Carie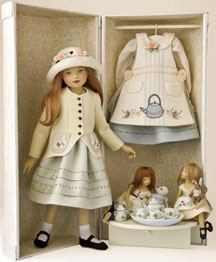 Ferg summed up the reasons why Iacono's selection was a popular choice: "Her work exhibits superior craftsmanship and astounding creativity. She's in a league of her own, and she has just kept getting better and better over the course of more than 30 years. So it's appropriate she receives recognition for her long-standing excellence as a doll artist."
The prospect of receiving awards was never important to Iacono. She has always created because it is in her nature. "As any artist will tell you, one has to constantly strive for perfection in one's work. It's more than just a want. It's a need to obtain this perfection that propels the artist forward," she said. "This need has driven me over the years to create in such ways that I feel I have briefly obtained this perfection — only to have it disappear moments or even days later when I see something wrong.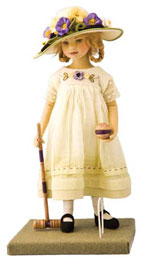 "It's that vision that makes you a better and better artist over the years. So I guess that level of perceived perfection has increased year after year to where I am now. My collectors have observed this and commented many times on how they can't believe I could possibly top what I did last year — yet with the latest doll I have done just that. This is always a goal — albeit for the most part, an unconscious one — to constantly outdo myself."
And in the estimation of 2008 Lifetime Achievement Award winners Barrie and Danny Shapiro, proprietors of

The Toy Shoppe, Maggie's evolution as a doll artist has been rewarding to watch and inspirational to witness: "Maggie has touched the heart of collectors for over 31 years. Her original felt doll designs have come a long way. From Maggie's larger early creations, with traditional jointing, to her innovative, posable dolls, with their unique ball jointing, each possesses a rare emotional quality combined with beautifully handcrafted detailing and fine needlework. She has worked hard over the years with her husband, Tony, and it is evident that they take great pride in creating their special felt dolls for doll collectors and toy enthusiasts alike. Her Lifetime Achievement Award is well-deserved!"
After 31 years in her studio — alone with her thoughts, her dreams, and her talent — Maggie Iacono said she would still rather be there than anywhere else in the world. "I have always found that doing what you love will make you feel successful and bring you happiness. I do love what I do and it can be hard work. After long hours in the studio — sculpting, tinkering, and sewing — I find myself totally engrossed in what I'm working on. It's not hard to realize that I must love what I'm doing. Otherwise, why would I have worked so hard at it?"