"Forbidden Love was an auction donation collaboration with my friend Seth Hanson for the 2019 Grant-A-Wish 'A Knight To Remember' Doll Convention this year," Lowenbein said. "Parisienne Pretty Silkstone Barbie wears a Medieval inspired pearl beaded and floral lace gifted to me from Paris, France. Her delicate gown made with a soft blue-gray tulle is finished with ivory satin mid-length gloves with pearl bows. Hair created and adorned by my friend Seth Hanson. Jeweled Elizabethan styled ruff by Isabelle Leprivey of Paris finished the look. Our French princess, Forbidden Love was honored to win a DAE Industry Award this year!"
Dal Rosario Lowenbein creates outfits and accessories for a variety of elegant fashion dolls. Lowenbein recently took time to discuss her designs with DOLLS:
DOLLS: Tell us a bit about your business: What sorts of fashions and/or accessories do you create? Is there a particular size or style of doll that you focus on as a model?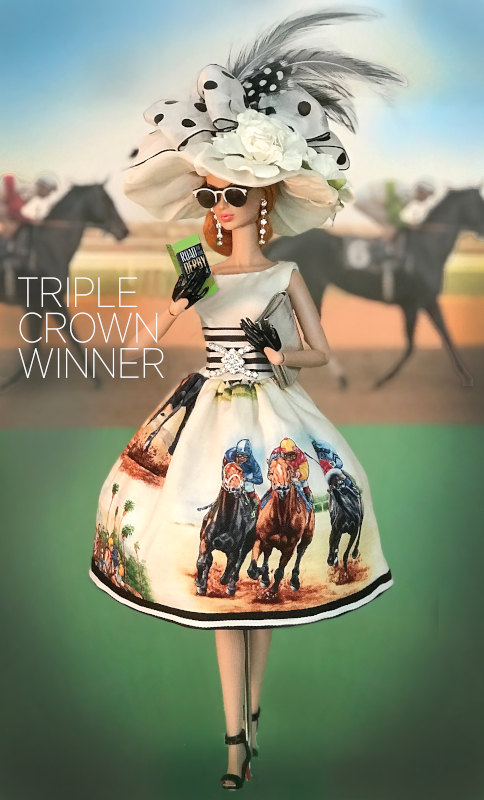 Dal Rosario Lowenbein: I love themed fashion and creating one-of-a-kind (OOAK) dolls and accessories. I also love to create clothes that are softly feminine, with an edge, ready-to-wear. I will be opening an online shop in the fall, but I do accept commissions.
DOLLS: What sorts of inspirations do you draw on to create new designs?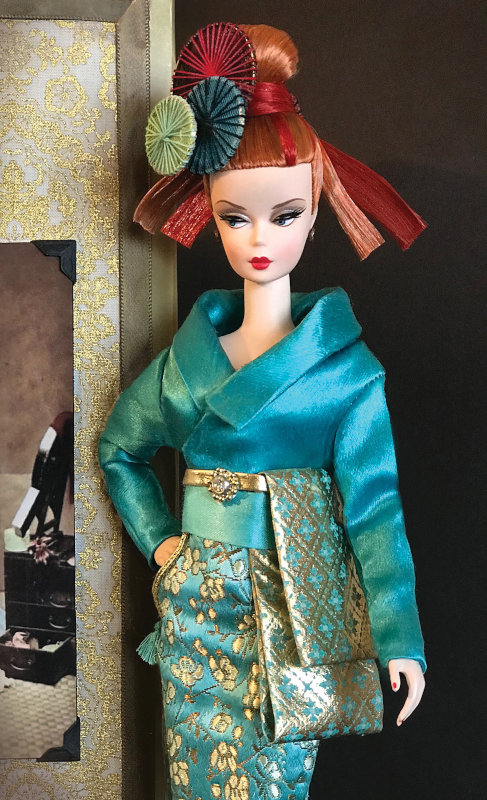 Lowenbein: I am inspired by amazing fabric. I often start with a concept in mind and may do a quick sketch. My favorite part of creating is draping and pinning on a doll. I snap photos to see if I like the silhouette and if the scale works before I start the pattern making. I am also inspired by historical fashion and the work of contemporary innovative designers.
Some history: I was a longtime vintage fashion doll collector who initially replicated Bild Lilli fashions. When my reproductions sold out at a National Barbie Convention, it sparked me to design for my modern fashion dolls. I collect "cute to couture" dolls now and enjoy making my own doll clothes and accessories.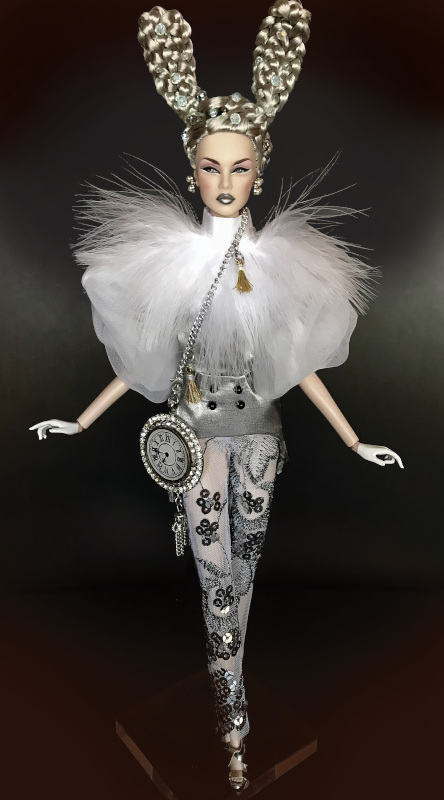 My doll fashions have been photographed by Sharon Marie Wright for an article she was featured in for (the non-doll) GlamFreak Magazine. My Mod fashion collection for the 7-inch Licca doll was also featured in Doll Reader a few years ago. In 2016, Nav Sikand and I collaborated on the premiere collection of his UK-based Anouk doll. And I'm honored to be a two-time Dolls Awards of Excellence Industry's Choice winner!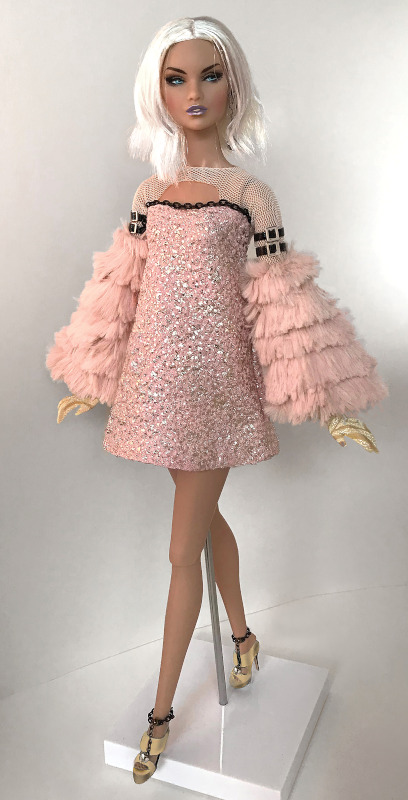 DOLLS: Can you tell us anything about your current works in progress or your plans for the near future?
Lowenbein: I am currently working on a collection of North American Indian-inspired designs to be unveiled later this year.
"Integrity Toys' Fashion Royalty Agnes was my 'Beast' muse for this fitted silk brocade gown. Vintage gold roping with pearl and turquoise crystals adorn her shoulders and bracelet. She wears semi-sheer opera-length gloves and a whimsical layered tulle wrap. Dennis Beltrán created the short side-parted hairstyle and the 'fairytale runway' repaint."