July 2010 is certainly shaping up to be the summer of the vampire. In addition to all the Twilight dolls and associated paraphernalia inundating store shelves, there's also the eagerly anticipated arrival of "Lucy" from the Integrity Toys/Ashton-Drake Brides of Dracula line.
When I first heard about these "undead wives," I had to chuckle while a Borscht Belt worth of one-liners flew through my brain: "Poor Dracula, imagine being nagged for eternity. Here's one time a vampire would wish for mortality. Stake my wife . . . please!"

I know that when I think of any bloodsucker worth his fangs, I envision him as a free bat, unencumbered by mortal coils. The idea of being saddled with a bloodsucking wife and a tiny incubus at home never enters my musings.
However, I do remember that Hammer Films, a British production company that really excelled at horror back in the 1950s and 1960s, would always show their Dracula surrounded by a bevy of buxom, gauze-clad female acolytes. I suppose those were his wives.
What would be the allure of being a vampire wife? What benefit could be derived from being a "Bride of Dracula?" The newest entry in the Integrity/Ashton-Drake line is redheaded "Lucy." And, yes, I do admit that I gleefully pictured her whining at her exasperated spouse: "Vlad, I want to be in the show. Let me go with you to the bloodbank tonight. If not, I'll dress up in a disguise, and you'll never recognize me!"
All jokes aside, I think the appeal of these macabre dolls is that they combine opulent fashion, gothic romance, bygone elegance and eternal youth. They are, in fact, made to represent women who are forever young.
Interestingly, one doesn't have to travel to Transylvania and offer your neck to a vampire to attain that status anymore. Hollywood, Calif., and New York, N.Y., are filled with women who haven't aged a day in 20 years. It's as if time, as well as their foreheads, have been frozen stiff.
Because the youth culture is so prevalent, it's incredibly impressive that a certain very un-young actress is just now having the biggest, most widespread success of her career. I'm talking about 88-year-old Betty White, who is everywhere these days. The truly timeless comedienne has just picked up an Emmy nod for her "SNL" hosting duties, and she is in New York happily posing for a 2011 calendar. Yes, the vivacious octogenarian is about to become a pinup girl. Proceeds from sales of the calendar will benefit animal rescue organizations, a cause that White has long supported.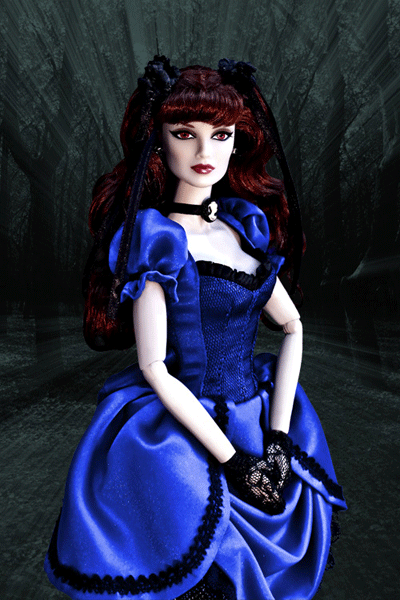 When I read about Betty White becoming next year's Bettie Page, I had to smile. It's an affirmation that it's never too late for anything, and unexpected twists-and-turns can still befall all of us. While scrolling through a message board about White's calendar debut, I noted a few respondents called Betty "a doll" and "America's sweetheart." And I wondered, "Will a doll be made of Betty?" She's certainly on fire at the moment, clearly beloved and has no problem making the rounds to publicize what she is involved in.
However, the "Hot in Cleveland" star is a senior citizen. And despite Jay-Z dedicating his "Forever Young" rap to her, she does look "seasoned."  Would a doll manufacturer dare to create a likeness that is wrinkled, freckled and has thinning hair?
There's no problem designing a doll with those characteristics that is a newborn or reborn baby but an elderly figure? I don't think so.
Very few dolls have been made of the wise old men and women who populate our world. Artist Annie Wahl has earned great acclaim for her oft-humorous depiction of older folks who refuse to slow down or sit in a rocking chair. But Wahl and her artwork are exceptions and exceptional.
Not to get all "Red Hat Society," but we're all going to be members of the AARP one day. And even if we refuse to admit to being middle-aged at 40, we have to acknowledge it by age 50 (unless you're a Bride of Dracula—then you're still in your infancy).
Growing old is a natural part of life but not a natural part of our doll collecting. Though many collectors are over 60 years of age, the doll world is still populated by baby dolls, toddlers, teens and curvaceous fashion dolls.
I don't expect the Betty White phenomenon to actually spawn a doll line, but I think it raises awareness that inspiration can come from the most unusual places. With the Lucy vampire doll being launched in July 2010, I am looking forward to seeing what other immortal icons will be joining her and will be lining display cases in the coming year.
Be assured that I'm going to do my doll tracking on my Betty White calendar. She truly is one for the ages.
Photo Captions
If you were this lovely, of course you'd be a bit vain. Lucy (middle), a Bride of Dracula doll, wears drop-dead gorgeous costumes and isn't opposed to sinking her teeth into a healthy vein. Her eternally youthful appearance is a strong selling point for the vampire craze.
Betty White (top) is having the time of her life. The tireless animal activist and actress is starring in TV shows, commercials and now her own 2011 calendar.
Golden Girls, or ladies of a certain age, are the preferred subjects of renowned doll artist Annie Wahl (bottom). Will the meteoric success of Betty White spawn more elder creations?