When I'm not busy cooing over cuddly baby dolls and swooning over surreal pieces of doll art, I have another career as an editor in true crime. It's an interesting mixture: the bad and the beautiful. I get to revel in how joyful and spiritual a well-conceived doll can be, and then shudder at how people do the most unthinkable things to other people. It gives my life a very unique perspective.
Imagine my surprise, then, the other day when one of my true crime associates mentioned that she had seen my work in the collectibles field. We got to talking about teddy bears, dolls, snow globes and all manner of knickknacks, when she "confessed" to me that she has a "Joan Jett Barbie" doll. My publishing colleague is steeped in the world of loud music and chaotic concerts. Her boyfriend is a music critic, so she spends many a night in the New York entertainment scene. The Joan Jett doll is a salute to her teenage years in the 1980s and her continued pursuit of the perfect riff.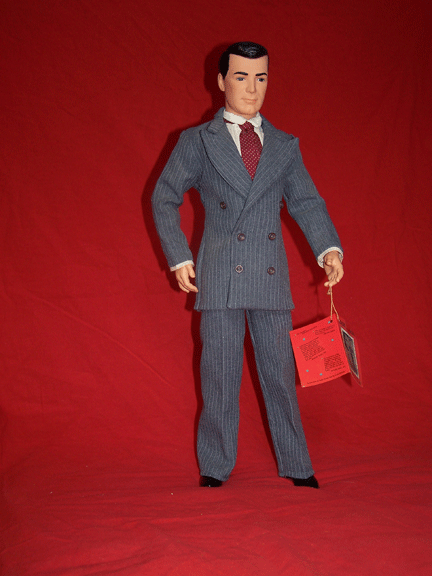 That got me to thinking about some of the dolls that I have, which reflect a part of me, either current or past. Since it's always easier to recollect than to predict, I thought about the dolls that I owned which said something about who I once was (and still am, to some degree).
Immediately, I thought about my "Cary Grant" doll from World Doll Co. and my one-of-a-kind (OOAK) doll of "Whoopi Goldberg as the Cheshire Cat," a gift from the artist Liz Shaw. Those two dolls sum up my journey in the world of dolls, symbolizing where I've been and where I might be heading.
The Cary doll is the first doll I purchased as an adult for myself. It was during a trip to visit my sister at a cottage she had rented for the summer, about 18 years ago. I had always been fascinated by dolls, and had mistakenly thought that they had to be put aside when one swapped a briefcase for a schoolbag. I had begun a subscription to DOLLS magazine that year (never imagining I would one day work for it), and I went into the Victorian-looking doll shop on a lark and as a way to get out of the beating sun. As I opened the door to the store, I remember that a bell rang overhead. That was literally my "aha" moment. A bell rang and I looked around, and the world of dolls beckoned me once more.
DOLLS magazine had been introducing me to photos of the work of talented doll artists, but seeing an entire shop filled with them was a real eye-opener. I was hooked. I bought three dolls that day, and the first one I picked up and knew I had to buy was "Cary Grant as Walter Burns from His Girl Friday." In that flick, he played a hard-bitten, hard-livin' newspaperman. It's a gem of a comedic performance, and the World Doll people really captured his looks, his mannerism and his wardrobe. It was a portrait doll that really did justice to its subject.
Fast-forward three years later, and I am working at DOLLS as a managing editor, and while I'm there, I am meeting the most talented and visionary doll artists in the world. The World Doll Co. has now expanded for me into the heady world of limited-edition artist dolls and the even more rare OOAKs.
The very versatile Liz Shaw became a good friend of mine, and she gave me an exotic doll that she created as a hybrid of comedienne Whoopi Goldberg and the enigmatic, grinning Cheshire Cat. Liz said that when she made it, she feared the rendering would never find a "good home," would never snuggle up to a person who would identify with it or "get it." When she met me, she said she had encountered Whoopi's mama. And she had.
The Whoopi/Cat is a quirky creation, to be sure. It is half doll/half stuffed animal. And interestingly, it was a harbinger of my own career: part-time doll writer and part-time teddy bear reporter. (I like to say a "cub reporter," in the parlance of fast-talking Walter Burns!)
These two dolls represent how I came to be immersed in the doll industry, and they continue to remind me of the fascinating people and opportunities this collectibles world has afforded me.
To this day I cover dolls, and I know how lucky I am to be a part of this hopeful and optimistic world. In a "real" world that can be grimy and gritty, I'm glad that I have these doll totems that serve as symbols, which mean more than even their makers might have imagined.
How about you? Do you have a Cary Grant or a Joan Jett or some personal tactile touchstone in your collection? If so, I'd love to know what doll it is, and why?  Dolls are a porcelain passport or a vinyl visa to parts of ourselves that we may have forgotten or are set to discover.
Photo Caption
Dolls have an ability to transport us to parts of our lives and connect us to the memories that swirl about those recollections. For me and my work colleague, Joan Jett (top), Cary Grant (middle) and Whoopi Goldberg (bottom right) dolls hold a key to our past, present and perhaps future, too.