Acclaimed doll artist receives 2017 Lifetime Achievement Award
One of the most rewarding parts of my job is when I have the opportunity to share good news with an interview subject. It can be the information that she's nabbed the cover placement, won a Dolls Award of Excellence, or the very exciting fact that she's about to be honored with the Jones Publishing Lifetime Achievement Award. I had the opportunity to do the latter one when I interviewed Berdine Creedy for the July 2017 issue of DOLLS magazine.
When I broke the news to Ms. Creedy about her upcoming achievement award, she was understandably touched and emotional. And when I penned the article saluting what earned her that recognition, it was a fantastic feeling to showcase her abilities, her biography, and her unwavering optimism and tender heart. If a bedtime story's altruistic fairy godmother could honestly spring to life, she'd probably become best friends with the equally upbeat and concerned Creedy.
What's truly marvelous about the weekly blog is that I get to share the items that couldn't make it into print because of space consideration. So, here's a glimpse at some of the photos that didn't saunter into the layout, accompanied by some of the sentiments that weren't able to fit into the layout. This is a great chance to have Berdine Creedy's heartfelt thank-yous and her appreciation flow out to her loyal public, highly respected colleagues, and all the other doll industry veterans she has encountered over the past 25 years.
Speaking From the Heart:
"I won many awards in my doll career and I want to thank the magazine for the opportunity it gave me and all the other artists to be rewarded for our hard and dedicated work," Creedy said. "But the awards and the articles are all the material things in life. Really, the love that I got in the industry is so much more than any of the awards that I won!
"I want my final legacy to be love, love, love, and MORE LOVE! It comes in four parts: You first have to love yourself. You have to love what you are doing. You have to love your life with your family and your friends. And, most important of all, remember to enjoy your journey. It is not forever. Your life and your career will come to an end one day.
"I have had the most awesome collectors who have always loved me and my dolls unconditionally. They became my very best friends. With me having left all my family and friends back in South Africa, I cannot explain how welcome I felt going to the doll shows. Everyone in America immediately accepted this new artist with the 'funny' accent and made me feel at home. I am still today thankful for the hearts of my collectors.
"It has been a lifetime filled with memorable people and memorable moments. There are so many people who have been in my life and were — and still are — a part of my successful journey. One thing I have learned is that I love to give. Giving is important and has always put a big smile on my face. I hope that when I give a doll to someone, it does that as well: puts a big smile on their face. Now that I am moving to a tiny condo, I have done a lot of projects with my dolls — GIVING BACK to so many places. Among them are Ronald McDonald House, children in the cancer hospital, Alzheimer wards, etc. Through my dolls, I have also always been able to give to my awesome charity. Paternoster Kids in South Africa is a charity that is very dear to my heart.
"When everything is over, and I look back on my career in dolls, I will always smile. If you smile when you think of me, then I know I had a successful life!"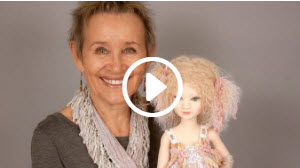 Watch the video that was created to honor Berdine Creedy's career and was shown at her awards ceremony, here