The doll world would be devastated if Berdine Creedy spoke differently. "My English is not that great and I have a funny accent," says the South African teacher, who relocated to Florida in early 1996. "If not for that, I'd still be a school teacher. But the little ones, they can't take my accent," she says, laughing. But where some would see sour grapes and disappointment, Creedy has made sweet wine.
Since settling in the Sunshine State, Creedy has spent the last 11 years building up her eponymous line of dolls. She's won numerous accolades and, at the ancient age of "39" ("I was 29 for more than 20 years, so I think I'll be 39 for 20 years too," she confides), shows no signs of pulling back the reins on a career that has spanned from picture-perfect porcelain kids to playful vinyl youngsters to her latest fo­cus: ball-jointed dolls (BJD).These true-to-life, pose­able beauties with articulated joints (that is, the dolls are as flexible as teenage gymnasts) are her current obsession. "Who knew this was even possible ten years ago," she says with evident enthusiasm. "Now I want to make them my own—and bring them back to American designers."
Until now, the BJD companies dominating the market largely come from Korean, Chinese and Japanese companies, such as Volks, which produces the Dollfie line. Such creations, though aesthetically pleas­ing, are mainly adult dolls. This rubs Creedy the wrong way. "Why would I want to do adults?"
Look back at Creedy's collections over the years, and you notice a consistent theme: kids, kids and more kids. "Children have always been my passion. When I sculpt, I always sculpt the younger children. I usually just stick to my little girls. They are so much more interesting. You can have so many more expressions, while grown- ups are boring. Little girls can play, but adults don't play," Creedy notes. "Little girls can laugh, cry; they can do everything. You cannot have a crying grown-up." She pauses for a second. "Well, you can do anything you want, but I don't think crying adults are a good idea."
When pressed for more details on her new doll line, Creedy turns bashful and shy. "I'm so scared to say anything, even the little tiny details. I don't want to let my collectors down," she says, preferring to take her fans by surprise.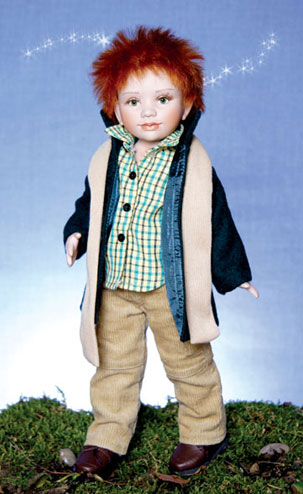 Helping her in her ambitious plans, Creedy's family—a.k.a. Team Creedy, consisting of mom Helene and daughter Charlene—are still firmly entrenched in their roles as collaborators. Mom, who flies to the United States from South Africa every two years and stays for six months, handles crocheting duties, while Charlene photographs the dolls, runs Creedy's website and even crafts accessories, such as dresses decorated with butterflies and dragonflies. Even Creedy's woodworker son pitches in, making all the doll molds."Not every family has the opportunity to do this, sharing the same passion and interests. We think alike; we work alike," Creedy says. "I always ask my family, 'What is the magic word?' In my house, the magic word is 'immediately.' Charl­ene and my mom know the word 'immediately' and so we work well together."
Charlene agrees. "I've heard a lot of people say that working with family is the toughest thing to do, but our family is the total opposite. We are such a good team and work so well together. Working so closely with my mom from such a young age, I know what she likes and doesn't like. That makes it a lot easier with the design work," Charlene says.
Few people, as well, could ask for a better life. Creedy takes frequent, head-clearing walks on the beach, and she loves an early-morning bike ride to "jump-start my metabolism." Her biggest dream came true when she became an American citizen in November 2004, thanks to winning the "green-card lottery," in which 50,000 visas each year are distributed randomly. "I feel so fortunate," she shares.
But with roses come a few thorns. One stumbling block has been Creedy's "Magic of Dolls" series, inspired by how dolls impact people's everyday lives. The original vision was to create six books paired with six multicultural vinyl dolls, each accompanied by its own unique story. Princess Berdina and Her Magic Tears, written by Jill Jackson, was paired with a rosy-cheeked, curly redhead topped with a tiara; In Mamma's Footsteps, written by Deborah Troehler, was joined by "Zandri," cute as a button with a bow in her long red hair; and Lalie and Zibi's Adventures, written by Zita Rivera, included an earthy, colorful African-American doll and her zebra friend.
When the first three books and dolls were released, "I was very encouraged," Creedy says. "The response on the three books was amazing. They were full of powerful words that kids can put back into their lives. I wanted them to do so well. However," she says, her voice dropping, "the market is not what it should be. When my sales for this year were not as good as I thought, I decided not to do the last three books.
"It would be easy to be discouraged by such dashed expectations, but Creedy is moving on with the full support of retailers, who remain head-over-heels for Creedy's creations—and Creedy herself.
"Her dolls are real kids, not just pretty faces. The quality is flawless, and Berdine's attention to details makes her dolls special," says Paula Reding, owner of the Denver Doll Emporium. "Berdine is very friendly and loves visiting with her fans. She makes everyone she comes in contact with feel special."
"Berdine herself has a lot of character, and it comes through in her dolls," says Carol Graham, owner of Bearzabout in Redmond, Wash. "She has a high standard of quality for her dolls. She's also willing to spend time with collectors, listen to them and share her experiences."
"I have found so many favorites among Berdine's porcelain dolls that I have kept as many for my personal collection as I have sold!" says Carolyn Isenberg, owner of Sweetheart's Dolls in Saratoga Springs, N.Y. "Berdine's dolls all possess an aura of sweetness and innocence, which has great appeal. She gives unique personalities to each of them. Berdine's dolls are a reflection of her self and her love of her work and this touches the hearts of her collectors. She is one of the most genuine, kind and loving people I have known.
"Creedy takes such accolades in stride. Though she was thrilled to receive five nominations for DOLLS Awards of Excellence, what has truly made 2007 special is how her dolls have impacted other peoples' lives.
"People tell me what my dolls mean to them. They tell me how they have sick friends and family, and my dolls cheer them up and help them get through their time in the hospital bed," she says. "For instance, one woman's daughter was 5 years old when she was hit by a drunken driver. Now she's 35, but her brain never developed beyond 5 years of age. The daughter participates in the Special Olym­pics, and her mother gives her some of my Tea Time dolls."
"Your courage to come over from South Africa was amazing," this mother told Creedy. "I believe your dolls give my daughter the courage to participate in the Special Olympics."
"And you know what?" Creedy asks, her voice swelling with pride. "Last year, she won a gold medal!"
"Stories like these are what makes this worthwhile," Creedy says. "I like showing that dolls can give back. But what I'm proudest of is, for the first time, I could give back to my country. I was able to donate dolls to an orphanage in South Africa. I finally felt like I accomplished something in my life.
"As for her dollmaking future, Creedy sees a long, winding road. "Doll society pushes you in different directions. What will be next? A dancing doll? A talking doll? The technology pushes you, and as an artist, I need challenges to feel alive. I will probably never retire. Whatever the doll market will throw at us in ten years, I will be there."