This is a cute, imaginative doll-picture story inspired by a conversation between doll enthusiasts recently.  The story involves the final episode and announcement of the winner of the fictional reality show, America's Next Top Teen Model.
The Players:
The Judges, from L-R:  Miss K (Afro Ken); an unidentified, blonde/black weave-wearing, circa 1990s Barbie; and Pop Life Christie (who exudes fashion sense and cool)
Show Host:  Antoinette Spice Banks
Finalists:  BFC Ink Calista and Only Hearts Club Briana Joy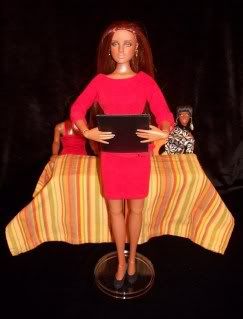 Antoinette Spice Banks says to the anxious finalists:
"Two beautiful girls stand before me, but I only have one photo in my hand.  The girl pictured on the photo will be America's Next Top Teen Doll Model.  She will receive a six-page spread in Seventeen Doll-E-Zine, a $100,000 contract with Cover Doll Cosmetics, and representation from Ultimate Doll Model Management.
"I see the two of you have swapped clothing.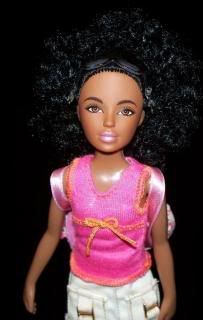 "Calista, you look very nice in Briana Joy's extra boxed outfit.  Throughout the season your strength in taking photos has improved tremendously.  You have become an expert at smiling with your eyes.  But throughout the season, the judges continued to note your lack of confidence in your true abilities.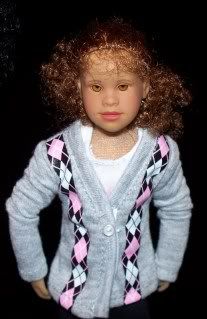 "Briana Joy, you look great in Calista's original outfit, which displays the 100% improvement in your fashion sense.  You arrived as a tomboy, but amazingly, before our eyes, you have blossomed into a young fashionista.  However, the judges have not sensed that you are as passionate as Calista about becoming America's Next Top Teen Doll Model.
"Who will be America's Next Top Teen Doll Model?  Will it be the girl who takes the best pictures, who smiles with her eyes, but lacks self-confidence…
"…or will it be the girl who has shed her tomboyish ways, but may be a little less enthusiastic about the title?
"The judges have deliberated.  America's Next Top Teen Doll Model is…
"Calista!"
Na-na-na-na-na-na, na-na-na-na-na, wanna be on top?
(Thanks, M.E., for the inspiration.)