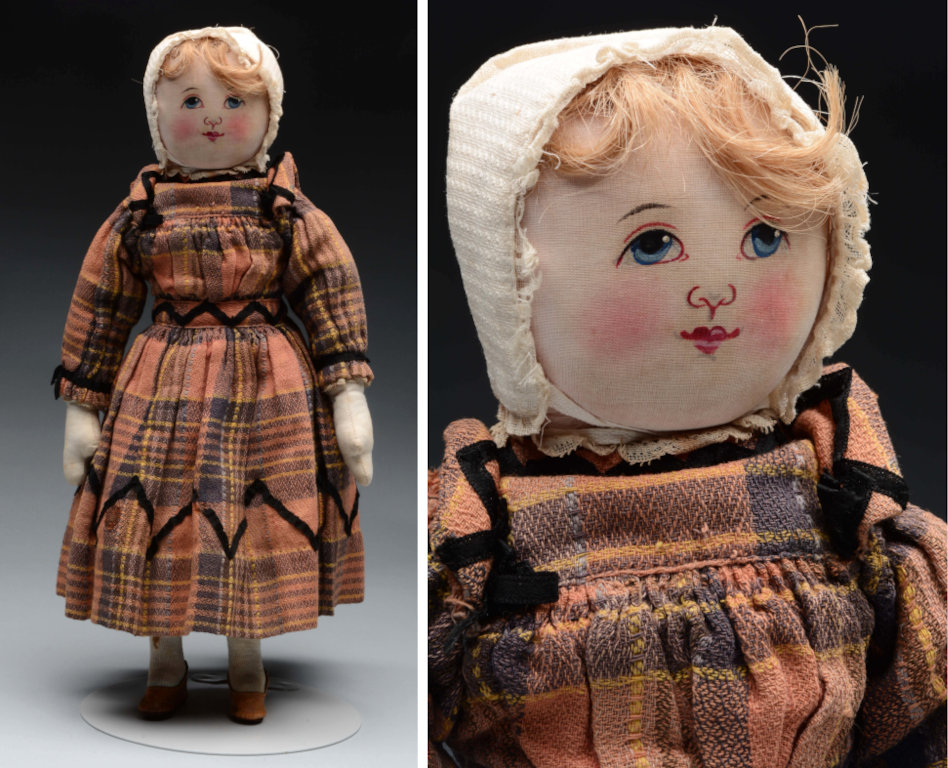 By Jan Foulke
Q: A friend found this doll among some old linens when she was helping her mother downsize to a smaller home. I mostly collect china dolls, so don't know where to start looking for information about it. Can you help? It is about 14 or 15 inches long and looks quite old. It seems to be in very good condition with just some fading and minor soil.
A: Your friend's doll was sold under the trademark Babyland Rag Doll. It was produced by the famous E.I. Horsman company, well-known among collectors as a producer of composition dolls, but seldom thought of in connection with cloth dolls. The dolls were likely made by jobbers, such as Albert Bruckner, and not by the Horsman factory itself.
This line of dolls was introduced in 1893 and continued with modifications until 1920, so it must have been quite a popular item to be in production for 27 years. Its construction was quite simple, with arms and legs stitched to a one-piece head and torso. A piece of flesh-colored muslin was placed over the flat face. This was covered by a piece of fine silk-like cotton on which the facial features were drawn. Later, features were printed.
Until 1907 the dolls had faces painted like yours, with lovely detailed eyes showing highlights, W-shaped nose, outlined lips, and rosy cheeks. Mohair framed the faces, but the dolls did not have complete wigs, as their bonnets covered the tops and backs of their heads. In 1907, a new style face was designed. It was lithographed, printed in color and very real looking. Horsman called it a lifelike face. For a few years both face designs were used, but eventually the lifelike face won out.
A 1908 ad in the trade magazine "Playthings" states, "'Babyland' are the original high grade Rag Dolls. They are sold by the most prominent Toy Departments in the country. They represent daintily dressed children, and can be dressed and undressed. Made of the very best materials in 34 different styles. From $2 to $39 per dozen." Retail prices ran from 50 cents for the basic 13-inch doll in a simple outfit to $5 for a very large beautifully dressed 30-inch doll. The large dolls seldom turn up, though I have seen a few over the years.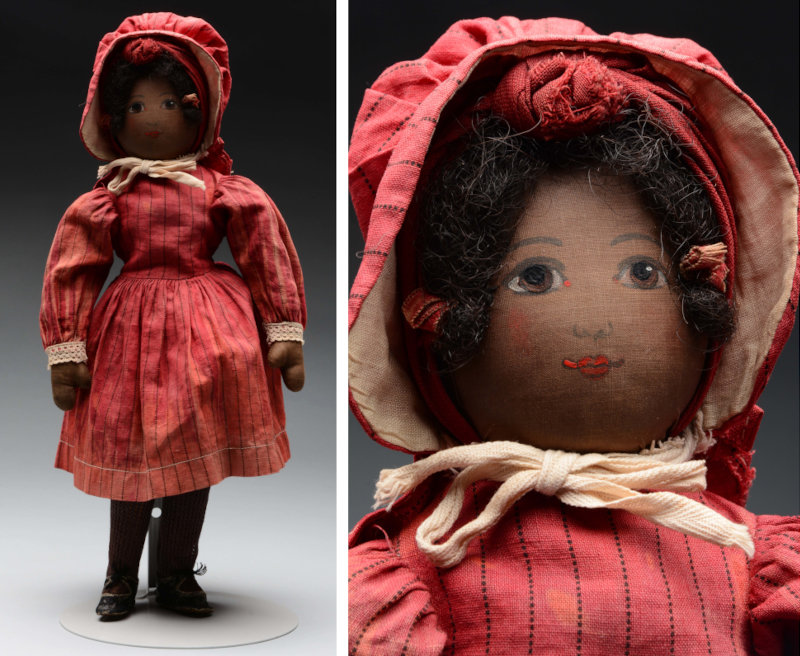 Dolls were dressed in a variety of costumes. Styles included black and white babies in long christening dresses and ruffled bonnets, American Maids in simple dresses and aprons, Miss Fancy dressed in Sunday clothes, little black Topsy, and larger black Aunty Dinah. There was also a Babyland Boy and a large, very handsome Jack Robinson. Some were costumed as storybook characters, including Little Red Riding Hood, Sun Bonnet Sue, and Bo-Peep, or geographical children, such as a Dutch boy and girl. Sports were represented with a Golf Boy and Girl in handknit sweaters. There was also a Farm Boy in overalls wearing a large hat. Dolls were fully dressed with simple underwear and shoes and stockings.
Jan Foulke, recently retired, is an authority on antique and vintage dolls, with over 40 years of experience in the field. She's the author of the full-color reference book "Jan Foulke's Guide to Dolls." Subscribe now to read Foulke's columns in DOLLS online archive of past issues!