By Jan Foulke
Q: My neighbor found this doll, which seems to be very old, wrapped in a blanket in a chest in her grandmother's attic. Knowing that I collect dolls, she asked me about it, but it seems older than any dolls I usually see. Can you tell us about it? Does it have any value? She is downsizing and wants to know if she should sell it, donate it to the thrift shop, or throw it away.
A: Easy answer: She should keep it! It's a family heirloom. This is a remarkable antique doll and a fairly hard one to find in this wonderful condition. It dates from about 1830, so it's getting close to 200 years old. Collectors refer to this type of doll as a French Papier-Mâché. Most of these types of dolls have papier-mâché shoulder heads which were actually made in Germany, many in the factory of Andreas Voit of Hildburghausen.
Papier-mâché became the rage in the early 1800s because it was cheap and easy to make. All kinds of decorative and utilitarian objects could be made from it. Many factories sprang up to produce it, each with its own secret formula, including primarily scrap paper, glue, clay, gypsum, chalk, black flour, and ash, as well as a few secret ingredients. By about 1820, mass production of papier-mâché doll heads had started. Advertised as "durable and beautiful," they were very popular for about 30 years until the china and bisque heads took over most of the market.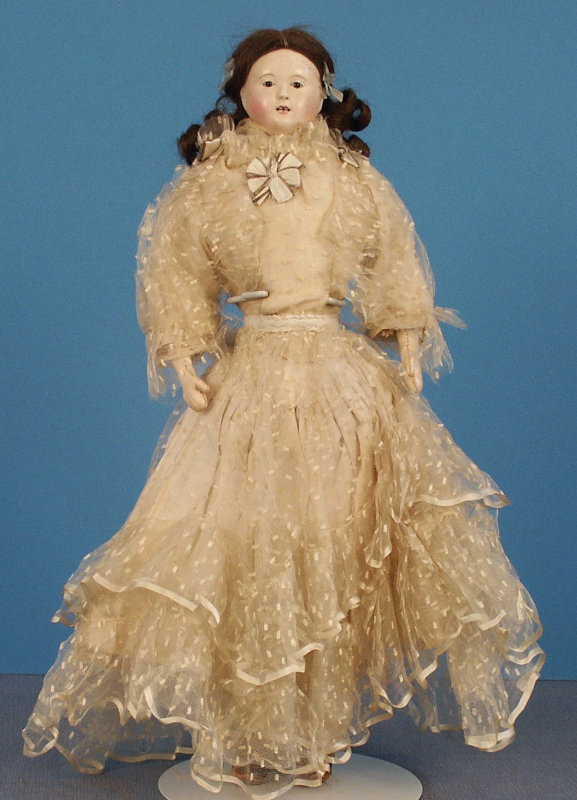 Because the heads are not marked, it is difficult to assign them to a specific maker, but your doll's head has characteristics that indicate it is likely from the factory of Voit. Most of these heads had a lovely oval-shaped adult face, though sometimes the faces were chubbier and more childlike. They had a solid dome crown painted black with a nailed-on wig of dark human hair, many of which have been lost over the years, so that the dolls simply exist today with the black painted hair.
It is always preferable to have the original wigs, but the painted hair itself, especially in those with the more oval faces is very attractive. Commercial replacement wigs are not designed for these early dolls. The faces feature inset dark glass eyes with painted lashes and eyebrows, and either closed mouths or open mouths with square cut upper and lower bamboo teeth.
These heads were bought by French dollmakers, who put them on French pink or cream all-kid adult-shaped bodies, with very narrow waists and generally with stiff arms and legs. They were beautifully coiffed, with lovely specially designed human-hair wigs with curls and ribbons. They dressed them in fine French couture gowns of the latest fashions and finest fabrics and trims. Then they sold them as French dolls.
In the European doll trade, this was referred to as the Paris Genre. There was always doll business back and forth between the French and German doll producers. The Germans could make products more cheaply, and thus sell them at lower prices. But the French had the luxury trade and the reputation for producing the finest products, with that little bit of extra cachet which a French label evoked, even though many of them actually came from Germany but were dressed in France and sold as French merchandise. The buyers did not know the true origins of the items.
As to value, since it is in such lovely original condition particularly for its great age, with no repaint or repairs, I would say on today's doll market it would retail for about $1,800 to $2,200 if purchased from a dealer at a doll show or at a premier doll auction.
Jan Foulke is an authority on antique and vintage dolls, with over 40 years of experience in the field. She's the author of the full-color reference book "Jan Foulke's Guide to Dolls" and writes the Antique Q&A column in each issue of DOLLS magazine. Send your antique doll questions to Jan Foulke.
Subscribe now to read Foulke's column in every issue and to get access to her past columns in DOLLS online archive of past issues!