By Jan Foulke
Photos courtesy of Foulke Archives
Q: I am in the process of clearing my parents' estate and have uncovered a primitive doll estimated to be more than 100 years old. Can you tell me anything about this doll and whether it has any value for a collector?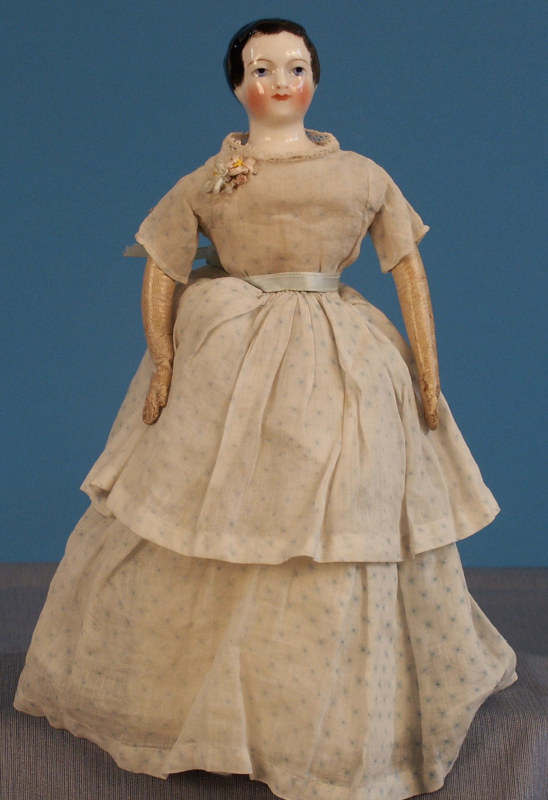 A: You have found a wonderful early antique doll, and it's more likely around 180 years old, as it dates back to the 1840s to 1850s. The head is made of china, which was a relatively new medium for dollmakers at that time. Previously dolls had been made mostly of wood at first and then with papier-mâché heads and cloth bodies. But manufacturers are always experimenting, and china caught on and continued to be used, at least somewhat, for about 70 years.
Most china-head dolls were made in Germany, but a few were made in France, Sweden, and Bohemia. It's difficult to say whether your head was made in France or Germany, but it was likely made in France. It is very nice quality and is quite unusual with the dark brown molded hair — the majority of china heads were black-haired. Many had elaborate hair and lovely hairdos, but some were short like yours, especially those representing boys or children.
Another pleasing aspect of your doll's head is the individual brush strokes around the face and the nape of her neck, which give her a wispy look. Even on such a small doll her face painting is lovely, with one-stroke long tapered eyebrows and blue painted eyes with lots of detail, including iris shading and black pupils, brown eyelid lines, and red corner eye dots.
Though we're not sure of the origin of the head, we do know that the pink leather body is typical of French dolls, so obviously she was originally sold as French. It was customary during that period to have heads made in Germany, bodies and clothing in France, and the whole item sold as a French doll. And yes, a collector of early china dolls would be very much interested in such an item. It would likely sell in the $500 to $600 price range.
Jan Foulke (retired) is an authority on antique and vintage dolls, with over 40 years of experience in the field. She's the author of the full-color reference book "Jan Foulke's Guide to Dolls." Subscribe now to read Foulke's columns in DOLLS online archive of past issues!