There's a tried-and-true saying: "The acorn doesn't fall far from the tree." In the case of Marlene Xenis and daughters Tania and Jesse, this wood-themed maxim takes on a whole new significance.
The Xenis family tree is ripe with creativity, self-expression, and dedication to hard work and big dreams. This is readily apparent in their family business, The Xenis Collection. A purveyor of fine wooden dolls, the firm is based out of Aldergrove, a small town located outside of Vancouver, British Columbia.
Marlene, approaching 50 years old at the time, founded the firm in 1994. Not one to blankly stare down a midlife crisis, the enterprising artist took her ability to concoct clever and quirky dolls and parlayed it into a fulltime pursuit. Rather than continuing her part-time craft-show success, she carved out a burgeoning name for herself as a maker of internationally sought-after wooden novelties.
"In 1994, I decided to expand because if we wanted to make a business from this effort, we had to produce a product that was worthy of upscale gift shops. I began to put Swiss music boxes in the dolls, and my daughter, Tania, and I decided that it would be a good idea to use wood heads, as the bodies were wood. Also, we live in an area that has an abundance of maple wood. Being very artistic, Tania took the initiative to paint the heads. These were a great success, and we produced a series of 'Musical Jesters.' We sold them through a distributor in the United States, who also put us in touch with a distributor in Australia and the United Kingdom."
Evolving from a local phenomenon to a worldwide business was a result of Marlene's faith in herself and in her daughter Tania's talents. Not a duo to rest on their laurels, the pair next courted a connection with a major music-box retailer. "We obtained a contract with San Francisco Music Box, with some 100 shops across the States. This kept us very busy. However, we could see that these particular musical pieces would eventually slow down, so I had the idea of experimenting with making wood dolls."
The experiment certainly paid off. "When we started the company," Tania explains, "we worked out of my mom's basement. We all had other jobs at the time. My mom was working for the government, and I was doing design work for a furniture manufacturer. My sister Jesse, who wasn't part of the company yet, soon went off to university to study monkeys. This will be very useful if a primate should wander through the shop."
Today, the Xenis headquarters is situated in a 2,000-square-foot studio, and mom Marlene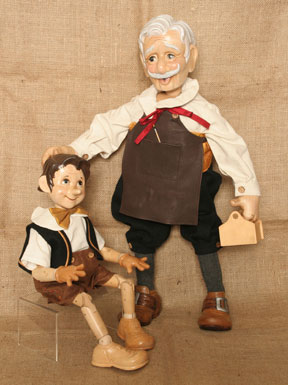 lives above it in a homey loft. She feels the arrangement works out "beautifully"; she is able to stay connected and on top of her namesake.
"Our mom is the one who started making crafts, which included a simple jester 'doll.' We make slight changes every time we make something new, and eventually we realized that we were making actual, real dolls," Jesse affirms. "We always have ideas about how our dolls may change, but we aren't sure if it is what will actually happen. Collectors are the main reason our dolls do grow. Without collectors, we would only be making dolls as a hobby for our friends and family. We enjoy going to doll shows to hear what our collectors have to say. We encourage them to send ideas and suggestions for future dolls!" Currently on the drawing board are plans for a smaller doll, which would still be fully jointed. "We are thinking that we might make her a 'trunk doll' with changes of clothes and accessories," Tania muses. "She would come in her own little traveling case."
Always willing to strive for a goal, Marlene and her daughters are aware of how far they have come from the early Jester days. "Our first dolls were machined and very crude in the beginning. As we did not know the first thing about carving wood, Tania used round heads, and the features were painted on, which produced very effective results. Tania and artist Ross Adams would paint with extreme detail and achieve the three-dimen­sional looks we needed," Marlene says. "We made the Jesters for about four years. In the late 1990s, we introduced a design of tall, slender 'Diva Dolls.' We began phasing out the round-headed dolls and replaced them with sculpted ones with more detail. One thing we will never change is our medium—wood."
Interestingly, wood has become an uncommon material for dolls. Good old Geppetto notwithstanding, most dollmakers do not turn to wood as their personal métier. "This is because of the difficulty in cultivating [and] drying time, for wood must dry for almost a year to be any good for carving. We stand by the western maple, for the appearance gives a natural glow to the skin," Marlene says.
The Xenis designers have had their fair share of detractors—pessimists who put the knock on wood. "Several people told us that carving maple was impossible, because it is too hard of a wood, yet we persisted. And others told us that a delicate jointing system wouldn't be possible because there is no flex in wood. Again, we persisted, and we now have beautiful, delicate jointing in our dolls," Jesse says.
Devotion to a standard of excellence has guided the Xenis team for nearly 15 years. It is a credo that all of the employees adhere to. "There are many long hours of design work, and many long hours of back-and-forth until everyone is happy. There are long hours of carving, sanding, painting and sewing until a doll is finished. You work at locating the perfect accessory, and when you finally discover that you won't, you make them yourself. It is a love/hate/love relationship," Tania confides. "You love the ideas you have but hate the tedious process of putting everything together. But then you love it again when it is almost finished, and then you get to sign it and ship it off to a collector who will love it as well."
An appreciation for one another and a respect for their clientele keep this family business rooted in reality and reaching for the sky. "I cherish the fact that with my dolls, I can create an illusion and tell a story that will last forever," Marlene Xenis says.
For more information, visit www.xenis.com, e-mail info@xenis.com or call (888) 999-9617.