It's no secret that I LOVE TV. People often denigrate it by calling it the "boob tube" or the "idiot box," but, to me, those are just instances of "sticks and stones." As long as you don't hurl pebbles at my flat-screen Vizio, it's all good.
One of the things I like best about just chilling out and watching a program—comedies and zombie shows are my favorites, go figure—is when a doll makes an unexpected guest appearance. So far, the new year is only a few weeks old, and already dolls are popping up everywhere on the pop culture front.
For me, the happiest moment came when the second episode of this season's "30 Rock" aired. Sad sack Liz Lemon, who seems to be a perpetual runner-up in the love sweepstakes, has finally found her soul mate. The handsome, though a tad too laid-back, fellow is named Criss (no "h" and two "s's") and he seems genuinely smitten by the quirky and kooky Ms. Lemon. To show his joy at celebrating their third-month anniversary, he surprises Liz with a mint-in-box "Terry, the Gender Neutral Doll," fondly remembered from Liz's childhood.
It's hilarious to hear Tina Fey exclaim, "Oh, my God, look! He/she comes with his/her original baseball glove and baby, plus two sets of genitals!" Quick-eyed viewers caught the fact that the forty-something Ms. Lemon is clad in nearly the exact same fashion as plastic "Terry."
Too bad, some marketing expert didn't have a "Terry" doll available for purchase at the NBC network store. I think it would have sold quite a few that night, because Tina Fey truly captured the delighted look that an adult gets when she is handed a reminder of her childhood. I think "Terry" would have been a novelty gift for those of us who pine for our very own Cabbage Patch Kids and other dolls that followed Marlo Thomas's "Free to Be You and Me" enterprise.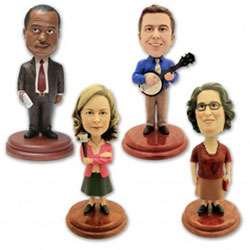 NBC has made a nice profit on its dolls and mementoes that are connected to its hit comedy "The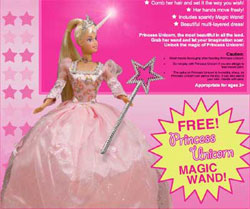 Office." Its bobbleheads of the characters are big sellers, and the Dwight Schrute one is particularly popular. What's interesting about that is the character of Dwight has a love/hate affair with dolls. He considers them to be an amalgam of expensive plastic that serves no greater purpose; however, he follows toy trends religiously and swoops up all of the potential hot sellers every Christmas. After buying out the big-box store aisles in Scranton, he makes a killing selling the hot toys of the season to harried, put-upon parents. "The Princess Unicorn" doll, which the scriptwriters of "The Office" dreamed up, is a combo of Barbie and My Little Pony. Launched with a sappy theme song, and a promise that its horn will pierce the sky, the doll looms as a potential threat to life and limb. Never mind the misfiring BB guns that plague Ralphie in "A Christmas Story"—this horned royal is sure to poke out any little girl's eye.
It's entertaining to see how "right" a scriptwriter can make his or her fictional doll creation. (I feel like "Terry the Gender Neutral Blogger"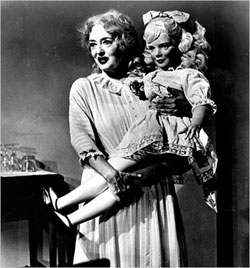 here.) In the movie "What Ever Happened to Baby Jane?" the title character, Jane Hudson, has one foot mired in madness and the other planted in the past. As a child star who has grown old, but has never grown up, Bette Davis was over-the-top creepy. People who bemoan the antics of Lindsay Lohan and Britney Spears should check out how truly awful onetime child stars can be. Accompanying Davis in her descent into insanity is a large replica of her as a kiddie matinee idol. The sight of "Baby Jane Hudson" and her "Baby Jane Doll" crooning out a sentimental ditty from the 1920s is chilling and cautionary. Britney, don't let that happen to you!
The melding of the macabre and dolls has always gone hand-in-claw on TV. From "The Twilight Zone" to "The Outer Limits" to "Night Gallery," dolls have always provided writers with a way to frighten viewers at home. Perhaps because every home has a doll squirreled away in it, these playthings are easy and convenient tools of terror.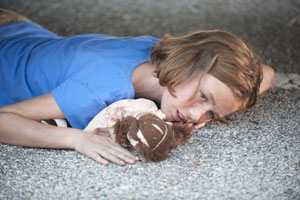 In AMC's "The Walking Dead," a doll has had a valuable supporting role throughout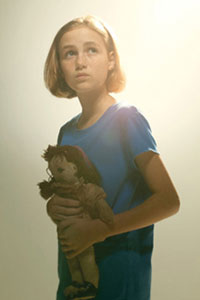 its current sophomore season. Little Sophia—a character who meets a terrible, tragic end—found fleeting comfort in the Zombie Apocalypse courtesy of her doll. Hugging it while the undead shuffled past her hiding spot, or carting it with her as she fled through the woods, Sophia treated the doll as a beacon of hope and a reminder of the sane past that she has left behind. When Sophia vanishes from her band of surviving humans, the shred of evidence that she leaves behind . . . floating in a river . . . is her beloved doll. It's a heartbreaking and heartaching sight.
Finding sanctuary in a doll in the middle of a zombie onslaught is part and parcel of "The Walking Dead." It's an unexpected douse of sanity into a world that has turned bleak and unforgiving overnight. The doll encapsulated everything beautifully.
Not to end my blog on a downer beat, I have saved the most charming doll appearance this month for last. Little Lily on ABC's "Modern Family" arrives with her parents, Cam and Mitchell, to offer a helping hand to the always distressed Claire. Clutched in the little girl's arms is a bona fide, beautiful Adora doll. Brunette and brown-eyed—just like the pint-sized actress—the doll is hugged tightly as Lily observes the frantic, comedic pratfalls of her well-intended family.

Whether it's madness or madcap antics, dolls are watching everything this season, and I'm watching it, too!
If you've spotted dolls showing up in unexpected programs, videos, commercials, or films, let me know. It's great to discover where our private passions are getting public airings. Catch you after the eleven o'clock news!