Toy Fair is a unique and magical place. And what makes the February staple at New York City's Javits Center even more unusual is the total absence of real children. Yes, a huge cut-out of curly-haired, smiling moppets greet you as you slog in from the frigidly cold Manhattan streets, but the real deal is nowhere to be seen. Kids are an exotic rare creature at Toy Fair—seeing one or two (the offspring of some determined dealers or manufacturers) is like spotting a unicorn or an original swirl-ponytail Barbie #1, Mint in Box, at a local garage sale.
Launched on Sunday, February 12, and wrapping up on Wednesday, February 15, it is four days of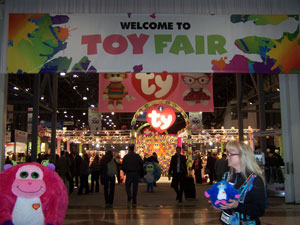 merchandise, marketing, mohair, and mayhem. Like my guide at the Mattel both told me, "Toy Fair is all about blood, sweat, and sequins."
Walking into the convention hall, my eyes immediately landed upon the Ty booth, with a bunch of frolicking, round ball-like creatures with waving arms and legs. I wondered if street urchins—sort of like Oliver Twist and the Artful Dodger—were encased in the plush costumes, or if it was a cast of little people. The hopping and skipping mascots never broke character, so I have no way of knowing whether it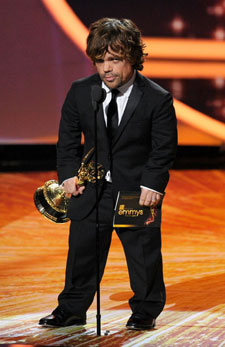 was indeed child members of SAG and Actors' Equity, or maybe a future Emmy winner, like HBO's fan favorite (and mine) Peter Dinklage hidden beneath the furry outfits.
After circumventing the brightest, seemingly happiest place on earth, I wended my way through the thousands of square feet of dolls, bears, games, action figures, video games, and a combination of all of the above.
That's one of the interesting things that I observed at the fair this year: if a company could put a microchip into it, they did!
Animals and animatronics are a great fit. It's been tried before (quite successfully with Teddy Ruxpin) and now it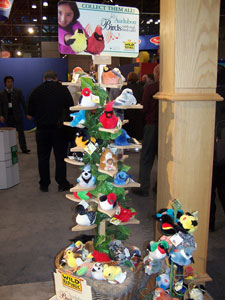 is being promoted everywhere. Wild Republic has a flock of birds that are licensed with the Audubon Society, and come with hangtags and information about the bird's particular species, habitat, migration patterns, and sightings. Besides looking really colorful and real, the birds sing—and their songs are the authentic birdcalls of their breed. (Forgive me, ornithologists, if it's a no-no to call a bird a "breed.")  The birds are really sweet and soft to the touch. Perfect for the backyard birdwatcher, as well as for the folks who have binoculars and guide books in their trunks.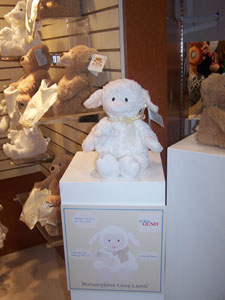 Another sensational blending of science and softness was the Gund talking critter "Lena Lamb." Reading nursery rhymes and making eye contact, "Lena" is the bedtime confidante I wish I had had when I was a tot. Her voice was soothing and her demeanor was calming. After being engulfed by throngs of people wielding briefcases and cell phones, spending an interlude with "Lena" was quite a welcome relief. She really was as gentle as a lamb.
Mattel, of course, has its all-seeing and all-knowing eyes on what's fabulous and fierce. One of its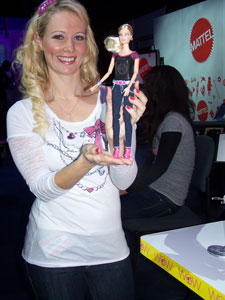 electronically conscious offerings this year is a Barbie that has a digital camera (stills only, no videos) embedded in her torso. When Barbie's "handler" snaps a picture, the image can become the decoration on Barbie's T-shirt. Photos can be utilized on the doll's garb or downloaded for creative playing around on both PCs and Mac's. It is a pretty innovative way to have girls become more techno savvy—an accomplishment that will serve them well in the brave new world of cyber content and clouding and Internet alter-realities.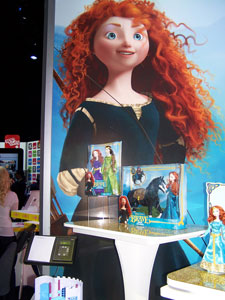 And speaking of "brave new worlds," Mattel is keeping its connection to Disney princesses alive and well. However, this time around, its heroine du jour is the lead character from Pixar's "Brave."
The Mattel people were mum about the secret that drives the film, but they shared that it is very pro-feminist and portrayed young girls in an independent, heroic stripe. It also celebrates the bonds that can be forged between a daughter and a mom. That is certainly a nice change of pace for a Disney project, which has given us the complicated, strained relationships between Snow White and her evil stepmom, Cinderella and hers, Rapunzel and hers, and the list goes on. At last, a movie that shows how a mother and daughter's love can be moving and memorable.
Heroism for a girl doll is a commendable step forward. Though strong, silent types—like the Hulk, built from thousands of Legos at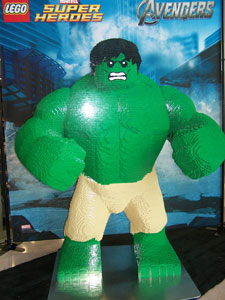 Javits—are still par for the course, perhaps Princess Merida will usher in the strong, chatty type. Blending strength with socially conversant abilities, this cartoon character could become the poster girl for texting tweens and preteens everywhere.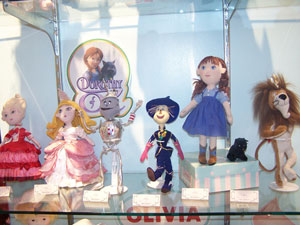 Another movie that is getting a lot of buzz for the 2012 toy aisles is "Dorothy of Oz." Alexander has dolls that key into this upcoming flick, which stars the voice of Lea Michele as Dorothy, and Adora has baby/toddler versions of the beloved 1939 characters. There were a lot of Oz oddities sprinkled around the Javits booths and cubicles, and it underscored the whole feeling of Emerald City that pumps beneath the Big Apple enclave.
Just like Dorothy encountered lions, tigers, and bears (oh, my) on her journey, at this West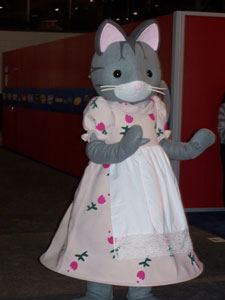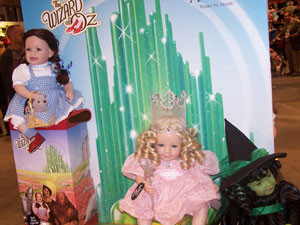 Side hall there are giant kitty cats, felt monsters, and Power Rangers parading at every twist and turn.
One of the memorable sights I beheld at Toy Fair was microwavable line of critters. We've all heard about the unspeakable urban myth about the person who plunked her pooch into the microwave, turned it on, and left the room, causing an awful explosion of canine confetti, but this array of microwave-ready bears, dogs, sheep, and more are meant to release warm, toasty, aromatic smells. Featuring pillows, slippers, throws, and other grown-up security boosters, these characters from Aroma Home were actually adorable, and then had the extra benefit of being nurturing too.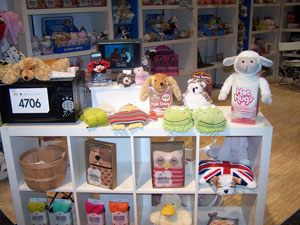 I must admit after my ninth hour of walking the miles of aisles, my "dogs" were barking and I would have loved to grab a pair of the funky soothing hedgehog slippers. I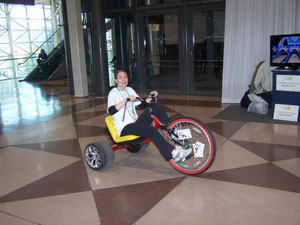 vowed to bring slippers to Toy Fair next year, and to walk the floor in absolute comfort and ease. Who would possibly notice me decked out in bedroom slippers when you have full-grown men and women circling by on tricycles?! Yep, tricycles for grown-ups were being pedaled and peddled! These throwbacks to childhood are coming to the marketplace in the spring of 2012.
And that is very fitting: Toy Fair is a tribute to what we fondly remember from our own childhoods, and what we think our children and/or grandchildren want in theirs. It is a big, giant gamble on what will hold an allure for the young and the young-at-heart.
Meandering through the multi-storied setup, which feels like a maze at times, I have to confess that at times I was zombie-fied, truly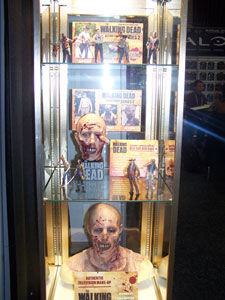 disporting myself like a runaway (or at least a limping away) member of "The Walking Dead." With senses on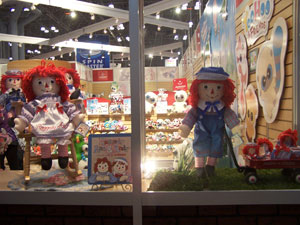 overload from echoing sirens, flashing lights, literal bells and whistles, it was a respite when I would pass by a traditional, classic offering. Amid the electronic chatter and video vixens, "Raggedy Ann & Andy" were front and center in Aurora's display booth. Quite deliberately, their design team set it up to approximate the look of a bygone neighborhood doll/curio shop. The Raggedy dolls were there in several sizes, and were getting a lot of attention. They were hits with many of the retailers who shop the convention hall for this year's orders.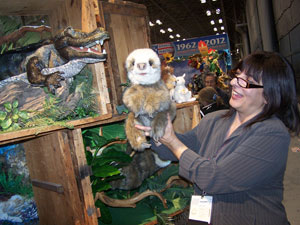 Also, very popular, over at Folkmanis, are the puppets that are powered by one's own hands, fingers, and imagination. The very clever and indefatigable marketing team at Folkmanis have developed a relationship with TV's Craig Ferguson, host of a popular CBS late-night chat show. Ferguson utilizes some of their puppets in lavish production numbers—some are very family friendly, and other of his showcases are sort of salty and fitting for the over-age-18 crowd. Knowing that Ferguson is good friends with Kristin Bell, the Folkmanis folks have sent over a bunch of their new sloth puppets to him to share with Ms. Bell. (For anyone who is not privy to this bit of viral video, Bell had a meltdown caught on tape when she realized she was getting a visit with a sloth as a birthday gift.) Folkmanis is hoping that Ferguson tries to punk his very frequent guest with a puppet version. Here's hoping that does happen, and goes viral as well.
Hobbling past Robert Tonner's exhibit—which had a large shoe icon as part of his child-centric "City Girls" line—I was reminded of how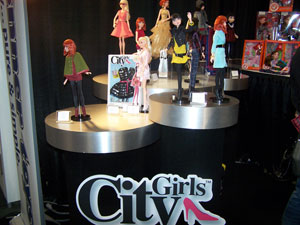 my toes were beyond being pinched. I stopped and chatted with Tonner and asked if the girls were versions of the "Sex and the City" characters. After all, he had a redhead, a blonde, a brunette! Tonner was quick to say, "No! There is no sex in this city. This is for kids. It is priced for children, and will attract some of the mature collectors who are watching their wallet." One of his partners on this new launch said, "Robert, we do have all of the girls here—except for Samantha."
Tonner laughed aloud. "And let's keep it that way. Samantha is not going to be in OUR city."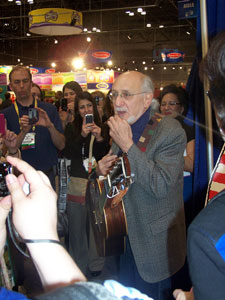 Sharing a chuckle with a doll artist that I have known for—ouch, this hurts—more than 15 years was a warm moment at the fair. But nothing can top the moment at the Madame Alexander Doll booth when Peter Yarrow, of Peter, Paul and Mary, arrived with guitar in hand.
Yarrow spoke about the origin of "Puff the Magic Dragon," which is celebrating its 50th year in 2012. He joked with the crowd about how little Jackie Paper was Jewish and threw in a slew of Yiddish words to prove his point. And then he picked up his guitar and began to strum the song. As he crooned the familiar lyrics, the crowd gathered around him began to sing along. The retailers, the wholesalers, the manufacturers, the artists, the security guards, and this reporter were all transported back to our own innocent days of dreaming and playing, frolicking in the autumn mist in a land called Honah Lee. And isn't that what Toy Fair is all about?