Alicia Keys is a multi-platinum recording artist, an actress, an author, and, apparently, a doll collector. Or, at least she was. A passel of porcelain dolls that belong to the songbird are about to be sold this upcoming Sunday, May 22. The bidding is open to the public, and the event is being spearheaded by American Auctions, Liquidations, and Appraisals. The event is physically being held in Syosset, New York, but more details can be learned at the auctioneers' Web location
What's unusual about Keys is that I knew she was a collector of charms. In fact, I have covered her obsession with acquiring miniature musical notes, petite pianos, and charming clefts to dangle on her necklaces and bracelets in past features. I had never heard a peep about her interest in dolls, though.
For Keys, who grew up in the tough neighborhood of New York's Hell's Kitchen, her talent as a singer and songwriter led her away from the "mean streets" of Manhattan. She made a beeline to greener pastures, and resided in a palatial Long Island mansion. However, the city-bred gal has left the suburbs once more, and headed back to the cosmopolitan lifestyle with her new husband and young child. They are putting her former home and all its contents on the auction block.
Celebrity sites are having a field day with this move because some of the offerings from her home are quirky: samurai swords (though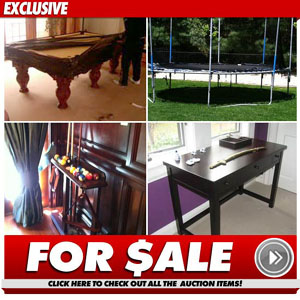 someone posted it's actually a kendo sword), pool cues, trampolines, and dolls. TMZ, a site known for busting lots of sordid stories wide open, described it as "a collection of creepy dolls." Well, that got me intrigued.
Scouting everywhere, I couldn't find any shots of the dolls, but I did find photos of the trampoline and the billiards paraphernalia. No matter what I googled, no sign of the dolls anywhere.
Finally I did what any curious blogger would do. I wrote to the president of the auction firm directly, and lo and behold, I got the photo.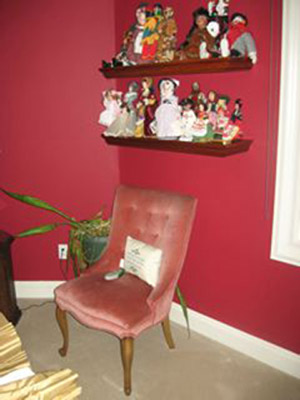 Would I say they are "creepy"? No, not at all. Would I say they are "motley"? Yes, definitely. And more than that, I would say they look "sad" and "forgotten"?
The shot is not that clear, but the dolls are congregated together in a small area. I'm able to make out "types" of dolls, but not actual models. There are fairy-tale dolls (is that Bo Peep?), an Emmett Kelly clown, a regal female who looks like she could be a wife of Henry VIII, and some costumed characters that appear to be maybe travel souvenirs. It's pure speculation.
Miss Keys (birth name Alicia Augello Cook) is the daughter of a part-time actress/paralegal and an airline flight attendant. Her parents divorced when she was a young child, and she was raised by her mother alone. Could these dolls—especially the ones that look like fokloric mementoes—be gifts from her absent dad? Will a pedigree or a provenance accompany them to their auction block farewell?
It's always sad when a collection is broken up. Isn't that the whole premise of "Toy Story 3"? And these dolls noticeably weren't hidden behind glass or protected in hermetically sealed cabinets. These dolls were out on a shelf, able to be stroked and caressed in passing.
As Alicia garnered her Grammies and saw her releases skyrocket up the Billboard charts, did she find time to pat her dolls and commune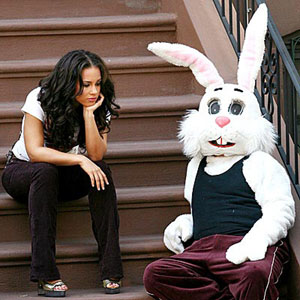 with her past? It's difficult to stay connected to a little girl who grew up with very little when the world is nestled at your adult feet.
The fate of the dolls will be hammered down beginning at noon on May 22. You can follow along and even take part. It will be interesting to see how much the dolls end up fetching, and how they are presented. Are any of them valuable in and of themselves? Or do they simply benefit from the onetime touch of Miss Keys? More to the point, after they depart, will these dolls figure in Alicia's consciousness, or has she become too immersed in her "Empire State of Mind"? As a duet partner to mega-mogul Jay-Z, she is traipsing in clover; her success is wondrous. But is there still room in her heart for wondering about her dolls?