Attendees at January's IDEX doll extravaganza in Orlando, Fla., were positively perplexed. There, amid the mazes of rosy-cheeked porcelain beauties and precious toddlers from expected exhibitors like Gregg Ortiz and Madame Alexander, sat a stand of dolls manned by Pabol International.
For several decades, this family owned company has been a vital behind-the-scenes player in the doll industry, becoming the sector's leading producer of eyes. What was it doing at this doll-world shindig?
"We've never needed to attend IDEX—or any show," says Pabol's president, Chestin Lu. "Our eyes are so well-known we didn't need to go to a show. If you're a doll company, you have to buy eyes. And when people think about eyes, they think about Pabol."
This year's deviation from the norm was due to a revolutionary new product that Pabol had spent more than 15 years perfecting. Trulife Eyes are realistic peepers with eyelids that open and close just like human eyes. "We showed the product to customers, and they all loved it, but they were reluctant to use it because they needed to modify their molds."
To demonstrate their breakthrough eyes—most eyelids and eyeballs are one piece, so when you lay a doll down, its eye unrealistically drops into the hole—Pabol created several doll mockups. "We made 10 dolls and put them in the stand. The purpose was to illustrate the eyes, not the dolls," Lu says. "But surprisingly, we got an overwhelming response to the dolls. People loved the dolls—the clothes, the hair—not just the eyes. That triggered everything. We thought, if nobody else is willing to make the dolls with our eyes, why don't we?"
The result of Pabol's fortuitous IDEX exhibit decision, hitting retailers' shelves and collectors' hands late this summer or early fall, is a line dubbed Niki à la Mode. "The doll is really about today," says Lu of his company's sophisticated, 14-inch vinyl creations. The pose­able beauties possess ball joints, realistic hair and a background steeped in glamour.
According to Lu, "Niki" is a trend-loving fashionista sporting a contemporary, 21st-century look. The fresh-faced 20-something recently graduated from New York City's famed Fashion Institute of Technology, and now she's a fashion-world go-getter.
"Each doll has a different personality," Lu explains. "As a college grad working in the New York fashion world, she has so many chances to wear different outfits to go to work, parties or exercise. And there's even a different eye color, accessories and makeup to match each look."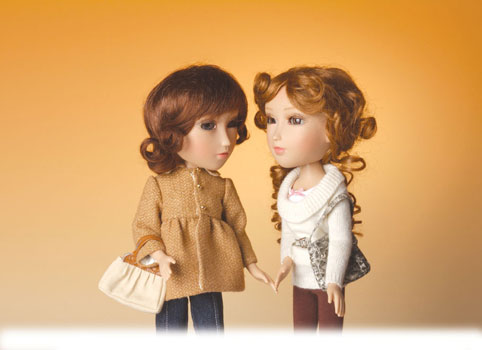 For Pabol, crafting the dolls' personality and style was a huge undertaking. "We were in the doll eye business," Lu says. "Dolls versus doll eyes are entirely different markets. People buy dolls for pleasure while doll eyes are just parts. At first, we didn't really understand the doll market. It was a huge challenge."
One of the first steps was finding a visionary to give Niki her trendy style. A friend of a friend suggested NYC fashion designer Colleen Ballou. "It was really a challenge," says Ballou, who has spent the last six years designing kids' clothing. "I'd never designed for dolls. It was entirely different for me to design on such a miniature scale."
Where some designers would be petrified, Ballou looked at Niki as a blank slate filled with endless possibilities. "Since it was so off the beaten path of what I'm doing now, I had lots of freedom," she says. What she didn't have was lots of time.
"The schedule was really tight. We only had eight months" from conception to creation, Lu says. "We've been working around the clock on the project." While Lu and company arranged to manufacture the dolls in China, Ballou scoured New York City's garment district for inspiration. Additionally, she looked toward the runways, what she saw young women sauntering down the street wear­ing—and even herself.
"Niki's 'of the moment' and in-trend," Ballou says, explaining that the dolls will be clad in very fashion-forward outfits, from high-waisted jeans to pleated shorts to upscale, urbane dresses sparkling with sequins. "They're very detailed and tailored," Ballou says. "It's not anything that's on the market; it's unique. I'm really excited for the doll to come out. It's new and fresh, and it's not like anything else out there. This doll has a seriousness, but also a sophistication, unlike anything anyone's ever seen."
And hopefully, the future will welcome countless more genre-stretching Niki creations from Pabol International. "Of course, we are thinking about future lines," Lu says hopefully, "but we need to wait and see what the response is like. We really don't know the outcome, but we have confidence. Niki à la Mode speaks to 'now.'"