I really love Mattel's So In Style (S.I.S.) dolls, Grace, Kara, and Trichelle. Of the three in the first group of dolls, Trichelle is my favorite.  I favor the texture of her hair, her denim fashion, and her interests in art and photography.  Courtney, Kianna, and Janessa, the little sisters, are quite adorable.  Also appealing are the second generation big sisters, the Stylin' Hair dolls (Grace, Kara, and Trichelle).  Interestingly, Grace is my favorite Stylin' Hair doll.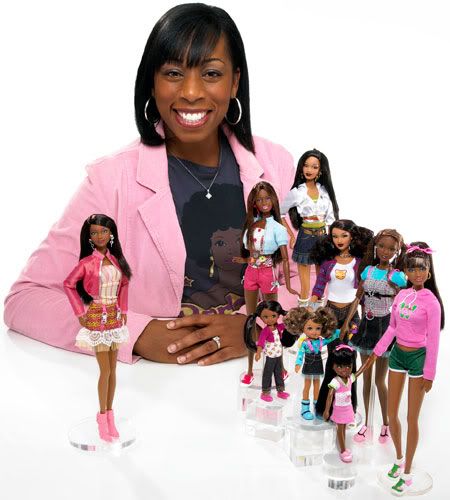 As an adult collector of black dolls, I am especially grateful for dolls that capture the range of various skin tones; hair colors, textures, and styles of the African American color spectrum.  Do they represent all?  No, but this is impossible for any doll line to accomplish.  The big sisters' ethnically correct facial sculpts–broader noses and fuller lips–do confirm these as not just white dolls colored brown.
Their appearance and fashion sense in combination with their positive attributes of promoting friendship, mentorship, sisterhood, interests, and scholastic achievement result in a near-ultimate doll collection.
Thank you, Stacey McBride-Irby, for creating this beautiful, believable line of light-to-dark-skinned African American dolls that promote achievement.  While a small faction of the non-doll collecting community may not appreciate what you have done, your dolls are  perfect from a collector's perspective as a play thing, a collectible, or a combination of both.
If you have not left the S.I.S. drawing table; however, my wish is for a fully articulated line of dolls to further enhance their appeal, playability, and collectability.  (Please, Stacey, please, add joints to their wrists and knees.)
(Stacey McBride-Irby is featured above with the S.I.S. dolls she designed for Mattel.)