Like with every other Toy Fair gathering for the past century, it snowed — and it snowed heavily — when I arrived at the Javits Center for the 2016 edition of the annual playfest. I don't know why the toy gods are so insistent that I have to always be garbed in snow boots when I walk the miles of aisles, but my sense of fashion was definitely "mountaineering chic" as I cut through the cavernous Manhattan convention site. Because the Toy Fair is such a crazy and quirky place, it's fitting that there is always some kind of wondrous revelation waiting around every corner. For me, I discovered a lot of superhero significance, and athletically coiled dolls that are keeping it real — but in a fashionable and attractive way, of course.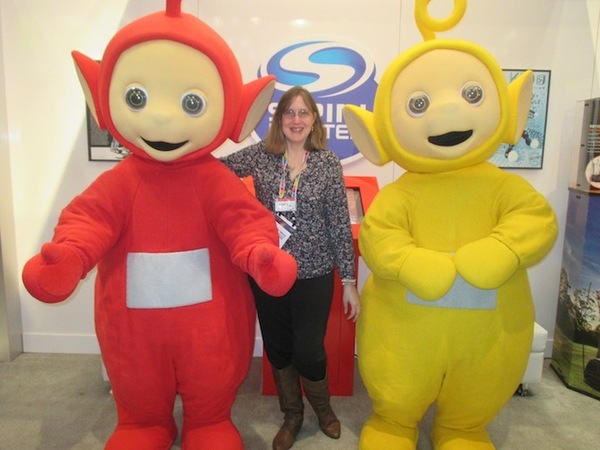 After being ambushed by a pair of hyperactive and hyperfriendly Teletubbies, I began my quest to discover dolls that will be popping up on collectors' wish lists throughout 2016. Wearing my boots and my press badge, I set out like a take-no-prisoners hybrid of Dora the Explorer and Lois Lane, Superman's main squeeze. (Hey, come to think of it, Lois was an intrepid reporter who was fooled for years by a guy who simply donned a pair of eyeglasses. Maybe I should be modeling myself after Brenda Starr or Roseanne Roseannadanna, instead?) I wanted to see what's new, and I wanted to share it with you. Here's just a sampling of a few unique offerings I encountered, and these are just with the super sultry/super sensational designs!
It's a bird? It's a plane? Nope, it's very pretty and athletic Mattel versions of Supergirl and a squadron of her superhero friends: Wonder Woman, Bumblebee, Batgirl. Just like the Universal Monsters who sent their offspring to high school, the DC Superheroes are all about getting a first-rate education. What's the point of leaping buildings in a single bound if you can't calculate the angle of take-off versus the incline of descent? (I don't even know if that's a real mathematical concern, but that's because I'm not an arithmetic superhero!) The Mattel DC Superhero dolls are all about being "real." A panel of girls reviewed the direction Mattel was heading in and pointed out the problems with their original art concepts. One of their most sensible suggestions: Get rid of the high heels! It's hard to fight crime in stilettoes. These are powerful young women who are enrolled in Superhero High. Mean Girls — and I mean you, Poison Ivy and Harley Quinn — beware. Currently you all might be coeds together, but you're about to get your butts kicked big-time!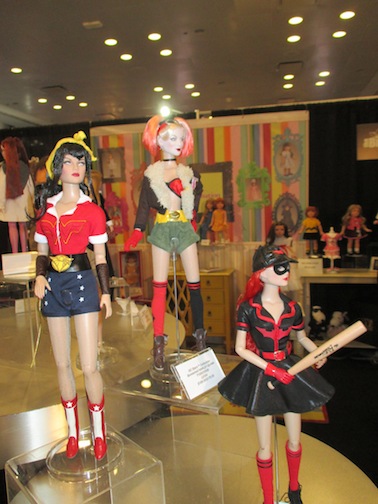 The aura of superheroes combined with gorgeous girl power was certainly percolating at the Tonner booth. These Bombshell Beauties — superheroes decked out in 1940s Vargas-pinup-style costuming — were on hand in three variations. This trio of long-legged, slim-waisted, and large-bosomed Tonner beauties depict Wonder Woman, Poison Ivy, and Batgirl. They definitely have a 1940s vibe to their appearances. I can easily picture their likenesses painted on the side of a bomber pilot's plane, can't you? These dolls are evocative and provocative!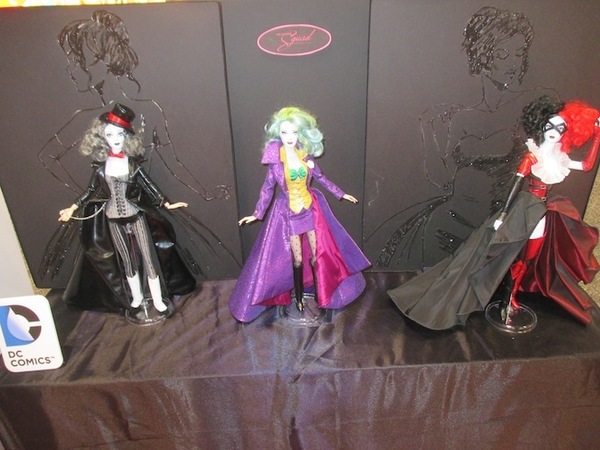 Not to be outdone, the designers at Alexander were also extremely busy conjuring up villains with a sense of drop-dead gorgeousness. Part of the Suicide Squad, these divas are re-imagined versions of Gotham's greatest troublemakers. Take a gander at the feminized versions of Penguin and the Joker. They are absolutely stunning. Harley Quinn is her usual manic and marvelous self, of course.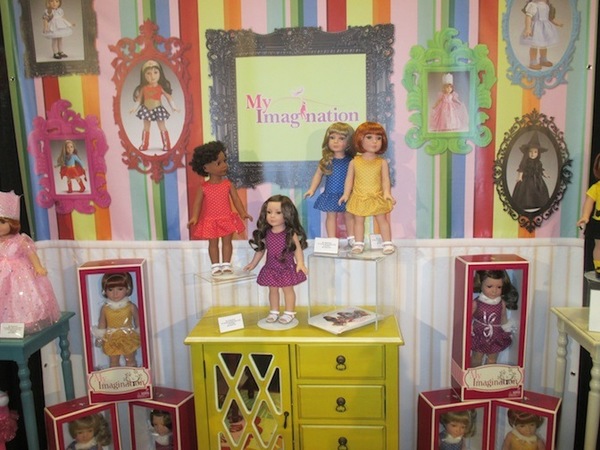 For the youngest doll lovers among us, and even some of us older gals who like the 18-inch American Girl-size offerings, there are vinyl best pals available in the superhero guise. Tonner's My Imagination line provides well-scrubbed, healthy-looking, little-girl dolls, and then offers collectors the chance to dress them up in an enormous array of fun and unexpected costuming.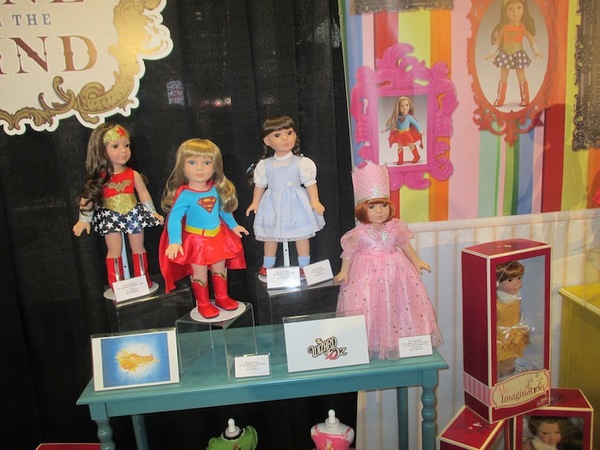 Their re-imagining can run the gamut from magically gifted Glinda the Good Witch and Dorothy from Kansas (who come to think of it is a fierce and brave explorer in her own right) to a very superb Super Girl and a wondrous Wonder Woman!
Are you psyched about all of the Superhero swooning in the doll market? Or do you think it's still just an excuse to have dolls that change their costuming and look va-va-va-voomish? These superheroes are able to do all of these things or a combo of the mix: fly, fight, track, hunt, sleuth, create gadgets, do karate chops, see through walls . . . and did I mention fly?
The female superheroes are a potent and daunting force. Still, each one, in her comic-book illustrations, screen adaptations, and doll translations, could choose a secret identity of a Maxim cover model or the proverbial "sexy librarian." She's gorgeous and domineering when she lets her hair hang down! Let me know what you think. Are you captivated by this push toward powerful and curvaceous, or do you think it's just a fashion doll dressed up in another form-fitting outfit? It's not an evolution at all.
I saw lots more at Toy Fair, and I'll show-and-tell about it in next week's blog. Also, check out my Plush Life blog at Teddy Bear & Friends to see what was popping up on the plush side!