Good things come in small packages. Less is more. We're all familiar with the clichés that teach us that, well, bigger is not always better! If you need further proof that small is best, here it–rather, here she–is! Tiny Kitty Collier, the latest fashion doll from the Tonner Doll Company, is pretty and poseable, yet small enough to sit in your hand.  Just ten inches tall, the little looker is Robert Tonner's smallest fashion doll to date. Tiny, yes, but not short on style: Tiny Kitty boasts a wardrobe that any fashion doll would covet. Unlike her larger cousins, however, Tiny Kitty has a magical, sprite-like quality that makes her most en­dearing. Think Tinker Bell in haute couture, and you pretty much have the picture.
"She is just adorable and is her own little person," says fashion doll enthusiast Les­lie Smejkal from Goleta, California. Smejkal purchased "My Heart's in San Francisco" Tiny Kitty because she was attracted by the doll's petite size. "I found her totally engaging," the collector says. "She makes me smile, and that's really what doll collecting is all about for me."
Tiny Kitty Collier seems to be making lots of folks smile these days. She is one of the hottest sellers for the Tonner Doll Company this year, with sales figures approaching that of Tyler Wentworth, Tonner's most popular doll. Lynn Fenstermacher, owner of Cherished Friends in Laureldale, Pennsylvania, describes the re­sponse to Tiny Kitty as "overwhelming," ad­d­ing that many customers have ordered the entire line. At Cherished Friends, the three basic Tiny Kitty dolls sold out in just a few months, well before they had arrived at the store. Other speedy sellers, Fenstermacher reports, in­clude the "Sharply Suited" doll, who is costumed in houndstooth check, and the "Bridal Bliss" gift set, a darling combination of a bride doll and a peignoir tucked inside a hatbox. "It's to die for!" she says.
Much of the inspiration for Tiny Kitty Collier was Robert Tonner's personal fascination with 1950s glamour fashion dolls (such as Miss Revlon and Toni), which he avidly collects. "In the '50s, manufacturers often did miniature versions–maybe about ten inches tall–of their larger fashion dolls," he explains. "I found myself looking at the small dolls and thinking, 'This is a really neat size, especially for vintage-look outfits."
In 2000, Tonner introduced the 18-inch Kitty Collier doll. A homage to the fashion dolls of the 1950s, Kitty has sweet, all-American good looks and a classy wardrobe. In 2002, when Tonner was thinking about introducing a small fashion doll, he realized that it made perfect sense to create a miniature companion– or "shadow"–for Kitty. Tiny Kitty Collier is not, however, simply a shrunken-down version of her big "sister." "We did a brand-new sculpture, with a different face and different proportions," Tonner notes. The two dolls have different eye styles, too: 18-inch Kitty has inset acrylic eyes; Tiny Kitty has painted eyes. "I like the look of a painted eye on a small doll," Tonner says.
Made of hard plastic, Tiny Kitty is highly poseable, with bending knees, a swivel waist and a rotational hip joint. (Beginning this year, 18-inch Kitty has this type of body construction as well.) "From the start, I knew I wanted a doll with a lot of movement," Tonner says.
Tiny Kitty Collier debuted in October 2002 at the Modern Doll Convention in Las Vegas. She was sold in a gift set, limited to 300, that included two ensembles–a tailored suit and an evening gown–in addition to the lingerie-clad, brown-haired doll. The second Tiny Kitty, "My Heart's in San Francisco," was released at IDEX in January. Limited to 500, the blonde-haired charmer was garbed in a magnificent midnight-blue evening gown. Both of these special-event dolls sold out quickly, whetting collectors' appe­tites for more.
The eagerly awaited Tiny Kitty Collier line was introduced at Toy Fair in February. The debut collection comprises three basic dolls (a brunette, a blonde and a redhead), clad in lingerie, which retail for $40 each; four costumed dolls, which cost $70 to $80; the "Bridal Bliss" hatbox set, which sells for $140; six costumes, priced at $35 each; and a wardrobe trunk, tagged at $40. The basic Tiny Kitty dolls are annual editions; all other items are limited to editions of 2,000.
Four additional Tiny Kitty Collier dolls–representing the seasons–are avail­able exclusively from The Toy Shoppe in Richmond, Virginia. "As soon as we saw Tiny Kitty, we knew that we wanted Robert to do something special for us," says Barrie Shapiro, co-owner, with husband Danny, of The Toy Shoppe. The Shapiros requested the seasonal theme because they wanted to offer collectors a series.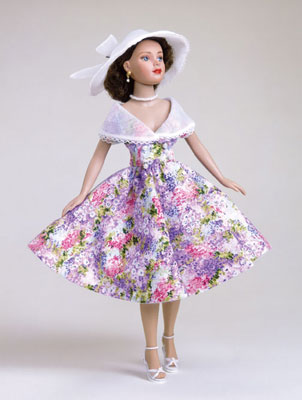 "In the past, I've shied away from this theme, because every doll company has done it. But there's a good reason to do it–it's a great idea," Tonner admits, laughing. "With this theme, you can get four very different looks in one series; it's also a very manageable size for a collection," he says.
As a set, the Four Seasons Col­lection costs $299, but the dolls are also available separately. "Orders for the dolls have poured in from as far away as Malaysia and Saudi Arabia," Barrie notes. Especially impressive, she believes, are the details on the doll's costumes. "No detail has been diminished by the small size of the doll," she asserts. "That's because Robert puts into his pieces what he wants him­self as a collector."
Tiny Kitty Collier's entire wardrobe reflects Tonner's design expertise. Ensembles range from crisp and casual day clothes ("Summer Chic") to glamour outfits ("Evening Gala") to sweet-dreams sleepwear ("Floral Peig­noir"). Designing outfits for small dolls is particularly challenging (it's hard to find in-scale fabrics and trimmings), but Tonner and his design team are undaunted. "We've had so much practice with Tiny Betsy that we can handle it!" he says with a laugh.
Fans of Kitty, both large and small, will notice that the two gals share many clothing styles. This, Tonner notes, is to ensure that collectors who wish to display the dolls together can do so in matching pairs. "Femme Fatale" Tiny Kitty, for example, is a miniature version of one of the most popular 18-inch Kitty dolls from 2002. The feminine, floral-print dress worn by "Peaches & Cream" Tiny Kitty is available as a costume in 18-inch Kitty's 2003 wardrobe. Similarly, the sizzling blue-velvet cocktail dress worn by "Sassy" Kitty Collier is available as a costume for Tiny Kitty. (An interesting note: Although Tiny Kitty's "Bridal Bliss" set shares its name with an ensemble from the 18-inch Kitty's debut collection, the gowns are different designs.)
Tiny Kitty Collier may well end up with the most varied wardrobe of any fashion doll; that's because, as collectors have gleefully discovered, she fits in much of the clothing made for other small dolls, including Barbie. (Ssh– don't tell Mattel or Tonner!) Pictures of Tiny Kitty wearing other dolls' ensembles have sprung up on many Internet doll sites, where Tiny Kitty is lovingly referred to by fans as "Itty Bitty Kitty" or "Kitten." "I just had to try all my Barbie outfits on Tiny Kitty, so now she has a huge, ready-made wardrobe!" says Smejkel.
"Tiny Kitty is a lot of fun to dress," concurs Fenstermacher of Cherished Friends, citing it as one reason for the doll's success. Another factor, Fenster­macher says, is the doll's diminutive stature. "Collectors are simply running out of space, and you can fit a lot of Tiny Kittys into a small display area," she explains.
Desiree Pierce, a Tiny Kitty enthusiast from Orland Hills, Illinois, agrees: "Given my ever-growing doll collection and my space limitations, it's so nice to have a quality-made doll that doesn't take up much room."
Given Tiny Kitty's popularity, one can't help suspect that Tonner will be adding to the line at the end of the year. Nothing was definite when Tonner was interviewed for this article, but he did reveal that an end-of-year holiday gift set was in the works. Next year's plans are still hush-hush, as is any news about the possibility of Tiny Kitty being joined by tiny friends and family members. Regarding the latter, however, Tonner admitted to being "very optimistic." "It's very likely, definitely almost–hey, give me a little wiggle room!" he joked.
For the moment, at least, what collectors can be sure of is that while Tiny Kitty Collier will remain deliciously small, her wardrobe, her world and her popularity will continue to grow.
For more information, visit the web site www.tonnerdoll.com.