Trent T. Daniel and former Mattel designer Stacey McBride-Irby founded The One World Doll Project (OWP) in 2010, aiming to create multiracial fashion dolls that represent contemporary girls and women. The company recently launched its Prettie Girls line with African-American Lena and Hispanic-American Valencia. In addition to the play line, the OWP just released its Cynthia Bailey Prettie Girls Signature Collector Doll depicting the businesswoman, model, and reality star featured on Bravo Network's "Real Housewives of Atlanta."
OWP co-founder Daniel recently took time to speak with DOLLS about his goals for his company and the Prettie Girls line.
DOLLS: What was the inspiration for the Prettie Girls dolls?
Trent T. Daniel: Many personal experiences served as inspiration for the Prettie Girls! dolls, but our primary motivation was to address the growing, unfulfilled demand in the marketplace for mainstream fashion play dolls that represent real racial and cultural diversity.
DOLLS: What's the difference between Prettie Girls and other lines that embrace diversity?
Daniel: The biggest difference between the Prettie Girls and other dolls that embrace diversity is that our dolls represent five young ladies who come from different racial and ethnic backgrounds, but all inhabit the same space. We feel the Prettie Girls effectively represent diversity without making diversity the cornerstone of their existence. That seems to be the main thing that attracts little girls to our dolls, because multiculturalism is simply a part of the Prettie Girl world — just as it is at the schools children attend every day.
The Prettie Girls all live in the same neighborhood, go to the same school, hang out at the same places — still, they come from all over the world. We want little girls to see the Prettie Girls world not as some place far off on the other side of the globe, but as a place right next door, around the corner, and down the street. We feel the Prettie Girls are the only play line that has delivered diversity without making diversity the core focus of the individual dolls.
DOLLS: How do you deliver on the line's stated concepts of strength, success, and other desirable values in kids?
Daniel: The fact that The Prettie Girls all have aspirations to achieve success and happiness in life is one of the concepts that seems to be most celebrated with our customer base. While we do want children to get a positive message from the dolls, we still want them to be fun and engaging, so we have integrated each of the girls' desires, dreams and directions in life into who they are.
For example, Lena, our African-American doll, is an entrepreneur who has political aspirations — but she also loves pizza and cheerleading. The Prettie Girls are real girls, first and foremost, and as long as we present them in that way, we can successfully integrate positive messaging while supporting the fun, wonder, and excitement of being a young girl.
DOLLS: What's next for The One World Doll Project?
Daniel: Next up is to release three other Prettie Girls. Kimani, our African girl; Dahlia, our South Asian girl; and Alexie, our Caucasian doll, will be available online and in retail locations in early 2014, just after the International Toy Fair. After that, we plan to release fashion accessories for the Prettie Girls, expand our celebrity signature collectors line, and introduce our East Asian character. We'll spend the rest of 2014 planning and executing our Christmas program. We want the Prettie Girls dolls to be the "must have" toy for Christmas 2014.
DOLLS: Are you considering developing licensed products?
Daniel: Absolutely! As we continue branding the Prettie Girls globally, we shall expand into several licensed categories, including stationery, gifts, publishing, clothing, soft goods, and perhaps a Prettie Girls musical group.
DOLLS: Is there anything else you'd like to tell our readers?
Daniel: Yes. We here at One World created this line of dolls because we know there are millions of little girls out there who have dolls in their toy chest that do not effectively represent who they are, where they come from, and what they wish to become. We intend to show those little girls that someone out there is thinking about them and that their parents will now have a choice when it comes to looking for dolls that have positive messages, play value, and cultural relevance.
Find out more at www.shopowdolls.com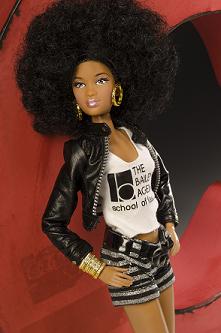 Cynthia Bailey, entrepreneur and reality TV star from "Real Housewives of Atlanta," is the first celebrity likeness in OWP's Prettie Girls Signature Collectors line. OWP's Cynthia Bailey doll wears a casual yet edgy ensemble that includes a zip-front faux leather jacket, patent leather bow, belted metallic shorts, and white cotton tank representing The Cynthia Bailey Modeling Agency. Gold hoop earrings, a chunky gold bracelet, black pumps, and a black patent bag complete her stylish look.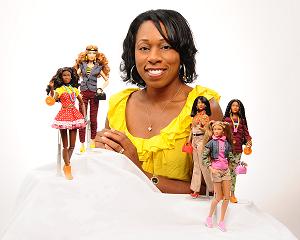 In her 15 years at Mattel, Stacey McBride-Irby designed for the Disney Princess Collection and created countless fashions for the iconic Barbie line. Most notably, she created an entire new line, the So In Style African-American dolls. Now a co-founder and lead designer at OWP, McBride-Irby designed the first five characters of the company's Prettie Girls teen fashion doll line, among other projects.