It's hard to come up with a new idea — I mean, one that has never been seen, heard, spoken about, or imagined before. There are some cultural critics who maintain there are NO new ideas at all. Everything is simply recycled, repurposed, reformatted, and rearranged. If you watch a lot of TV (I plead guilty), you probably subscribe to that worldview. I can often figure out a brain-teasing miniseries before its second episode even concludes. So much for originality! Imagine, then, the pressure that Madame Alexander Dolls must face.
The esteemed New York City company has been inventing, innovating, and refreshing their lineup for nearly 100 years. (I think it's 94 years, to be precise. That's an impressive feat.) The beautiful thing about the Alexander Doll Company is that they always balance their tried-and-true bestsellers (variations of Wendy, Billy, Cissy, and Cissette) with unexpected licensed characters and original properties. The Alexander creative team has to constantly conjure up new arrival or give pretty dramatic face-lifts to old favorites.
New from Alexander Dolls: SpacePop
All of this was fully on display at Javits Center in Manhattan during the 114th Toy Fair outing. (114 — now that's a solid number as well!) I loved strolling around the pink-and-blue booth — the carpeting was especially lush and comfortable — and seeing what was on the horizon.
One of the brand-new dolls series that Alexander has high hopes for — hopes that are astronomical, or, at least, stratospheric — is the SpacePop lineup. It's not enough anymore for a doll to just look good. She's got to come with a compelling backstory, too. These dramatic, theatrical dolls have a history, which is a mash-up of science fiction and romantic cloak-and-dagger espionage. The cosmic girls are actually interstellar princesses who band together to save their galaxy by masquerading as a musical group called SpacePop. Through singing ballads about freedom, these disguised rock-n-rollers are rhythmically striking blows for emancipation. Yep, the funkadelic dolls put the "gal" in galactic space heroes.
Seeing the lineup up close, I was impressed by how modern and fun they look. With their brightly colored wardrobe — superstars don't dress modestly — and their multihued tresses (fancy way to say they have colorful hair), the dolls reminded me of Mattel's really successful Monster High characters. Tons of adults responded positively to the Monster High message of self-acceptance, and social misfits being kindly received and celebrated for their unique differences. Like I blogged about in a past post, even Lady Gaga was personally touched by the Monster High principles. The "Monster Mama" had a likeness made of her by Mattel, and proceeds from its sale were earmarked for her anti-bullying charity.
The SpacePop dolls have to try to reach out and garner an adult following — a group of adult men and women who will see the dolls as a bit of colorful, vibrant fluff. With their angular features, cascading coiffures, and bold fashion choices, these outrageously dressed dolls are definitely space camp! It's music legend David Bowie meets Vogue photographer David Bailey — a merging in the best possible way.
Madame Alexander Celebration dolls return
A perennial classic from Madame Alexander got a much-needed cosmetic alteration this year. The Celebration/Holiday dolls have been a staple for more than half a century. Now, more youthful-looking, cutting-edge faces and body types have joined the celebration coterie. Rather than the more typical Alexander round faces — close your eyes and envision Wendy and Billy — these dolls have longer, narrower faces, wide eyes, and high cheekbones. (A very interesting side note: the young woman who led me through my Alexander tour could have been separated at birth from some of these characters. She had the same facial ratio. It was quite amazing.)
I liked these new dolls and found it to be a radical departure from what Madame Alexander's corner booth usually showcases. Yes, many of the older, more familiar dolls were on hand, but the company was really pulling out all the stops this year to reintroduce themselves and their content. Consider it an injection of creative Botox — something that these longtime doll favorites were craving.
One of the doll types that dominate all of Toy Fair are the American Girl–size 18-inch creations. Alexander has their Disney Princesses at that height, but they also have their Favorite Friends. The latter lineup gives the Alexander designers a chance to dream up contemporary, cute costuming and modern-girl hairstyling. The pre-tween/tween friends are truly adorable, and they run the gamut from casual costuming to Pink Glamour togs. Really a nice array of ensembles and accessories.
I imagine that because of my years and years and years in private school, I am always attracted to a uniform look on dolls. I can't help myself — show me a blazer and a kilt and I feel instantly right at home. The Favorite Friends had a fun twist on this classic preppy look. The dolls wears a jean jacket and a tartan plaid skirt — which spells out classic styling to me. Her blouse, however, which at first glance seemed to sport a Tic-Tac-Toe board on it, is actually a homage to hashtags! The hashtag academy attire was a personal favorite of mine. I could picture myself dressed like that a few decades ago on the way to school! I liked, liked, LIKED that outfit. I'm giving it a big virtual thumbs-up!
It's comforting to know that even though the Alexander Doll Company has redone some of its more traditional and staid characters, they have not traveled too far from their founder's original purpose.
For anyone who might have doubted that their original intention is still in their hearts, a huge quote from Madame Beatrice Alexander hung outside the booth's entranceway: "Dolls are made to be played with and loved." It was true when she uttered it; it is true now when it is printed in her memory.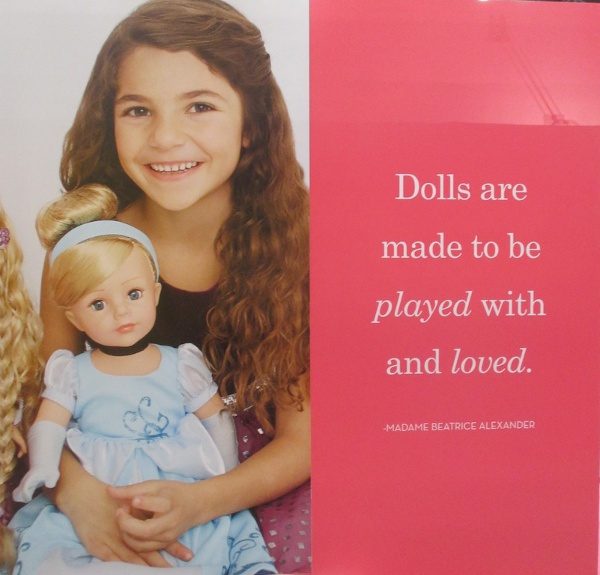 Madame Alexander was a visionary with her doll line, and a wise philosopher with her insights. Happy playing!