Lorna Miller-Sands is a highly motivated artist with a huge zest for life. She has an infectious personality that comes through clearly in her creations, each one as individual as the next and infused with personality and soul.
Miller-Sands' exposure to and interest in art began when she was very young, creating the artist she is today. "I come from a long line of creative people, and the gene seems to have been passed on to my own children," she says. "I have loved art in all its forms from as far back as I can remember. My mother said I came out of the womb with a paintbrush in hand. I remember being in the second grade at my elementary school in the Bahamas where my principal was proudly showing off one of my drawings displayed in his office. Straight through to 12th grade, art was most definitely my thing! From school I went to Oakland College of Arts and Crafts in California where I received a bachelor of fine arts in drawing."
Miller-Sands was first inspired to sculpt dolls when she visited Hamburg, Germany, in 1990 and was captivated by the realism the German artists' sculpts exhibited. "Until that moment, I had never even considered sculpting. That point was most definitely my lightbulb moment," Miller-Sands reveals.
"I started creating very expressive, realistic black children, who were generally 18 to 23 inches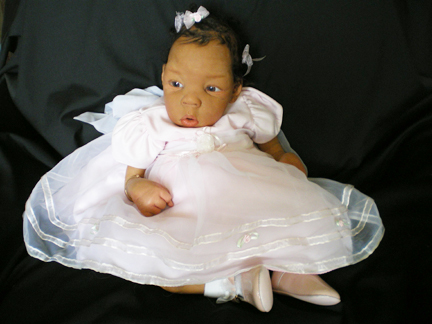 in size, using polymer clay. I created these children exclusively from 1991 to 2000. Then I was hit with the baby bug, and this was my main focus until last year when I returned to my roots of sculpting older children. I do, however, still sculpt babies [that are] available to collectors."
Of once again creating children Miller-Sands says, "I truly feel I have come full circle in my artwork with my return to the older children—only now they are a lot bigger, averaging between 30 and 36 inches in height. I find these creations very challenging and exciting."
She was recently challenged to take on a 33-inch portrait sculpt of her friend's child, titled "Alice in Wonderland." "It was indeed a real accomplishment for me because I am not generally known for sculpting white children. They are created with mixed polymer clay; they have glass eyes; and their hair is meticulously applied layer by layer to give maximum realism. This process takes an eternity it seems, but the final results really make all the hard work worth it," Miller-Sands says.
Miller-Sands achieves superb realism with fine materials, as well as painstaking artistry. "I use only the finest mohair which can be styled any way including [in] tiny French braids as seen on my piece 'Gracie.' My children are very expressive, and one of the things I missed doing during my break from the children sculpts was their very detailed open mouths; they are meticulously sculpted and all teeth are accounted for from the roof of their mouths to the back of their throats. It's quite a treat for collectors to enjoy.
"A very closely guarded secret has always been how I achieve the realistic skin tones of my creations," Miller-Sands continues. "To me black skin tone is the most complex of all to capture, as the skin has so many subtle hues and tones to it, but it's something I feel needs to be as realistic as possible. The children also have a fully articulated lock armature that adds to their poseability. Being able to offer a very diverse group of children, in both expression and nationality, is very exciting for me."
Miller-Sands isn't the only one who's excited about her work. Avid collector Susan Smith of England is a big fan. "I absolutely adore Lorna's babies; each one is so very very special to me. I am a very deep person, and I feel Lorna's bubbly personality almost embrace me when I look at one of her babies; they are unbelievably lifelike. The toddlers are just quite simply the best, and I am overwhelmed with the artistry and work involved in these little ones. These works of art just get better and better. I am so excited when a new family member comes home, and it's always very thrilling to add another masterpiece to my collection."
In the future, Miller-Sands has no plans to slow down and only hopes to improve as an artist. Her hope is that "I will continue to sculpt for many years to come. I feel very strongly that I am not even close to reaching my full potential. I am always trying to push the envelope a little more. To be able to work from home doing something I absolutely love and knowing my work is loved and cherished by so many. … It really does not get any better than that."
For more information, visit www.lornamillersandsbabies.com or e-mail LornaM123@aol.com.