Popular wisdom has taught us that it's not where you start, it's where you finish. In the case of Bertha Alexander, born in Williamsburg, Brooklyn, in 1895, her final destination was a far cry from the steaming tenements, rickety pushcarts and hardworking immigrants that surrounded her childhood. When she passed away in 1990, she had lived a life full of creativity, ingenuity, accolades and ac­complishments. Married to a supportive husband, Philip Behr­man, and the proud mother of a daughter, Mildred, Bertha had basked in the respect and affection of her family, and of the entire world. For you see, Bertha Behrman was known internationally as Madame Beatrice Alexander.
From early childhood, Bertha was seemingly destined for greatness. She was smart as a whip, won poetry and composition prizes at school, and exhibited a true talent in art. In later years, she would talk about an opportunity that she had been offered to study in Paris, learning the fine points of sculpting while making her way among the Seine's bustling café society. She had to turn down the scholarship to study abroad because her parents, Hannah and Maurice, had suffered a financial downturn and needed her to help the family out of their dire straits. Bertha took a job as a clerk, but she vowed to find a better way to express herself and her burning artistic streak.
When the Great War, known to us as World War I, streaked across the headlines in 1914, Bertha saw an opportunity to raise her country's morale, fulfill her desire to create and make some much-needed money. She persuaded her three younger sisters, Rose, Florence and Jean, to gather around their parents' kitchen table and instructed them on how to make an "indestructible doll." During their childhoods, father Maurice Alexander ran a doll shop and doll hospital, where most of his business involved the selling and repairing of porcelain dolls. Bertha rallied her sisters to create a muslin doll, stuffed with excelsior, that would salute Red Cross nurses. The dolls were an enormous success, and the seeds of the Alexander Doll Company were sown.
Bertha Alexander Behrman envisioned an American doll company that would rival the beauty and exquisiteness of their European counterparts. However, Bertha was determined that little girls would not be reduced to tears if they dropped one of their Alexander dolls. With every chemical revolution in plastics and in rubber, Bertha was there, urging her manufacturers to learn the craft and to perfect it.
Bertha Behrman is an American legend. And her rise from a struggling, scholarly child in Brooklyn, and then New York's Lower East Side, to a powerful, professional executive who presided over a doll empire is the stuff of Horatio Alger rags-to-riches tales. It is interesting that while creating this unique Ameri­can art form–dolls that uncannily mimicked the stars, celebrities, heroines of the day–Bertha was reinventing herself as Madame Beatrice Alexander, an identity that smacked of European or Russian aristocracy. She loved the notion that her dolls were a goal for American families on the rise–buying your daughter an Alexander doll was a status symbol, an overt nod that the Mr. and Mrs. were on the right track. And the belief that "a thing of beauty is a joy forever" was the mantra that Madame Alexander pressed upon her designers, craftsmen and workers.
Known to be autocratic at times, difficult and headstrong, Madame Alexander was carving out a niche in history. She recognized the ability to turn dolls into touchstones of popular culture and of historic significance. Since she was such a bookworm and was so smitten with the cinema, many of Alexander's past triumphs and present breakthroughs revolve around literary characters and movie personalities. She also devoured newspapers and fought to re-create figures torn from the headlines in doll form: the First Ladies, the Dionne Quintuplets, Queen Elizabeth, to name a few.
The world needed a Madame Alexander, a petite dynamo of energy who proved that nothing was impossible if one desired it hard enough. If she hadn't invented this regal and impeccably groomed dollmaker, a doyenne who presided over the birthing of lovely and elegant playthings, a marketing whiz would have dreamed her up. One may wonder if there really was a Betty Crocker or an Aunt Jemima, but we all know there truly was a Madame Alexander. It didn't matter that she began her life in a bustling borough, bargaining with peddlers and dealing with customers in her father's store. In her mind, she was elsewhere–someplace better. While she read Shakespeare, curled up on a bench in her parents' small cement backyard, the strains of Yiddish, German and Russian wafted about her. Decades later, she would be shaking hands with senators, speaking with presidents, and receiving correspondence from mayors and secretaries of state. As the great American innovator and painter Georgia O'Keeffe observed, "Where I was born, and where and how I have lived, is unimportant. It is what I have done with where I have been that should be of interest."
Madame Alexander was always an optimistic, forward thinker, and that is why her company, formally established in 1923, in Harlem, New York, still survives today. And most important, that is why it has been selected to receive a Jones Publishing Lifetime Achievement Award.
"Madame Alexander was the first with lots of different doll innovations and designs," explains Gale Jarvis, president of the Alexander Doll Company. "She was an entrepreneur, a woman with ambition and a wonderful imagination. She used those gifts to create beautiful, beautiful dolls."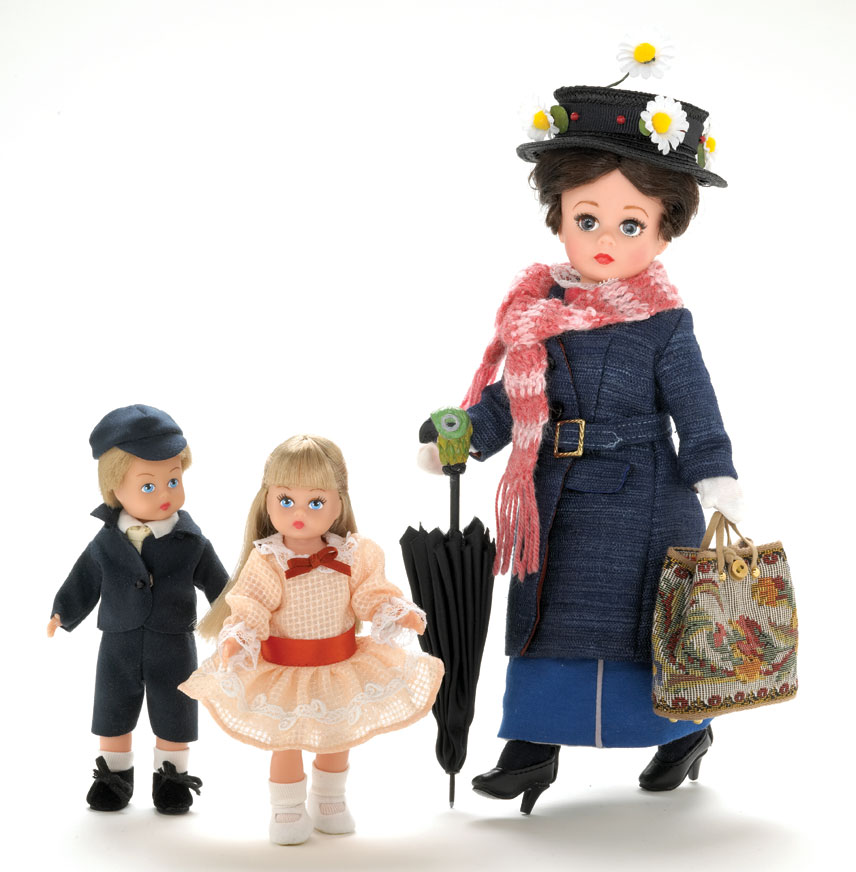 For six years, Jarvis has been at the helm of the Alexander firm. It has en­dured its ups and downs in the late 1980s into the early 1990s, but it is on a steady course today. "When I was a child, I played with Madame Alexander dolls. In fact, the last doll I received as a little girl was a Cissy," Jarvis recalls. "I knew the company had a high profile in the American landscape. I even knew that as a child, but when I became vice president of toys at Macy's, I then realized how well-respected the name truly was."
When Jarvis learned of the Jones Publishing tribute that is planned for her organization, she was gratified. "It is good to be recognized by peers, especially for the high standards we try to maintain. After 81 years, it's nice to be recognized for creating and continuing the history of the oldest doll company."
Marianne Graf, director of design for the Alexander Doll Company, agrees wholeheartedly. "Our president, Gale Jarvis, leads us in the right direction. She urges us to think about keeping the line fresh, keeping it new. How many companies can take a 50-year-old doll and make it new again?"
The doll "of a certain age" that Graf is toasting is Cissy. Unbelievably, Cissy, the bastion of haute couture and sophistication, is celebrating her half-century mark next year. Like a fine wine, this cosmopolitan creation is only getting better with time. "We thought it would be a nice twist for her birthday to take her from the larger, imposing 21-inch size down to a smaller, more space-saving 10 inches," Jarvis and Graf explain.
"Coquette Cissy and Coquette Jacqui are marvelous mini versions of the larger 21-inch versions," Graf enthuses. "These dolls came about because collectors are always looking for something new. Cissy will always be a favorite, but not everyone has room for such large dolls anymore. Also, the pricing will be a little more attractive, too."
Graf, who has been with the firm for 13 years, is well versed in the company's history and achievements. She and the rest of the design team often look to the heady past to help tool the heartwarming future. "If we continue to maintain the standards that Madame set, all of our current offerings will stand the test of time," Graf affirms. "Madame Alexander had an exquisite eye for beautiful things. Because she was attracted to the finer things in life, she took the extra step to add the details that set her apart from the rest of the world. Because of quality, she created dolls that last forever."
When Jarvis is asked which of her current wares will stand the test of time, she muses for a moment. "I think our new eight-inch Asian and African-American face sculpts will remain popular. Likewise, our articulated Wendy dolls and our special projects like Olivia, Eloise and Hannah Pepper."
Yes, indeed, Alexander Doll Company has named a young girl doll after Hannah Pepper, the brave immigrant woman who journeyed to these shores to settle down and raise daughter Bertha.
It is that ability to salute the past–personal and public–that has always hallmarked the Alexander Doll Company. The individuals who comprise the company have never forgotten where they came from, or what they are striving toward.
"I feel the dolls pull at people's heartstrings," assesses Graf. "Maybe many of them remember something from the past and want to make sure that feeling is passed on."
Jarvis speaks for her entire team when she vows: "We want to be known as a great doll company that has great products and great value. It's all about the dream for the collector. We have fun re-creating that. It's the company's legacy, and we honor it."
.