Is it possible to be ahead of one's time, and then behind one's moment to shine, followed by the exact moment when the rest of the world has caught up and all constellations align for perfect acceptance? If that sounds all sort of "touchy/feely" or New Age nonsensical, I apologize. I just don't know how else to explain the career of RuPaul and his/her emergence as a charismatic and enjoyable television commodity.
For the past four years, RuPaul—a tall, towering assemblage of wigs, chiffon, and spiked heels—has hosted a reality competition show on the Logo network called "RuPaul's Drag Race." Though I'd heard of it, and occasionally saw snippets of it, I didn't follow it at all. However, a recent bout of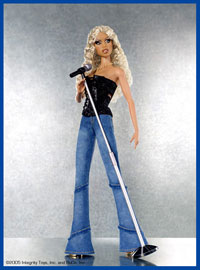 insomnia left me channel-surfing through 57 channels (and nothing on), as Bruce Springsteen sings. In my hyper-alert state, I happened upon a marathon showing of this season's "Drag Race." I started to watch it . . . and I am hooked.
While watching this blending of "America's Top Model," "Project Runway," "Survivor," and "The Jerry Springer Show," I kept thinking that RuPaul would make a perfect fashion doll. Every so often, she would refer to the contestants vying to be the breakout drag queen of the year as her "dolls." As I let the beads, baubles, and bitchiness wrap around me, I was convinced that there had been a RuPaul doll, but when did it come out? Certainly not this year or the year before. When in the world did I see the Glamazon figure?
Well, it just so happens that Miss Thing was made into a fashion doll (99% Plastic, 1% Woman—a very funny tagline) back in 2005 by Jason Wu for Integrity Toys. What a perfect blending of high-camp sensibilities and talented designing and sculpting.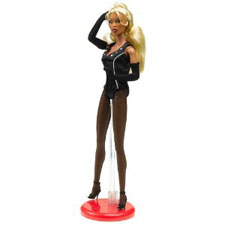 Trolling across the Internet, I found glorious press releases that touted the debut of the doll and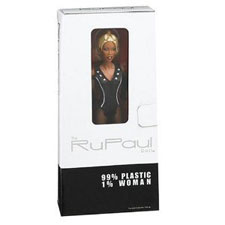 mentions of RuPaul showing up on the "Today Show," bright and early, sans makeup, to peddle the product. There was a media blitz, but the doll did not become a collectible blockbuster, cranking out new wardrobes and accessories, year after year, season after season.
Looking on eBay, at www.magmaheritage.com, and on Worthpoint, I found some of the dolls on sale, MIB, for $75 to $200, and I wondered why in the world aren't new ones being manufactured to tie in with the TV program? The man behind the RuPaul phenomenon—RuPaul Andre Charles—is a marketing genius, and he's certainly not shy about promoting his appearance, his music, his zany sense of humor, and his in-your-face bending of traditional gender roles. Why, then, are there no new versions of the RuPaul doll?
One of the permanent judges on the current competition show is Santino Rice, an alumnus from "Project Runway." He is known for his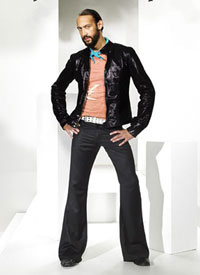 high-fashion red-carpet creations, and wouldn't he be fabulous to dress a new Ru doll? Is the fading of the brand something to rue? Or were there people protesting and actively banding together to put the brakes on the "first transvestite fashion doll"? (That's an actual quote from one of the supporting news articles.)
So I ask, is it possible to be too far ahead of one's time? I don't know what happened in the boardroom of Integrity Toys between the RuPaul camp (pardon the pun) and the Wu team (wanted to say "clan" but feared it would fall flat on non-hip-hop ears). Maybe there was a tempestuous toss-up or a fierce falling-out that curtailed the line of fashion dolls, or maybe there just weren't enough sales to sanction its ongoing production. I honestly can't say.
However, as a TV viewer, with a very active DVR, I am programming my recorder to capture the explosion of hair extensions and falsies, catty behavior and snarky comments, every Monday night. All I can say is that a resurgence of the fashion dolls would be gobbled up by the fanbase for this show.
And that's the vagaries of the doll business, or any industry that attempts to capture lightning in a bottle. Who could imagine that despite all her run-ins with the law, pop princess Britney Spears is still making millions and is poised to possibly join the cast of Simon Cowell's "X Factor" show? Whereas Academy Award-winner Mel Gibson has descended into "persona non grata" among Hollywood executives and filmgoers. Who could have predicted that?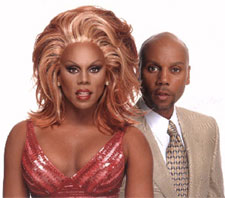 You never know when a star is going to rise, or when it is going to burst into flames and spiral down to earth.
For RuPaul Andre Charles, his career has spanned 30 years—defying all odds and all popularity lulls. And that alone is deserving of a doll tribute. Someone, somewhere, get this man a doll—preferably dressed in peek-a-boo heels!
What do you think of RuPaul being made into a doll again? Do you think it is the ultimate homage to a fashion "goddess" or do you think it is going too far, showing bad taste and bad judgment? Please share your opinion on this matter. Is it just good, clean fun, or something more insidious?