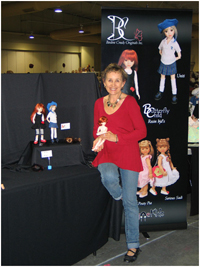 After a good start with spring shows in Myrtle Beach and Concord, N.C., Knight Shows & Events prepares to head into the May 2, 2009, event to be held in Columbia, S.C. Besides dolls and bears, the show will feature toys and model trains. Following, will be a July 18 show in Santee, S.C., an Aug. 1 show in Greenville, S.C., and a Sept. 13 show in Savannah, Ga.
The year will finish with the grand finale—EXPO 2009 & Christmas Show in Columbia, S.C., Oct. 30-Nov.1. The dolls and bears on display will be supplemented with seminars, luncheons, workshops and the Saturday Night Halloween Ball.
Knight Shows & Events has something for everything. For more information, click here.