By Wil Peterson
Jiao "Jason" Huadong's quest for doll-design excellence is evident and undeniable. So is the artist's commitment to dazzling doll collectors with the bold and beautiful Mizi and Adonis characters in his JHDFashionDoll line. Based in Huizhou, China, Huadong graciously took the time for an interview with frequent DOLLS contributor Wil Peterson: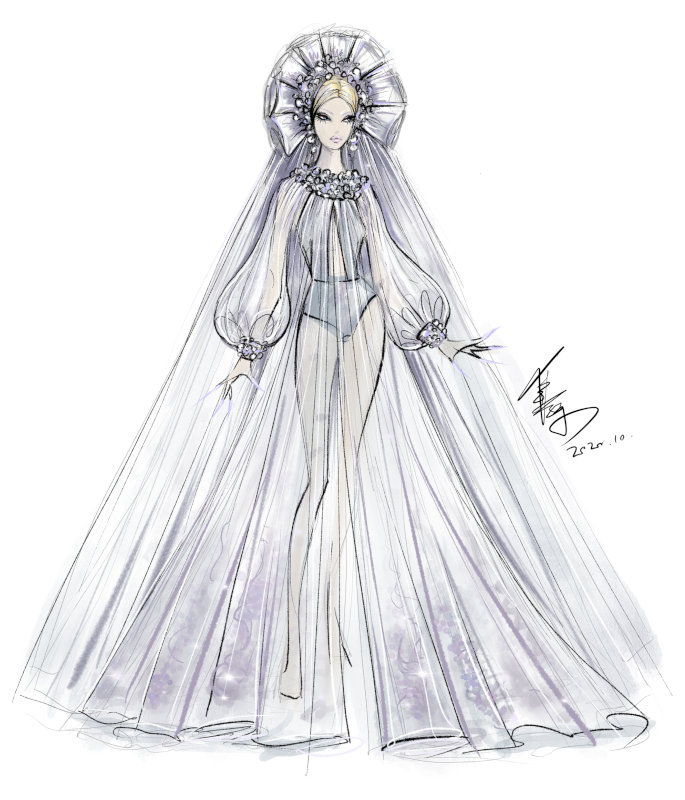 DOLLS: For anyone unfamiliar with the JHD Fashion Doll line, how would you describe the characters you've created and your design aesthetic?
Jiao Huadong: JHD was established in 2018; we are a very young company. Currently, we have two major categories: the female fashion doll line represented by Mizi and the male doll line, the Adonis series. Mizi is a lovely and fashionable character which stands close to traditional fashion-doll concepts. Adonis is a distinctive design. He is masculine and super charming.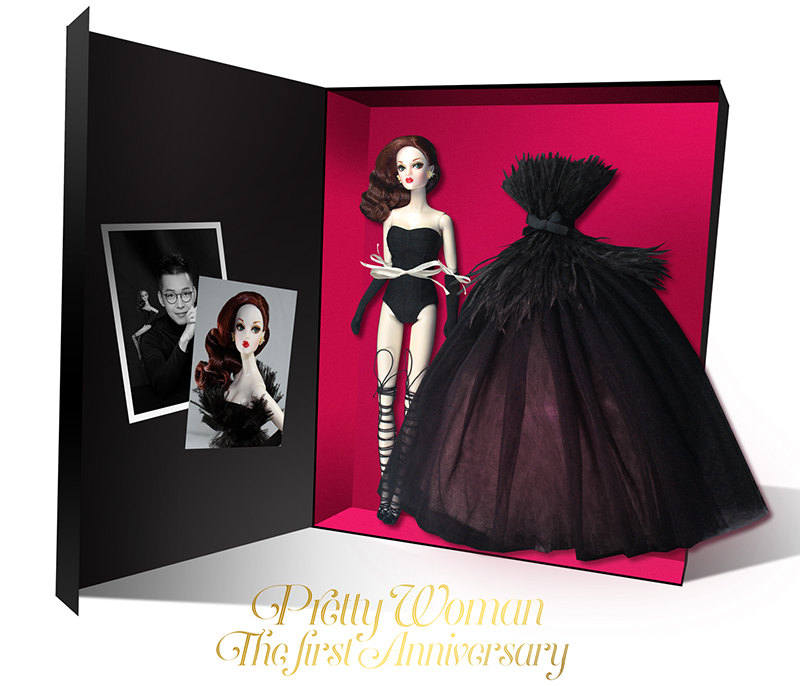 DOLLS: When did your first doll debut, and how many have followed?
Huadong: My first doll was created in fall 2017. That was a hollow doll in which the whole body is made of vinyl. But when I received the prototype, I realized that was not what I wanted, because it was completely not the same type as the dolls I had collected. I decided to give up the previous design and start again from scratch. In the winter, I found a small factory that was very cooperative and willing to grow with us. However, they hadn't had experience in manufacturing jointed dolls before. We have overcome a lot of problems together, and eventually in early 2018 the first Mizi collection was officially released. Ever since then, I have designed dozens of female characters. They all originate from the face of the first Mizi. You may visit our company website to learn about all the characters.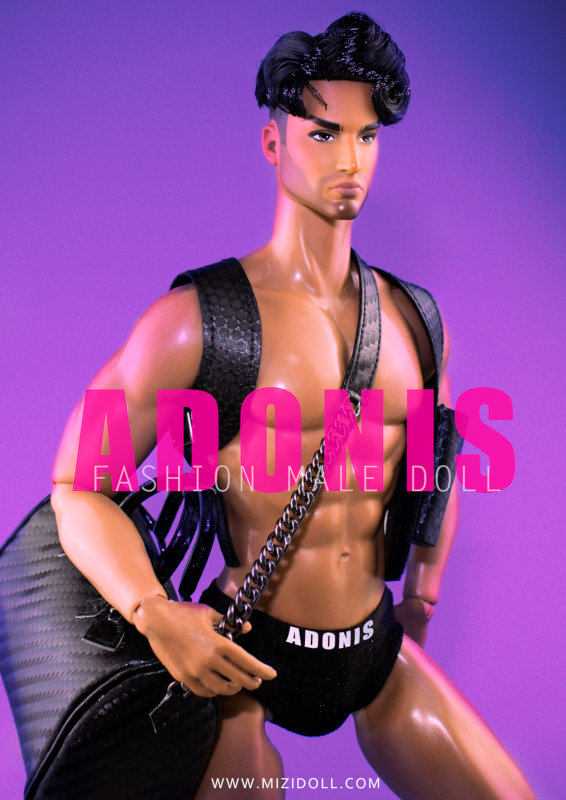 DOLLS: What materials are used to make the dolls' bodies and hair? What fabrics are used for the clothing?
Huadong: We used plastics to make the bodies at the early stage. Due to the lack of experience in manufacturing ball-jointed dolls, despite our best efforts, there were some imperfections in the first few dolls. In 2018, we tried a rubber coating on the dolls. We called it Velvet Skin, because the touch of it feels silky smooth, just like real human skin. But later, we found that it has a flaw: Collectors like to dress up their dolls in clothes of different colors, and the Velvet Skin can be easily contaminated by the clothing dyes after being used for a period of time. Given this, we had ceased to apply this coating to our dolls. We have been researching a new material named Precious Stone since winter 2020. This is a patented material which possesses a silky feel and stone-like texture. We are still studying and testing this material, and possibly it can be implemented into our new products very soon.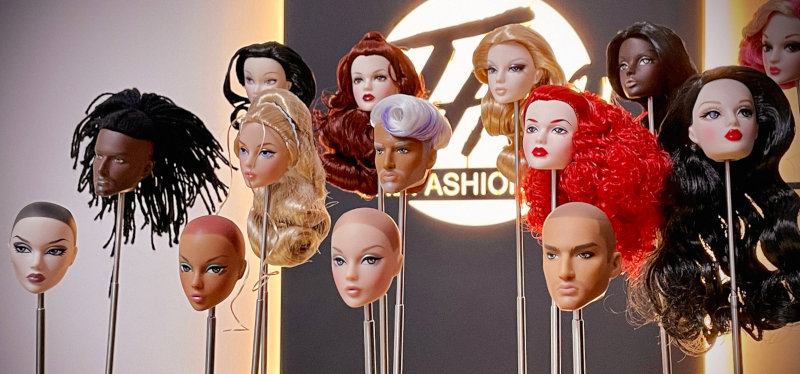 Regarding the hair, it's made of high-end fibers imported from Japan. For clothing, we choose different types of fabrics and techniques according to the characters and the scenes. We've tried a variety of fabrics, including cotton, silk, canvas, denim, chiffon, fur, polyurethane leather, lace, and sequins. Sometimes we make our own prints and customize some special materials for dolls' clothes.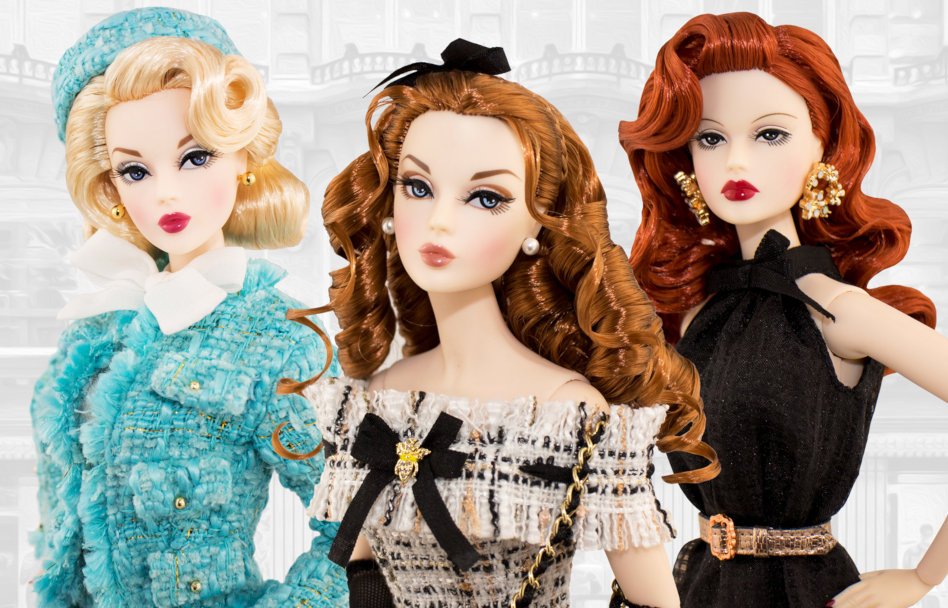 DOLLS: What's the design process for your dolls? Do you start with a particular look and vibe in mind or are you inspired by people, places, etc.?
Huadong: I pull a lot of inspiration from almost every aspect of life, such as literature, music, real-life fashion, movies, architecture, etc. For example, we can see some reflection of classic fashion brands on the Bond Street Collection — the Chanel outfit, the Hermès handbag, and the Versace purse. These are the things that the people walking on Bond Street actually wear. My job is to combine these fashion elements into my dolls and come up with something suitable for the dolls, including style, color, hairstyle, and makeup. The Brides of Dracula collection was inspired by the classic vampire movie — I try to combine the magical and classical exotic designs on the dolls, while respecting the classics. It can also bring the collectors some fresh elements.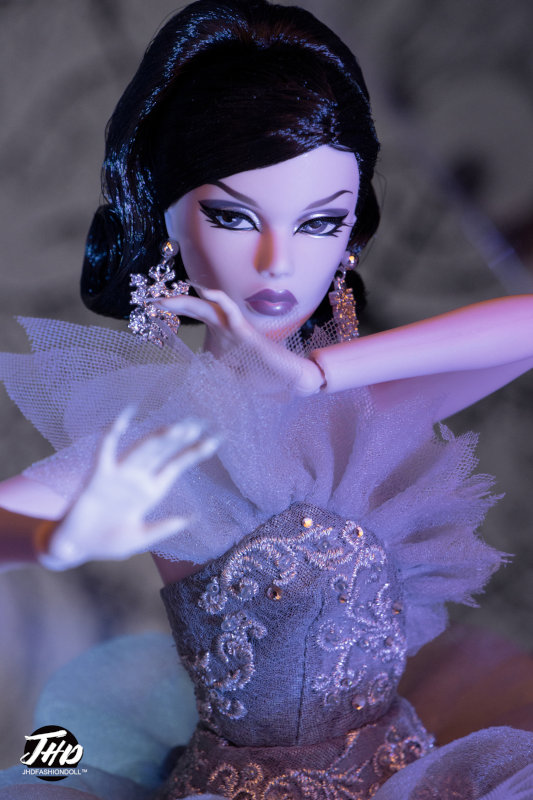 DOLLS: When did you decide to create your own dolls?
Huadong: Just like many other fashion doll collectors, I had always wanted to create my own dolls, but it was not until 2018 that I finally decided to make it official. After my study of industrial design in Chongqing University and five years of work experience in marketing at Toshiba China, I felt like I had the necessary resources and expertise to start my own business. Somehow it didn't turn out as easy as I had expected, and I soon realized how naïve I was. Running a doll brand is not just about the design. You also need to be able to think like a businessman — you can't only think of what you personally like. You have to take commercialism into consideration, as well. Besides, you must be able to maintain a stable production and sales system.
If it was just up to me, I would create something like one-of-a-kind (OOAK) Barbie dolls. I had been making OOAK doll clothing for years; I can make any style I like and something unique. But collectors wouldn't want too many repetitive designs. They would like to see something new but still within the range of the styles they love. So it is a battle within yourself. You have to find that fine balance to make something sellable but that you still like.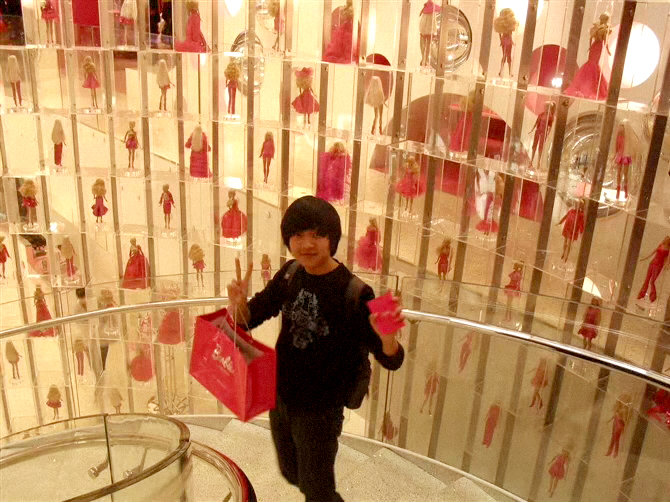 DOLLS: When did you first become interested in collecting dolls, and which line(s) attracted your attention? What do dolls represent to you?
Huadong: My first Barbie doll was introduced to me by my mother when I was 8 years old, and my first collectible Barbie doll was given to me by my father as a present. It was a huge gift for a working-class family, especially since it's something that is usually not considered as very educational. Since then, I gradually began to immerse myself in the universe of dolls. I started to design makeup and make clothing for my dolls. They have been loyal friends to me and have shared my happiness and sorrow along the way. You know, for a little boy who's got a house of dolls, some of the relatives or friends would find it very strange and can be judgmental sometimes. But no matter what kind of feedback I received, I never gave up the things I love. I didn't replace my dolls with airplanes, tanks, guns, or Transformers. My view is that everyone has the right to choose what they like. As long as you are not hurting someone else maliciously, you can and you should always stick to who you are.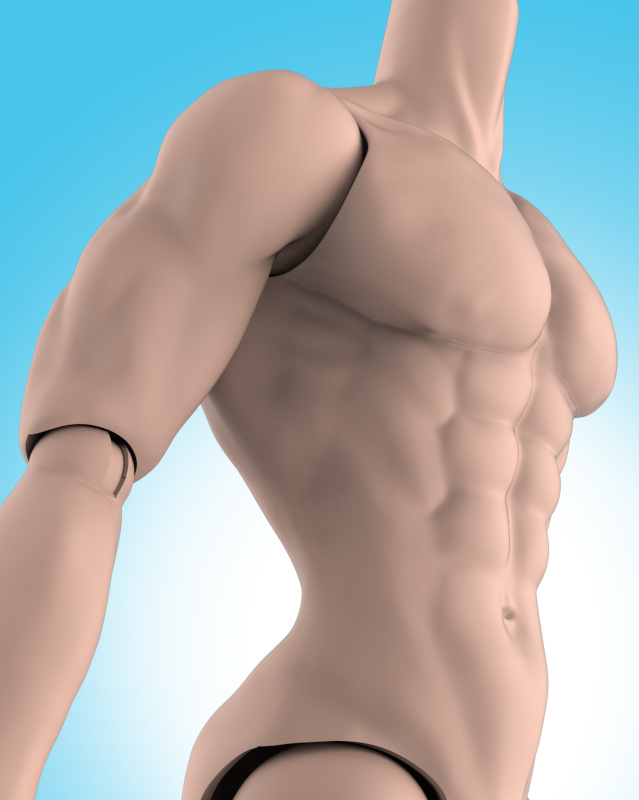 DOLLS: You initially focused on female dolls. What led to the Adonis line —were male dolls a part of your plan from the start?
Huadong: I did want to create my own male dolls from the very beginning. However I wasn't able to make the male and female dolls simultaneously because of limited funds at that time, so I started with Mizi collections. Adonis was released two years after the launch of Mizi, with the experience of Mizi production. We are upgrading Adonis' body, which will make him even more outstanding.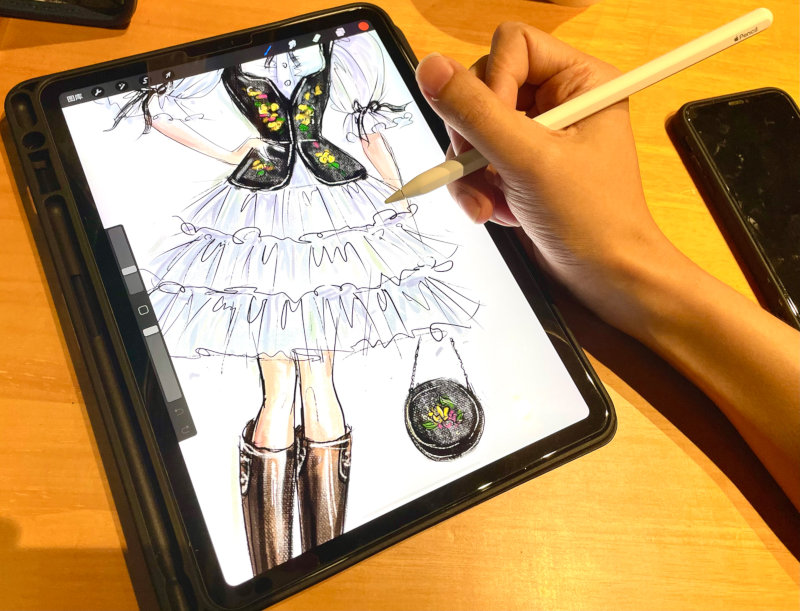 DOLLS: Please briefly describe the steps involved in creating a Mizi or Adonis doll.
Huadong: When I have a concept, I usually start by sketching the outfit and making the prototype of clothing. Then I design the facial makeup and haircut according to the specific style. After all of these steps, here we have a first prototype of the doll. When it comes to mass production, it will generally take more than 20 times of spraying to achieve the effects I personally drew. Besides, I also need to train the workers about how to comb the hair. Then we can move forward to the final assembly and packing. Normally the whole process will take months. Generally, we would decide the edition size according to our production capacity and feedback from our dealer partners. We have received lots of feedback that our products issued are too limited, but I want to say that we have been using our best efforts to meet increasing customer demands. However, in order to ensure the product quality and timely delivery, sometimes we have to make a compromise.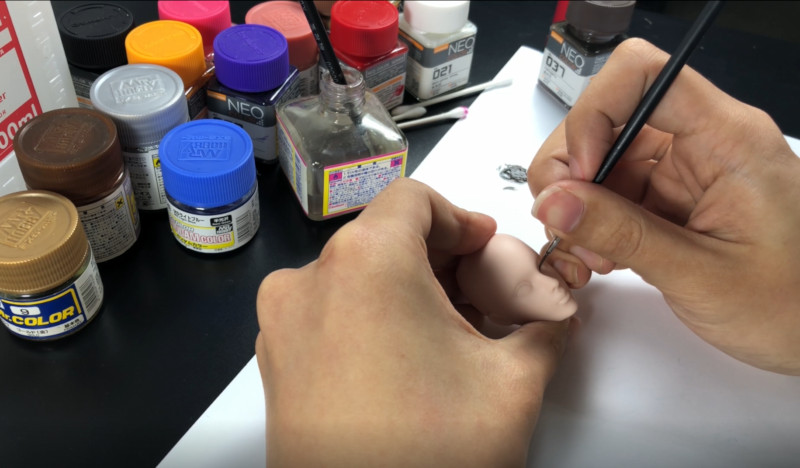 DOLLS: Where is your factory located, and does it also produce clothing and accessories?
Huadong: We have a jointly run factory now in Guangdong, China. Basically, we can complete most of the work by ourselves. Since we have this factory, we are becoming more efficient and more productive. We can do better in product quality control and respond quickly to market demand. The 12 highly competent seamstresses are very experienced and superb in workmanship. They understand and can reproduce my designs very well.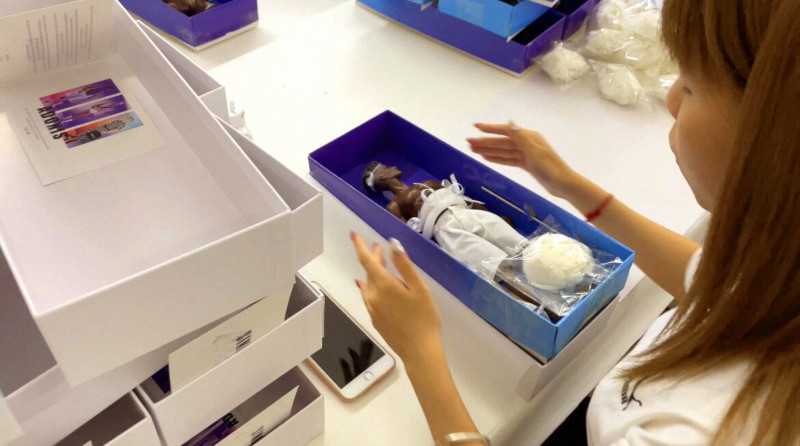 DOLLS: What obstacles have you faced while making your dolls, and how have you overcome them? Do you ever worry about running out of ideas for new looks and fashions?
Huadong: I guess every designer could have trouble coming up with good new ideas occasionally, but I believe this kind of situation is only temporary, or it' s just a phase. We are living in such a big universe. There are tons of different cultures and all kinds of people; everyone is creating something new every day. So long as you can keep learning new things and don't lock yourself into one thing or one area, you can always stay creative and inspired. Especially for my brand — it's still very young — there is still enormous space for creation.
Speaking of the challenges I have faced, currently it may be about how to manage the production schedule well and keep improving the product quality while doing well in design. Our customers would like to receive the dolls earlier and hope the products can get better and better. I totally understand how they feel and have been fighting for it.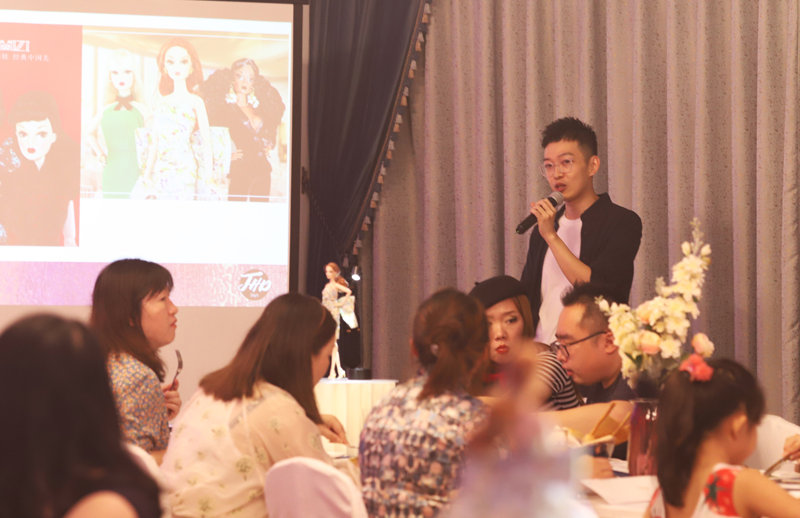 DOLLS: What can collectors expect from the Mizi and Adonis lines this year and beyond? How far in advance do you plan new products?
Huadong: Collectors would like to get exquisite dolls at affordable prices. This is also what I have always wanted to do. I will strive to make the mass-produced dolls more exquisite, equipped with more luxurious accessories and sophisticated details, such as embroidery, beading, prints, and fancy jewelry. In terms of design, I think it's very important to keep pace with the trends, so I will select some cool elements from pop culture, interpret them with my understanding, and organically combine them into my designs. Meanwhile, I will also design something classic. I always feel that there is something timeless which could never fade out, no matter how fast the world changes. Besides, I will keep a close eye on the new technology or material in the industry — I am not afraid to try new things. I will figure out the best way to implement them into our new products, if they're suitable.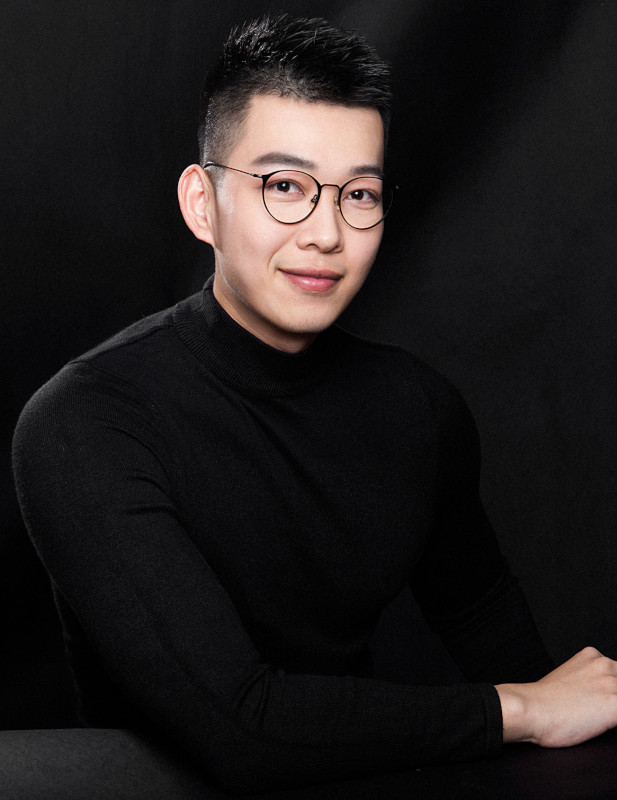 DOLLS: Is there anything you'd like to add?
Huadong: I would like to take this opportunity to express my most sincere gratitude and appreciation to every customer that has accompanied us all the way. Thank you so much for giving us the opportunity to grow, explore more, and be more confident. For those who have just gotten to know about us, I want to tell them that we are a small-sized fashion doll manufacturer, but we are young and fearless. Please continue to pay a little attention to us. We will do better and be better.
Find out more at the JHDFashionDoll website