By Shelley Marie
A couple of years ago, when my 2-year-old granddaughter Keira was visiting, my daughter said she was really intrigued by puppets and asked if I had any of the nylon puppets left that I sold many years ago. The puppets I made were popular in the 1980s, and I literally made and sold hundreds of them at that time. I knew I had one packed away but couldn't remember where it was stored.
Since I had many unpainted reborn doll pieces around my house, I quickly put a small makeshift one together using a doll hospital gown for the body, attaching it to the head and ¼ arms. Keira loved the puppet and laughed as the doll's hands were maneuvered with our hands inside the gown. Her interest was eventually turned to another baby doll, and the puppet was put away.
A year later, a work associate — Marissa Lynne, Social Media Liason of MacPherson Arts & Crafts — asked if we could come up with a concept of using doll parts to create a pillow/puppet doll. MacPherson's Brenda Neufeld showed a picture to me and asked if I had ever seen these — it was a picture of the nylon puppets that I had made from years back!
Of course I said yes, and she asked if it would work with vinyl doll heads instead of nylon ones. I said yes and told her how I had made a simple one for my granddaughter.
I pulled out the nylon and vinyl doll puppets and looked at them, designed and sewed up a pretty dress/body that was attached to the vinyl head and hands.
After looking them over and remembering how my grandchild (after having a bit of fun with it) was distracted by the other dolls in the room, I thought, "why not use the rest of the reborn limbs to make a puppet that can be turned into a doll and played with?" So I sewed up a few designs, changing and enhancing the pattern each time.
I decided to use white material to resemble a T-shirt attached to the flesh-colored bottom area. That way you could leave the baby as if it wore a T-shirt or dress the doll/puppet in a short-sleeve outfit and it would look like it was layered, with the white shirt showing. I then decided to stuff and lightly weight the bottom part to help keep the cuddle factor that other weighted reborn dolls have.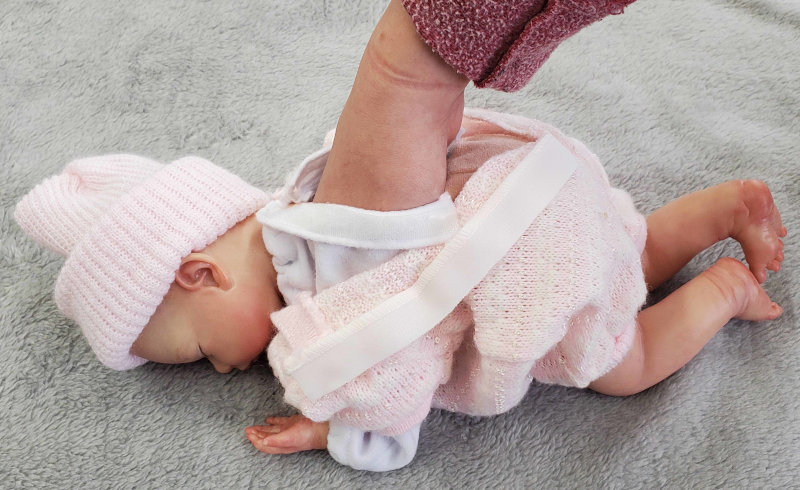 I gave the puppet to our experienced sewer, Jazmin, to see if there were any streamlining or alterations that could be done with the pattern. Jazmin happens to have a 5-year-old daughter, Jocelyn, who just took to the puppet doll, and to this day still enjoys playing and dressing up her puppet doll —and that is how the full body puppet doll was born.
At MacPherson Arts & Crafts we are always seeking out innovative creations for our doll enthusiasts, so they can continue to enjoy their passion, be it the creator or the collector. Our intention is to expand on this concept, so stay tuned for the many variations to follow!
Find out more at the MacPherson website