Barbie, America's best-selling doll, is also the nation's best-selling adver­tising doll as well, selling and promoting everything from Avon to Wal-Mart.
The Barbie advertising army is on the march, and it's not just the endearing March of Dimes. It also extends from shoppers at Bloomingdale's department store to the athletes of the Women's National Basketball Association.
Barbie, of course, started out as a mere fashion doll for little girls in 1959. She did not venture into the world of advertising until she was much older. But it was inevitable that eventually the masterminds at Mattel Inc. would realize that darling Barbie could not only be charming but could carry a commercial message as well. Even beyond that, they reasoned, amazing Barbie could even promote specific events and places, if necessary.
A hint of this potential came in 1964 when Sears, the nation's leading mail-order retailer, began offering its own specially designed Barbie for $8.99. Sales went very well and two years later Sears offered still another "exclusive" Barbie. In 1972, a rival major retailer, Montgomery Ward, took things (and Barbie) yet another step further. The national chain used Barbie to mark its 100th anniversary. Basically the doll was a re-issue of a 1964 Mattel standard, but now she promoted a commercial outlet and marked a specific event.
During the middle 1970s Mattel issued what some doll historians consider to be the first true "advertising" doll. In the Gold Medal Series the fabled doll drew attention specifically to the worldwide Olympics, appearing outfitted as a skater in one issue and outfitted as a skier in another. Barbie's boy pal Ken appeared as an Olympic skier, and her best friend, P.J., was dressed as a gymnast. During 1975 and early 1976 the Gold Medal Series and sets were big sellers for the very Barbie-friendly Sears stores.
Things changed dramatically by the 1980s. Commercially speaking, the slightly built Barbie would be ready for some heavy lifting. The outreach of Mattel to America's leading retail stores became more and more established with each passing year. Toward the end of the decade it became clear that a new and different marketing had begun. The company released "Mardi Gras Barbie" in 1988 (another special event doll) as a major department store special to be included with the American Beauties Collection.
The following year Barbie spanned the human race with issues for UNICEF (formerly the United Nat­ion's Children's Emergency Fund). Saluting this special cause, Barbie appeared in Asian, Afro-American, Hispanic and Caucasian images.
Notably, 1989 also saw one of the most unique Barbie advertising dolls of all, the "Barbie Pepsi Spirit." Sold exclusively in Toys R Us stores, here at last was an issue clearly marked with the brand name and logo of a popular worldwide product. Pepsi appeared on Barbie's jacket, the waist of her shorts, and on her duffel bag. Mean­while Barbie's kid sister, Skipper, appeared in a Pepsi sweatshirt with a Pepsi beach towel and Pepsi bag. In the 1990s Barbie and the gang would acquire a taste for soft drink super-rival Coca-Cola, but in the '80s she was toasting with Pepsi all the way.
There were a few downsides to the mass marketing of "exclusive" Barbies as the 1990s arrived. For one, most of the issues still remained without any significant markings as to specific product or store. In short, they met the standard of limited edition, but largely eluded the definition of advertising. Secondly, many of the designated outlets were regional in scope thus not really available in many parts of the United States. Lastly, they were pretty well restricted to the super-rich stores, as Mattel under­standably required a minimum run of major numbers before making a deal.
Still, business was good. If the doll had done well before, this success would prove to be nothing when compared to the exploding "Barbie Boom" years of the 1990s. No longer was a Barbie exclusive doll the exception. It was the rule. One would wander the aisles of nearly all the super stores– Ames, Hills, K-Mart, Meijers (pronounced Meyer), Service Merchandise, Target and Woolworth–and find them every time.
Some stores liked them so well they ended up with a series of so-called exclusives. Distinguished retailer FAO Schwarz extended its Barbie exclusives to more than a dozen different styles, starting in 1990 with "Winter Fantasy Barbie," which was well marked and also wore a large-sized hangtag. Barbie wore a blue velveteen gown in "Winter Fantasy" and sold for the not-so-cool price of $58. "Madison Avenue Barbie" followed with the store name on her shopping bag. "Shopping Spree Barbie" bested them both with a cap, shirt and shopping bag all well-marked with the familiar FAO Schwarz logo.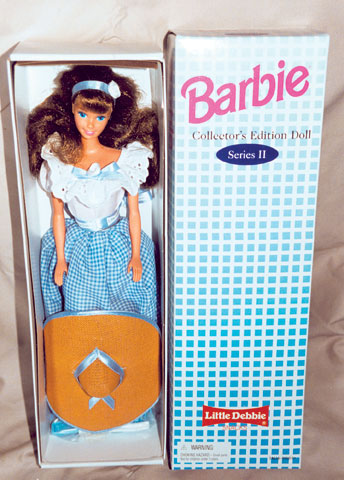 Barbie was back to doing events too. The doll was dazzling as "Ice Capades Barbie" for the 50th anniversary of the Ice Capades. Barbie appeared both as an Afro-American and Caucasian for that issue in 1990. She was back (Caucasian only) the following year. Barbie's male friend Ken also appeared in 1990 as an Ice Capades issue. In 1992 Barbie stepped in as the "Anniversary Star" issue for a Wal-Mart celebration.
As the '90s decade unfolded the doll would take on the additional role of promoting places. Among others, she benefited Euro Disney Weekend, Euro Disney Fun and the 25th anniversary of Disney World.
Yet it was Barbie uniting with products from tasty Oreo cookies to thundering Harley Davidson motorcycles that has had the greatest impact. For Arizona Jeans, a J.C. Penney exclusive, Barbie wore both a well-marked jacket and backpack. She was equally keen with her sweater brightly marked in the colorful Pizza Hut Series. The Pizza Hut Series also included Courtney, Kevin and Skipper. For Kraft Treasures, Ms B wore a wide-brimmed hat with a Kraft logo on it, and for Chuck E. Cheese and Showbiz Pizza, she was striking with a logo and mouse image on her tee shirt.
Sometimes the Barbie advertising doll did such a great job of promoting the product that the company involved went back for more. Kool Aid presented two Barbie ad dolls between 1992 and 1994. The first had braided hair and the second–a 35th anniversary edition–had sun-streaked hair. Little Debbie snack cakes went on to top that in the 1990s with three different Barbie issues.
Barbie used different accessories for various department stores during the decade. For GAP, for instance, it was a baseball cap; for Bloomingdale's, Meijer and Wal-Mart, it was a shopping bag.
In 1996 Barbie re-visited the Olympics. Mattel offered the "Olympic Gymnast Barbie" to promote the Atlanta summer games. She was available as a blonde-haired, Caucasian participant, and also as the first Olympic-related, African-American Barbie doll. A third–the redheaded "Olympic Gymnast Barbie"–was exclusive with Toys R Us.
That same year the remarkable and enchanting Barbie went to work for the equally remarkable and historic Coca-Cola Company. The resulting "Soda Foun­tain Sweetheart" was stunning. Anne Parducci, the vice-president of Coca-Cola, said at the time, "Barbie and Coca-Cola are two icons of American culture. Bring­ing these two icons together with such a beautiful doll is sure to be an instant success." It was.
"Soda Fountain Sweetheart" was patterned after a Coke print advertising campaign that began in 1907. The next Coke/Barbie effort, "Barbie After the Walk," was just as glamorous. This time it was based on a 1916 Coke advertisement, but with a recreational focus rather than the earlier soda shop theme.
By 1998, advertising Barbie had moved on. She called attention to the March of Dimes in general and the 1998 Walk America in particular in an issue that was unique to K-Mart. She also hailed NASCAR (National Association for Stock Car Auto Racing) by appearing in full uniform with an accompanying working visor helmet. Barbie wore a cheer­leader outfit in the University Series. She wore still a different uniform to welcome the launching of the Women's National Basketball Association.
Barbie has certainly been around for products like Russell Stover candies, has been decked out for places like Disney World, and has stood up for special events like the 50th anniversary of the Ice Capades. In doing so, she has instilled and solidified her special brand of magic and shared the limelight–and sales appeal– with others in the process..