Oh, Memorial Day Weekend, how you beckon me! I can't wait to fire up the grill, buy some replacement summer cushions (squirrels discovered my old seat cushions and nested within them—yuck!), and have a warm and relaxing 48-hour retreat. Memorial Day Weekend is when we remember to have fun, to spend time with friends, to get our "party on," isn't it?
Well, actually, no. Memorial Day is the complete opposite of hedonistic Coppertone pursuits. Memorial Day is when we're supposed to take time to honor our fallen military heroes—a time to pay respect to the men and women who have sacrificed their lives so we can get on with our own. It makes the hunt for the perfect tan line seem pretty superficial, doesn't it? What is most amazing is that a doll company is keeping the true reason for Memorial Day alive and well. A child's plaything, often dismissed as frivolous and a mere slice of frippery, is reminding us that we have our freedoms to swim and surf and sizzle because of the brave military.
Operation Hug-A-Hero is the brainchild of Tricia Dyal and Nikki Darnell, who are committed to honoring the memories of military personnel who are currently deployed, or who have given the ultimate sacrifice. Knowing that the separation of a parent or parents from a child can be devastating, Dyal and Darnell decided to do something about it.
Working with the Department of Defense, city and state first-responder lists, and scores of volunteers, the two women are determined to identify and then supply the kids of military families with huggable, soft dolls that represent the enlisted mom or dad. Their mission is remarkable, and the testimonials and photos on their Web site (http://www.operationhugahero.org) are heart-tugging. I defy you to troll through the gallery of images this weekend and not come away with a lump in your throat and a tear in your eye. Their work is laudable, and, unfortunately, seems to have no end in sight. With three active battlefields going on simultaneously, American soldiers are in continued jeopardy. Take a moment to read over the Hug-A-Hero purpose statement, and think about donating to this worthy cause. It's a way to recognize the fathers and mothers who are overseas, and to allow their children to cuddle with them nightly. Harm's way succumbing to arm's way. It's a beautiful thought.
What I find fascinating is how summertime and dolls have always gone hand-in-hand. There was a time when basic dolls were sold garbed only in bathing suits. It didn't matter whether it was a chilly day in Kalamazoo or a rainy day in Walla Walla, fashion dolls always came clad for a romp in the waves.
It's rather shocking when you consider how staid and straitlaced Eisenhower America used to be, and even during the Kennedy administration, there was a buttoned-up bent to the culture. How odd, then, that dolls were sold in itty-bitty swim wear.
I suppose that many an eyebrow was raised when little girls got those first start-up dolls in their zebra-patterned bathing togs, or their red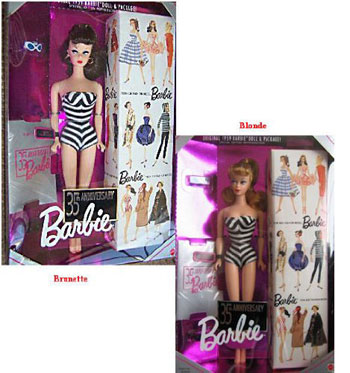 stretchy one-pieces, or their gold lamé bikins covered by a white mesh topper. I'm sure that heads were shook, and lips were pursed, and the older generation lamented about "end of days."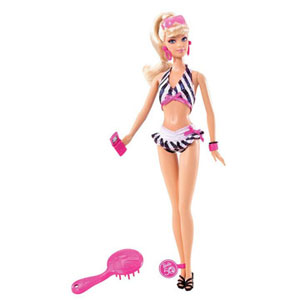 Well, more than 50 years have passed, and dolls are still arriving in their swimsuits, unveiled and bellies bared. Some are even showing up clad in scanty teddies and very sexy unmentionables. There are smatterings of discontent, and some folks point to the dolls as vinyl harbingers of the apocalypse. Most people, though, recognize them as playthings—tools for a young child's imagination.
I don't think that the heroes who are living and dying in Iraq, Afghanistan, and Libya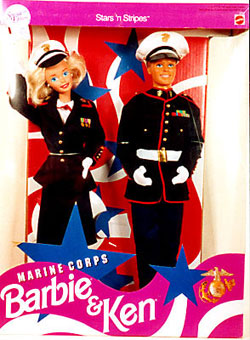 are thinking about Barbie, Gene, Tyler, or Alexandra Fairchild Ford. But their actions—and their determination to serve and to protect—allow all of us back home to indulge in our pastimes of collecting and conversing.
This holiday weekend in between dipping the potato chips, and taking a dip in the pool, take a moment to remember how and why we have these freedoms. Consider donating to the veterans organization of your choice. As collectors, we collectively owe the military a great deal of thanks. We're free to extend our pursuit of the perfect suntanned doll because these brave souls protect us.
Semper Fi!