DOLLS magazine has recognized the legen­dary Helen Kish this year with its 2010 Lifetime Achievement Award. The Gala Awards Breakfast, where Kish was honored, was held Oct. 2, 2010, in Winston-Salem, N.C. at the 2010 Doll Teddy & Bear EXPO. Kish, with more than 30 years of dedication to the craft, astonishing genius as an artist and major success to her credit, was without a doubt the ideal pick for this year's winner.
Joe Jones, publisher of DOLLS magazine, created this award in 2002. His innovative idea was to shine the spotlight on a person, company or team—from the collectible doll, teddy bear or soft-sculpture animal field—who has most demonstrated exemplary performance and influential superiority in the doll art industry during an extensive period of time.
And if anyone fits the criteria, it's Helen Kish, DOLLS associate publisher and editor Carie Ferg asserts. "I can't think of anyone who is more deserving of the 2010 Lifetime Achievement Award," she says. "Kish's talent and industry longevity are insurmountable. Combined with her integrity and character, Kish is widely respected and deservingly so. She's the whole package, and it's an honor to present her with this award."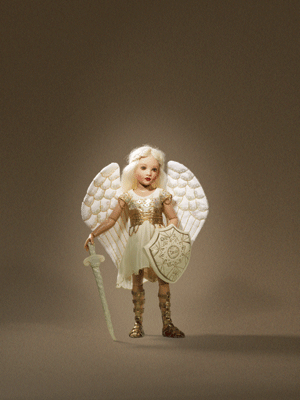 "The Jones Publishing Lifetime Achievement Award is truly recognition from our industry for contributing to our industry," Jones adds. Through the years, this award has been bestowed upon and accepted by some of the giants in the business, such as Hildegard Günzel, Robert Tonner and R. John Wright, among others. "The honor is only presented when it is warranted; therefore, the Jones Publishing Lifetime Achievement Award will not necessarily be given annually. Some years, there may even be no award recipient; other years, there might be more than one company or person receiving the honor," Jones explains.
Kish, a Denver, Colo., resident all her life, is a brilliant light in the starry sky of doll art all over the world. She has been designing and sculpting beautiful collectible dolls since the mid-1970s, but where did it all begin? "Pinpointing my decision to make dolls is challenging," says Kish, but she does remember scrutinizing her "Ginny" dolls and a jointed ballerina that Santa brought her when she was 5 years old.
"I distinctly recall wondering how they were made and what magic made them posable." By age 7, Kish was drawing her own paper dolls. "I drew a big family of paper dolls, with different outfits, especially for the girls." Then at 11, Kish was crafting cloth dolls with embroidered faces, which she continued throughout high school "I maintained a covert fascination with dolls, although kept it to myself to avoid being teased." Kish laughs. "I tried sculpting figures of terracotta, but they eventually broke apart with the help of my little brothers."
By 20, and just married, getting teased about her dollmaking was no longer a concern. Kish was ready to get serious when the passionate novae discovered polymer clay in an art supply store. "I immediately began making dolls from Polyform, the precursor to Sculpey—that way I could cure in my oven." As with most things new, her endeavors at first were crude, but she was enthralled with the process, and with each successive effort, she got better and better.
"A couple years later, I took a class and learned how to work with reproduction porcelain greenware and bring it through to a painted and assembled doll." But Kish was disappointed her instructor did not teach her how to actually sculpt her own doll. A determined artist even then, she set about to find out. And it was there in that studio in an old book, she found about three paragraphs pertaining to doll repair, describing how to make a simple mold, and she was off to the races.
In time Kish operated a one-woman business dubbed, Helen Kish Originals. She sculpted more than 100 dolls during those burgeoning years and sold mostly at shows. From the 1980s through the 1990s, Kish designed on a freelance basis for The Franklin Mint, The Danbury Mint, The San Francisco Music Box Co. and The Hamilton Collection.
Throughout the years, her works of art have spanned myriad mediums, including clay, stoneware, bronze, and her well-known porcelain and vinyl limited-edition dolls. However, instituting her own dream machine was always in her heart, so in 1991 she founded Kish & Co. Moreover, nine years later in 2000, the Kish Collectors' Society was born, opening up an exciting way for collectors to become a more intimate element of Kish's collectible doll eloquence. Clearly Kish has continued to excel due to her unique and rare talent, and the fact that she has an inimitable approach to dollmaking that keeps her pole-vaulting through the doll world. Today Kish & Co. offers a variety of dolls to collectors throughout the world. "Our dolls are available through select retailers in the United States and internationally. Many of our most valued collectors are members of the Kish Collectors'  Society," Kish says.
So what is the secret behind Kish's extraordinary success? "If I consider myself successful," Kish reflects, "it is that I have been able to develop an identity of design that pleases my collectors and continues to keep me excited about the next sculpting project. There is no secret about it; if you do what you love, never stop learning, and persevere through the ups and downs, you will succeed!" Kish says.
Kish says she was stunned when she heard she had won DOLLS magazine's Lifetime Achievement Award. "I was so blown away I can't even remember what was said, except for one thing. Joe asked me if I was excited about it, and I replied, "Yes, as soon as we get off the phone, I am going to have a banner made for the building!" she muses of the conference call that was made last fall with Jones and Ferg. "It is truly an honor to receive this award. I am humbled to be in the company of past recipients, such as Robert Tonner and R. John Wright."
In light of the striking vampire and gothic dolls available on the doll market today, it was interesting to learn if Kish has been influenced by these current trends. "It is difficult not to be influenced by current trends," she explains. "But I try to resist. I have done dolls dressed in black since my early days, but nothing anyone would call ghoulish," she says. "Interestingly, I think I may have done one of the first goth girls with my one-of-a-kind stoneware piece named 'Ennui' in 1999."
When asked about her future plans, Kish says, "New ideas? No, only new interpretations. In fact, in celebration of my Lifetime Achievement Award, I am producing a small edition of porcelains (see sidebar on the right) that harken back to my early days."
In conclusion, Kish has this to say:  "I want to pay tribute to the collectors. It is their encouragement and appreciation of the work that keeps me enthusiastic about developing new designs. Kish collectors rock."

For more information, visit www.kishandcompany.com.
Photo Caption
Warrior Angel, a new Kish offering, stands 14 inches and is limited to an edition of 200.