Falling in love with the latest offerings from Dolls by Berenguer is, well, as easy as falling in love with a newborn baby. From collectible cuties to precious play dolls, there is something for everyone in this year's collection of beautiful baby dolls. Charming poses and sweet expressions, combined with adorable accessories, make the company's current creations simply irresistible.
"Each doll's expression and theme combination is unique," notes Salvador Berenguer, who creates each of the original sculpts for Dolls by Berenguer and JC Toys. "Many other doll companies design only a few faces and dress the dolls in different outfits to add range to the collection. Dolls by Berenguer, on the other hand, designs many faces and gives each doll its unique look without much, if any, repetition. Our 2008 line of collector and specialty play dolls displays more than 50 different doll sculpts!"
Dolls by Berenguer Baby Moments Collection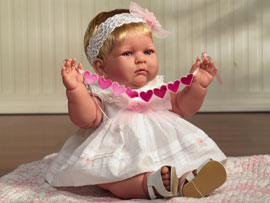 Two of Salvador's newest Collector Edition designs make up the Baby Moments Collection, which features dolls that capture cute baby poses. The 18-inch all-vinyl dolls have sweet expressions and realistic looks that will captivate collectors. No one can resist a child's hug and "Beautiful Embrace!" is just as irresistible. With her arms wide open, waiting for a cuddle, she holds a chain of hearts. She looks lovely in her delicate dress, matching sandals and dainty earrings. Another precious baby moment is celebrated with the curious expression and sweet pose of "Reaching for Love." The adorable baby boy, with his chubby, outstretched arms, reaches for his favorite toy horse. Collectors will find it hard to stifle a smile when they see these sweet tots!
"It's really great to sculpt the expressions of a baby or child," says Salvador, who has been involved with dollmaking for about 50 years. "To me, they show the most truthful emotions. I get my inspiration from everyday life and children's faces in the moment. Expressions can be very beautiful!"
Sal­vador and his wife live in the town of Onil, just outside of Alicante, Spain. "This is the town where I have always lived, and it's a great feeling to know everyone. It's like a big, extended family," Salvador says, noting that his father ignited his in­terest in dollmaking. "I've always been surrounded by art and enjoyed it. The area where I live has always been very doll- and toy-oriented. So, I guess you can say it runs in my blood."
Berenguer Mini Dolls Line
The skilled sculptor brings out the innocence and beauty of children's emotions in each doll he sculpts—no matter the size. Even the tiniest tots—including the company's Mini Dolls line, featuring 9½-inch soft-bodied vinyl dolls—have detailed expressions and lovely outfits. The "Little Angels" are heaven-sent with their floral-wreath halos and silk outfits. And one look at "Mini First Sunday," and you'll know why some of the best things come in small packages! "Baby Olivia" and her twin brother, "Baby Bao," are dressed in bold and traditional Chinese outfits and matching hats while a mini version of Berenguer's "La Petite Isabelle" dons a soft pink onesie, matching booties and a cute headband with a bow. The four 20-inch cuties in Berenguer's line of seasonal dolls are dressed to impress. The brunette "Fall Wonder" sports a cozy sweater over her pretty flowered dress while "Spring Flower" wears a dainty white dress with a blue and white pina­fore. Her strawberry-blond hair is topped with a woven straw hat. Sure to bring warmth to any collection, "Summer Belle" is absolutely stunning with her big eyes and long hair. A lovely floral dress and matching shoes make her truly irresistible. The aptly named "Winter Delight" is adorable in her brown satin overdress and white dress. Her honey blond hair is pulled back with a large brown bow to show off her big, brown eyes. Matching shoes and lacy socks keep her feet warm during the long winter months. The seasonal sensations may each represent a particular time of year, but collectors will likely want to display them year-round!
Added Appeal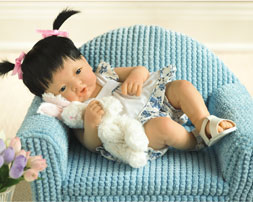 Several of the Berenguer babies are paired with plush animals. The cuddly companions add to the adorability of the baby dolls. "Silly Monkey" and his sweet simian pal are always monkeying around, and "My Best Friend" and his playful puppy are inseparable. "Baby Isabella" and her cute kitty make the "purr-fect" pair, and "Little Nico" and his stuffed frog will hop right into collectors' hearts. Holding a soft bunny, "Baby Lei" is simply precious in her summer dress trimmed with blue flowers. The two pink bows in her hair match her bunny's ears.
The accessories add to the babies' allure, but the darling dolls are endearing all on their own. "This year, we have added some design features in many of our lines that are quite innovative," Salvador shares. "In the past we have always designed very straightforward baby dolls with very pro­portioned features. This year, we are celebrating each baby's uniqueness by sculpting babies with slightly varied symmetries. Many of the new dolls have different positions and facial expressions that are instantly recognizable but at the same time not very common."
Doll enthusiasts will find this same quality and originality in the Berenguer Boutique collection. "They are fun, but they still have that unique, realistic look to them," Salvador says of company's line of specialty play dolls. Baby "Lucas" and his stuffed frog are loads of fun to play with. You can't help but smile back at him as he shows off his two front teeth and his adorable froggy hat. For realism and detail, collectors need look no further than "Lily." Dressed in an adorable pink outfit, this baby doll will garner as much attention as the real thing. At just 9½-inches long, the "Mini La Newborn" dolls are all-vinyl and come in an assortment of ethnicities and outfits. The larger 14-inch "La Newborn" dolls are just as endearing. The boy and girl dolls are anatomically correct and come with their own diaper and hospital bracelet—just like a real newborn! Whichever specialty play doll catches your eye, you can be assured hours of fun.
As the team at Dolls by Berenguer looks to the coming year, they promise more adorable accessories and charming dolls. "We are currently in the beginning stages [of the 2009 collection], but we are excited to be working on some really beautiful and fun creations," shares Richard Cerdá, president of Dolls by Berenguer. "Accessories are also going to be important for the line in 2009 and new doll kits are in the works as well."
While enjoying the current lineup from Dolls by Berenguer, doll collectors wait with eager anticipation to see what darling creations the company will deliver in the coming year.
For more information or to find a Dolls by Berenguer retailer near you, visit www.jctoys.com.