Photo courtesy of Linda G. McIntyre, Personal Collection
It's always sad when we hear about the death of a famous personality who had an impact on our lives. On Tuesday, March 29, I heard about the passing of Patty Duke, at age 69, from sepsis caused by the rupture of an intestine. For me, Patty Duke was an actress whom I admired, and she was also a teddy bear designer that I had the pleasure of meeting. She was a passionate advocate for the rights of bipolar citizens and the blind. And, most telling of all, she was a genuinely kind and empathetic person.
What was so fascinating about Patty Duke was that she was a unique triple threat in the hobby industry: a collector, a collection designer, and an actual collectibles item herself! Patty's cute, impish likeness had been made into a vinyl/plastic doll by Horsman, as well as a series of paper dolls by Whitman. Her seemingly innocent, wholesome, all-American face graced a huge assortment of licensed merchandise throughout the 1960s: books, board games, record albums, head bands, cosmetics, lunch boxes, and dolls, to name just a few. When Patty was asked about this segment of her life, she'd pause and reflect. "I made a lot of money, and it was squandered by my managers. It was a terrible ordeal, but I rose above it. I am a survivor," she told me.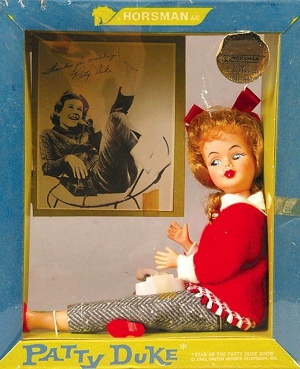 (Photo courtesy of Horsman Dolls)
Back in 2005, I had the chance to share lunch with Patty and she was gracious and articulate. She spoke about her venture into the world of teddy bear designing, and she didn't shy away from personal anecdotes and exposure of the myriad difficulties she'd endured.
A Broadway star while still pre-pubescent, she went on to become a movie star with her breakout role as Helen Keller in "The Miracle Worker." She had played that part on the stage and was rumored to have received more than a dozen curtain calls at the end of her performances. People loved her work and could not get enough of her immersion into that difficult role. When it became a motion picture, she won an Oscar for her portrayal of Keller. Getting that Oscar at such a young age — she had just turned 16, but her managers were insisting she was 14 — changed Patty Duke's life. She skyrocketed into the stratosphere of superstardom.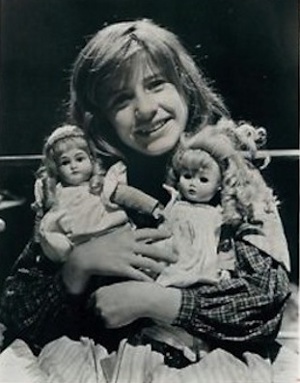 (Photo courtesy of Playtime Productions/United Artist)
While playing Helen Keller gave Duke the chance to show off her dramatic skills, her TV series allowed her the chance to showcase her comedic chops. Playing identical cousins ("I know, the premise seems so silly," she confessed during our lunch), Patty Duke became America's sweetheart as she embodied the dual parts of Brooklyn Heights native Patty and her sophisticated cousin, Cathy. As we dined, Patty mentioned how much has been made of her ability to so effectively play two totally different people. "Now that I 'came out' as a person living with bipolar, people are kind of embarrassed to talk about that show with me. Living with bipolar was not the point of 'The Patty Duke Show.' It was a comedy. You can talk about it!"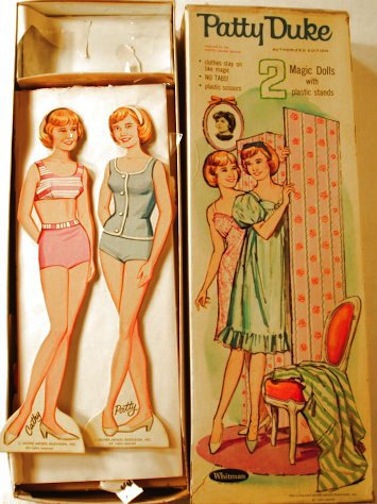 (Photo courtesy of Whitman Paper Dolls)
Talking about her life in a forthright and honest fashion was a hallmark of Patty Duke. She authored two books about her life as an actress, a mother, a wife, and a mental health activist. Her lifestyle was often a frantic and disjointed one. She had succumbed to the pressures of life in the fast lane with bouts of alcohol and drug abuse (she pointed to the managers with whom she lived as the suppliers of booze and painkillers when she was a child) and had a difficult time finding love.
"I was lonely and was longing for acceptance," she told me. And then in a heartbreaking moment of candor, she revealed: "I think that is why I was so drawn to teddy bears. I grew up in the spotlight, but at night my teddy bear let me be me."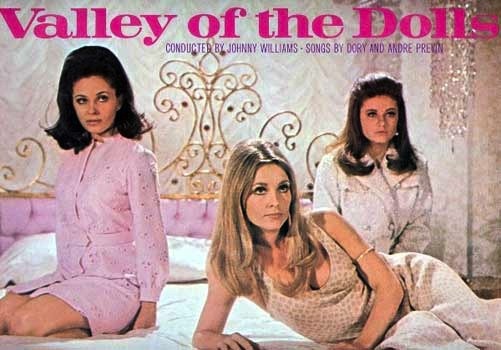 (Valley of the Dolls © 20th Century Fox)
One of Patty Duke's most famous roles was as the pill-popping, hard-living actress Neely O'Hara in "Valley of the Dolls." When I asked about the cult status of that part, Duke nearly blushed. "That movie got such terrible reviews! That movie could have been an embarrassment, a total horror, but it has gained such a huge following. I have attended film festivals where people know all the lines, and I've been invited to reunions for the cast members. It has a life of its own, and I never could have predicted that after the awful reviews. Hollywood can always surprise you!"
I joked that there should have been an array of Valley dolls — one for each of the beautiful young starlets who had their dreams vanquished in Tinsel Town. She agreed: "They would come with gorgeous changes of costumes and wigs. And the wigs could be removed!" She then laughed joyfully at that nod to the classic scene where her character rips off co-star Susan Hayward's hairpiece.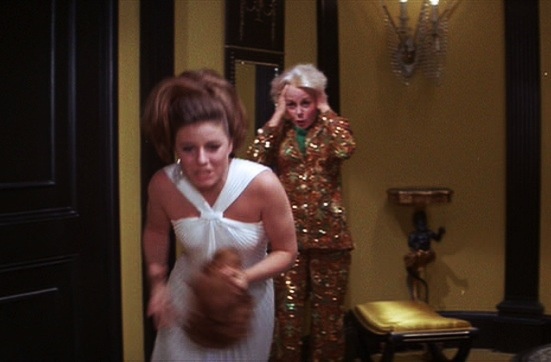 (Valley of the Dolls © 20th Century Fox)
Patty Duke was aware that her life paralleled that of Neely O'Hara's in many ways, but Duke had the last laugh. She morphed from being the "Drew Barrymore of my generation, a wild child" into a considerate and caring homebody. Married multiple times, she found lasting, enduring love with an army drill sergeant who had been hired as a technical advisor for her film "A Time to Triumph." Married in 1986, the couple remained committed to one another until her death in 2016.
That's what was so fascinating about Patty Duke. We all felt that we knew her because she was in our living rooms so frequently (she made innumerable movies of the week, miniseries, episodic TV, and sitcoms). Patty was a part of the fabric of our lives, and she was aware of it, and humbled by it. Acknowledging that she felt "starved" for love when she was growing up, she welcomed the exchanges between herself and her fans. ""When the people tell me that they love me and that they have loved my work, I believe them. I feel that their love is true. That is so rewarding."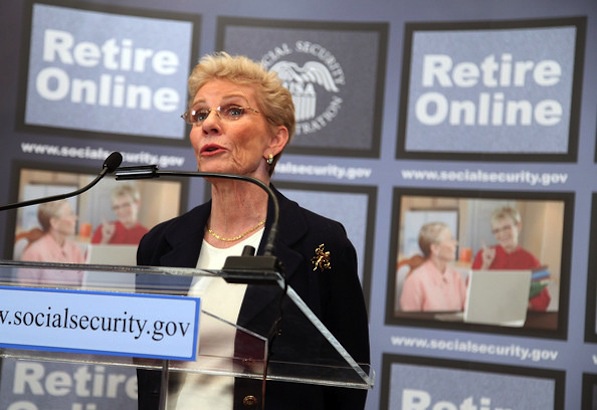 (Photo courtesy of Social Security Administration, ssa.gov)
Patty Duke is survived by her family and her friends and her work. Her legacy can be found in her memoirs, her activism, and her film roles. She tackled the part of Helen Keller, an American icon, and she grew to become one as well. Patty Duke was an American original. She will be missed, and she will always be remembered.