By Pam North
Susan Gibbs' love of dolls started early, and though her formal studies lead her to careers in business and teach­ing, she's put that knowledge and experience to good use in her career as a reborn and silicone baby doll artist. The 52-year-old Filipino-Canadian artist was born and raised in the Philippines, the youngest of nine children. Her father was a mechanic and a U.S. World War II veteran, and her mother was a seamstress who taught Gibbs most of her sewing skills.
"Both my mother and I loved dolls, but she never had one as a child," Gibbs said. "She and I would play with the little plastic baby doll she got me when I was little and later, when I was 11, with my very first Barbie. Purchased from a sale bin, Barbie had only a swimsuit, but soon became well dressed. I started sewing doll clothes as soon as my feet could touch the pedal of my Mama's vintage Singer sewing machine.
"My mother was my mentor and is still my inspiration. As soon as I learned how to paint dolls, I made my Mama a baby doll that looked like me when I was a baby. It was her very first doll, at age 84. I feel lucky that my mother saw my work before she passed away in 2015. Her legacy is in me, and every time I sew, I feel her presence. This is another rea­son why my fabric creations are very special to me, because each piece I make has a piece of not only my own heart, but my mother's as well."
Gibbs' early career aspirations were outside the doll in­dustry. She earned a bachelor's degree in science, with a ma­jor in psychology, and worked in the Philippines as a brand supervisor for shoes during her early 20s. She did product development, which included product design, pricing, and marketing — skills that remain useful to her as a doll artist and entrepreneur. Life in marketing was intense, with late-night office work, constant travel, fashion shows, and never-ending meetings, so she eventually sought an alternative. In 1998, at age 27, she moved to Bangkok, Thailand, where she briefly worked as a marketing manager. Then she became a kindergarten teacher at an international school for almost 10 years. "It was the happiest and most fulfilling stage in my life as a single adult," she said. "I loved working with kids."
In her mid-30s, she met a Canadian teacher, Erin, and be­gan a relationship that's still strong today. Leaving her fam­ily, friends, and career behind, taking just a suitcase and her guitar, she traveled 7,000 miles to begin a new life in Vancou­ver, Canada, where she spent a decade working with special-needs children for the Vancouver School Board. "It was the biggest decision I made as an adult," she reflected, "and I'm glad I did it."
Discovering Reborns
Gibbs discovered reborn dolls while traveling in Bangkok in 2009. After doing some research, she bought one on eBay. One wasn't enough, but she realized they were too expensive for her to continue buying them. Having always been inter­ested in the painting process, she decided to try her hand at painting a reborn at the end of 2010. At first, she did them only for family, but then her work got noticed in the doll industry — and here, she began her career as a reborn doll artist. "I was amazed to discover what a huge market reborns were! As a doll collector myself, I realized how these awe­somely realistic creations can bring so much joy to people of all ages," Gibbs said.
While she loved showing her newly painted doll creations to friends, Gibbs disliked carrying the blanket-wrapped dolls in a shopping bag. This led to the development of her first bassinet-bag, a fab­ric bag that folds down into a bassinet. Fellow doll collectors and artists who saw it wanted their own. They became a big hit and remain popular with new and existing customers. She uses different kinds of fabric (but mostly twill) as the outer material for her bassinet-bags, with water-resistant material for the bottom and a quilted lining for stability.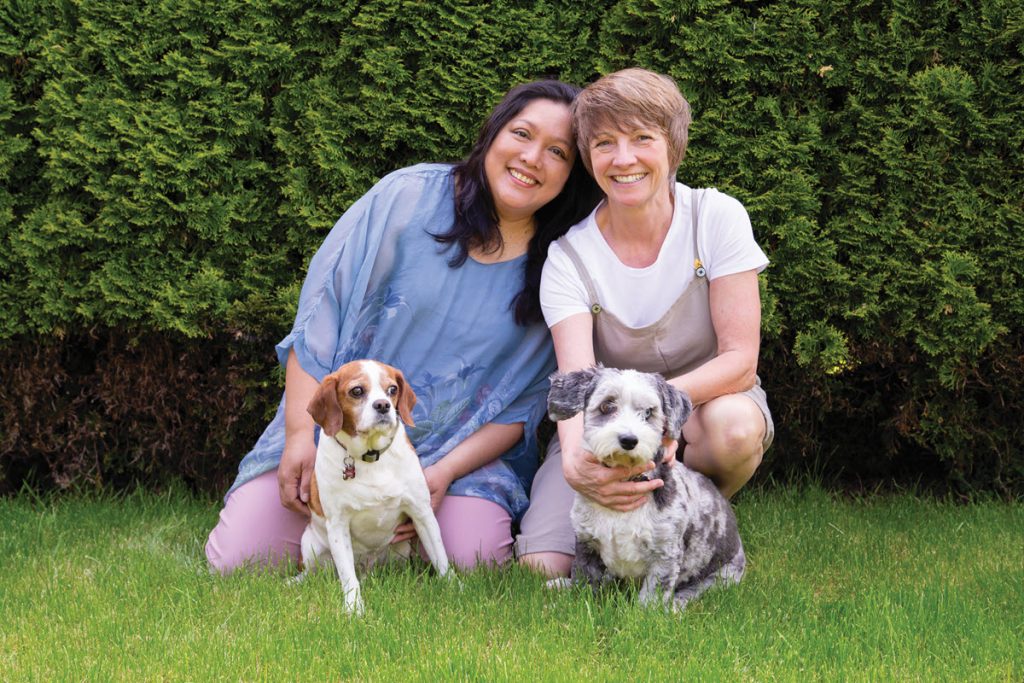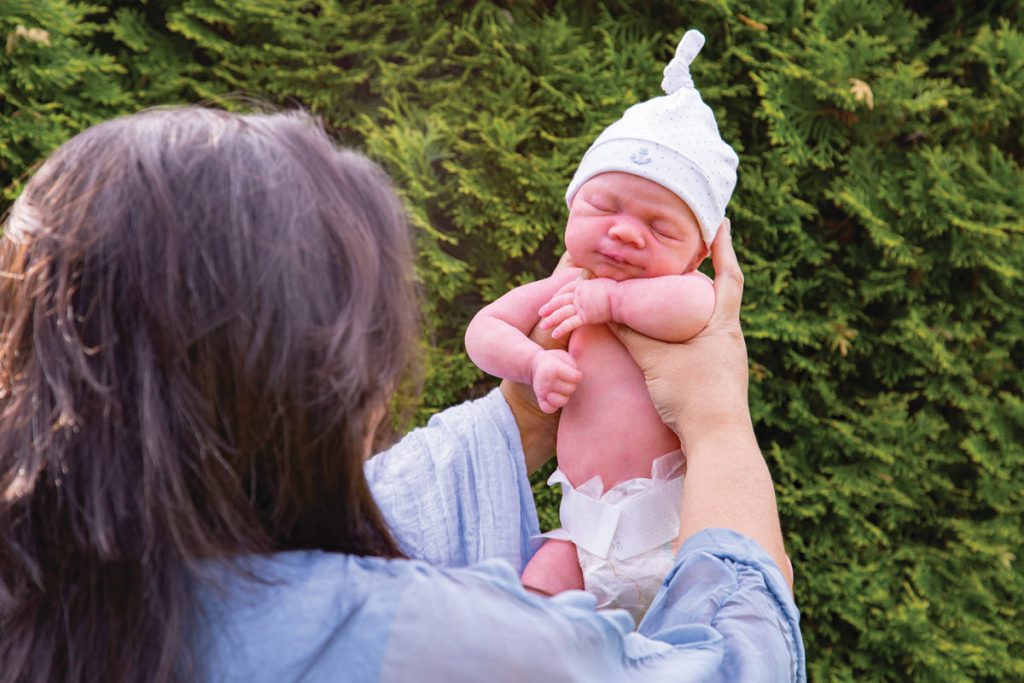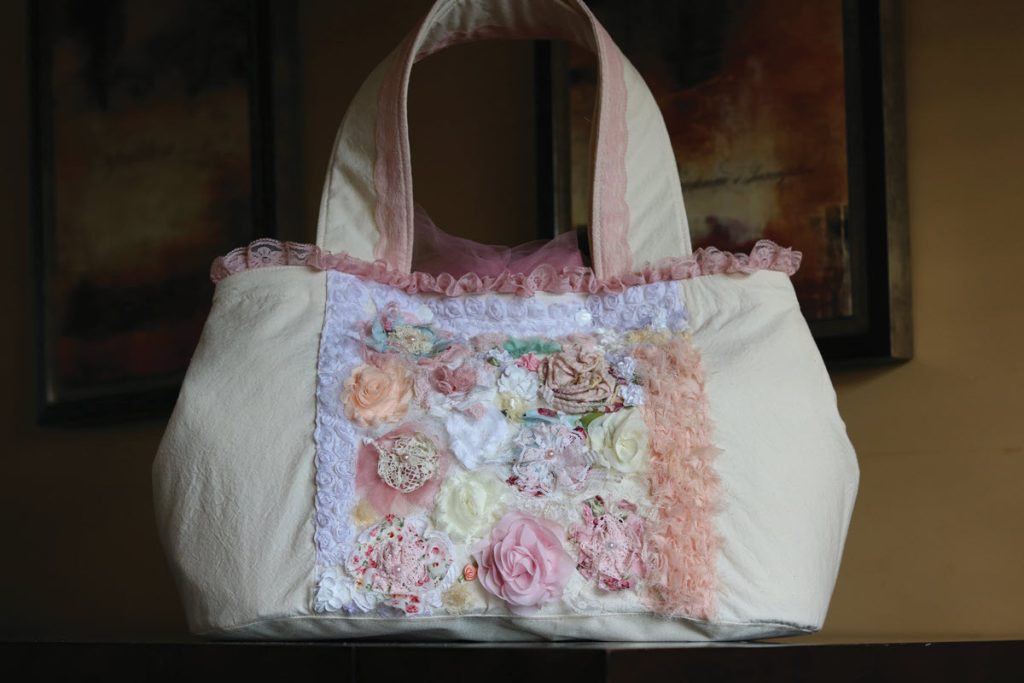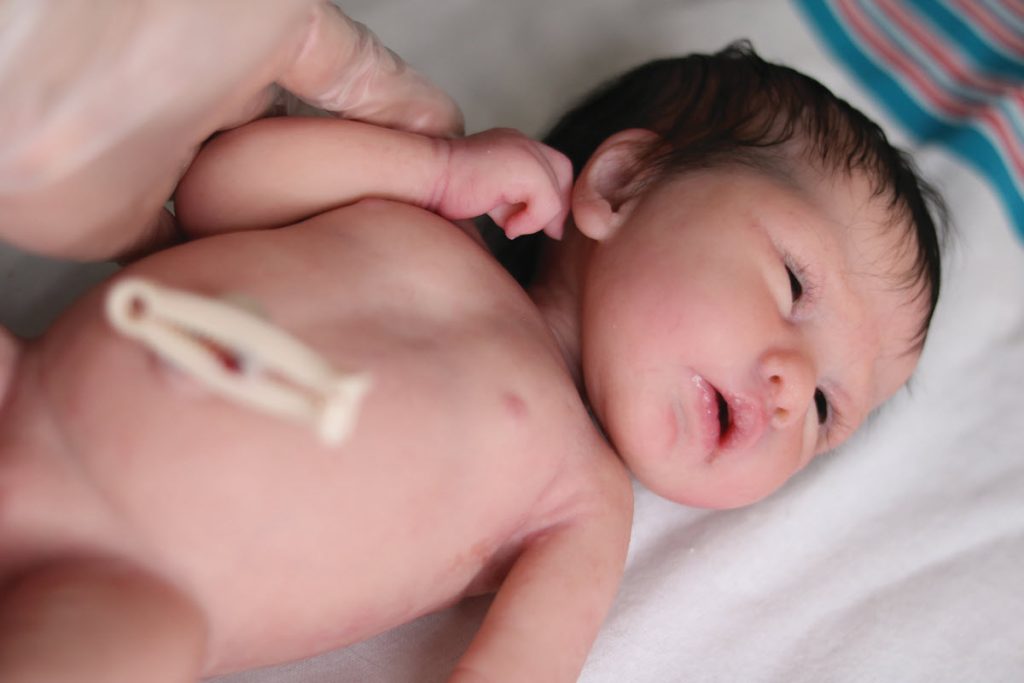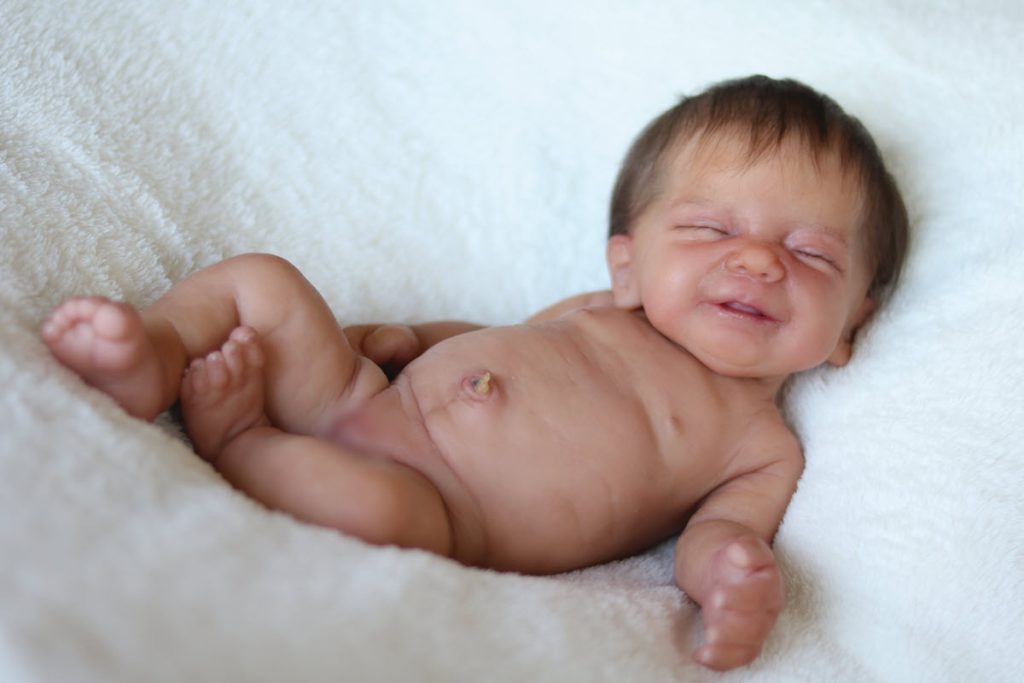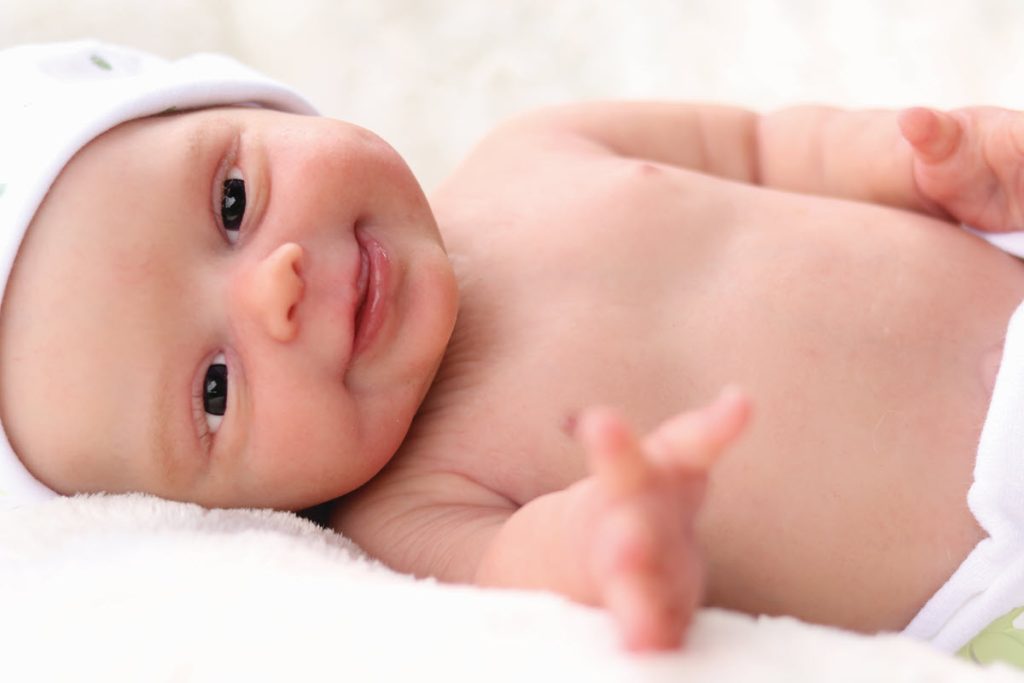 Gibbs also made clothes for reborn baby dolls — all one-of-a-kind (OOAK) creations made without using any patterns, as she would design them in her head as she cut and sewed the fabric. The success of her bassinet-bags and clothes, combined with her dollmaking, led to the 2010 launch of her business, Dizon Designs & Doll Works. She named her cloth­ing line Dizon Designs in honor of her mother.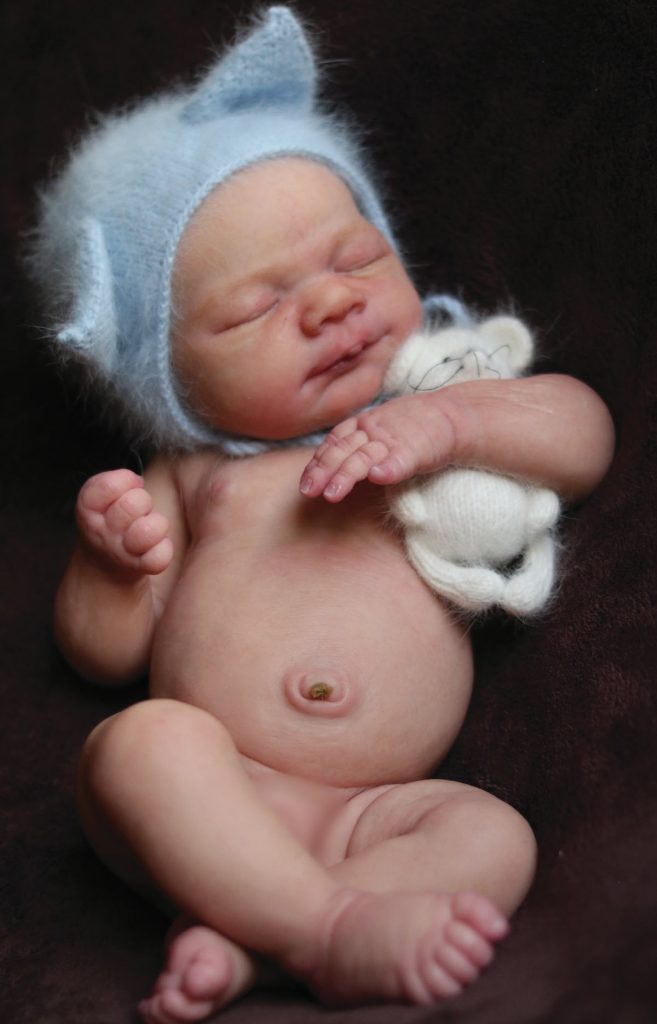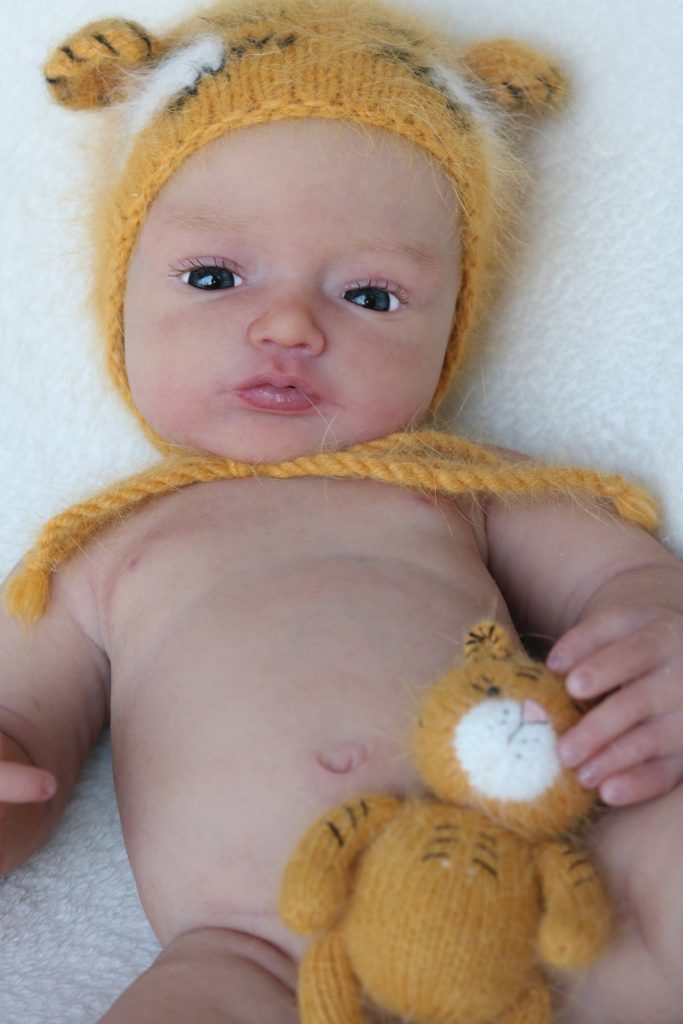 Silicone Babies Become Her Medium
She turned to painting silicone baby dolls in 2014, further cementing her position as a doll artist. In 2018, she retired from teaching children so she could focus on her doll business, but she still indulges her passion for teaching through silicone painting classes, which she began conducting at doll shows in 2016. When the COVID-19 pandemic hit, she switched to on­line classes and has now taught over 300 artists from all over the world. "Now I'm sewing, painting dolls, and teaching silicone painting — all the things I love in one career!"
For silicone babies, Gibbs uses platinum-based silicone paints, using a stippling technique for depth. For realism on newborn dolls, she hand-applies fine mohair for eyebrows and flocking for facial hair. She also adds a detachable tongue that's painted separately and a healing umbilical stump. On most dolls, she adds a drink-and-wet system, as well as full armatures, which enable her dolls to assume sitting and crawling poses for photos. With all these skills, she's also become a prop fabricator for a couple companies in Vancouver's film industry, making dolls as props or doubles for real babies.
For all aspects of her craft, Gibbs' training has been infor­mal. "My mother was my only sewing teacher. In doll painting, I had mentors, then eventually developed my own techniques." Gibbs continues to evolve, always striving to be better and solic­iting feedback from her customers. "I listen to them, then make product improvements while also retaining my own style.
"From what I've observed in Canada, I think collectors have become more numerous and are supporting artist-made collectibles, and I also see more new budding artists. Unfortu­nately, there's rampant use of counterfeit kits in the reborn and silicone doll industries, which is greatly affecting the business of legitimate sculptors and painters. We're losing sales because of those knockoffs. Many new buyers can't tell what's legitimate and what's not, so in support of our hard-working sculptors, we are promoting awareness of the counterfeiting."
Gibbs' experience in painting silicone dolls sparked an aspi­ration to sculpt, as well. Last year, she released her first silicone baby doll from her own sculpt, which she has cast in a very lim­ited edition. She said she hopes to finish sculpting her second doll this year for silicone production. "I'm hoping to learn more about sculpting, too."