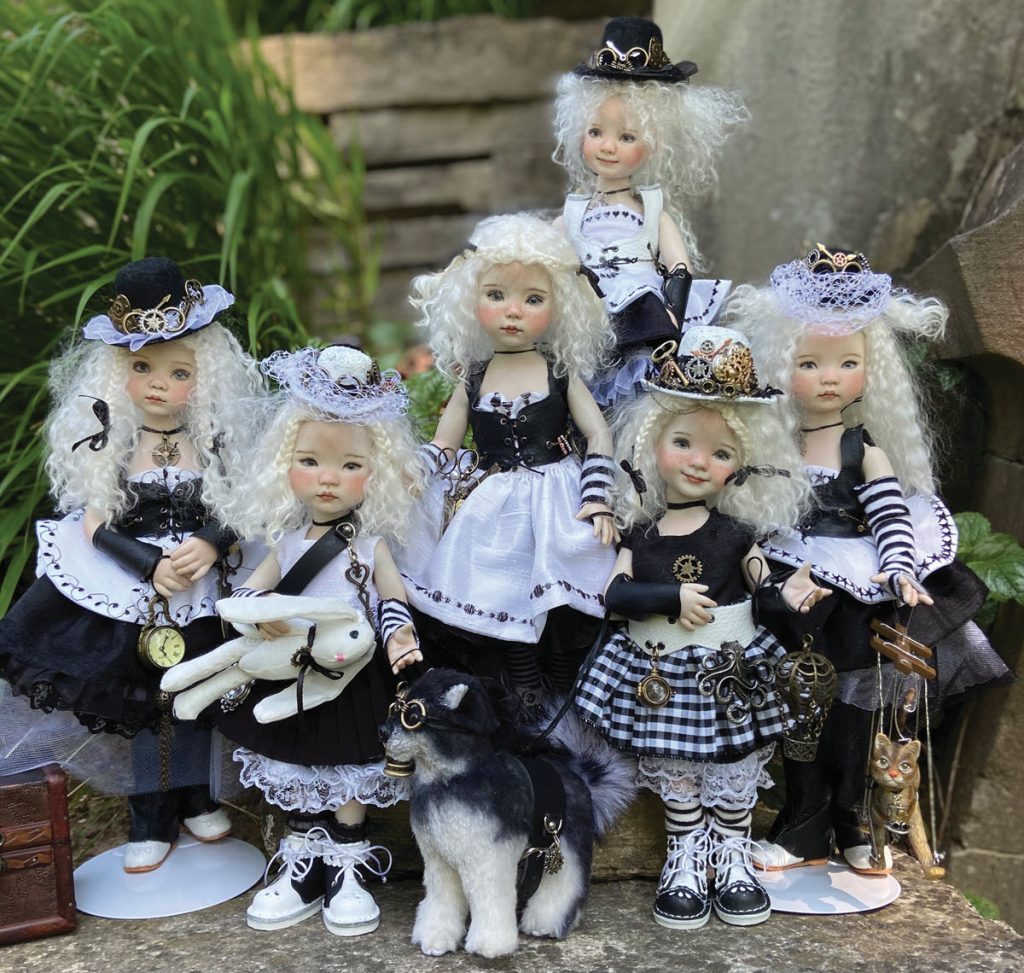 By Stephanie Finnegan
This year, Canadian artist April Norton teaches all of us doll fanciers that every picture-book heroine can have a secret, surprising side to her personality. Norton's new­est white porcelain collection, which is an annual cause for celebration, tackles famous characters Alice, the Mad Hatter, the White Rabbit, the Cheshire cat, Bo Peep, and Little Red Riding Hood in cutting-edge ways. Her Fantasy Steampunk collection blends recognizable accessories with significant symbols from beloved bedtime tales, but Norton gives them an otherworldly science-fiction feel.
"I always like to use the element of fantasy, and using striped fabric for socks made me think of Alice in Wonderland meets steampunk, so in this collection, I have incorporated a white rab­bit, a 'drink me' bottle, and a few steampunk timepieces, along with a Cheshire-ish-type cat. For a few years, I deviated from my original black-and-white theme, but this year, I wanted to return to that idea with my white porcelain collection. This Fantasy Ste­ampunk theme is the perfect way to do that," Norton said.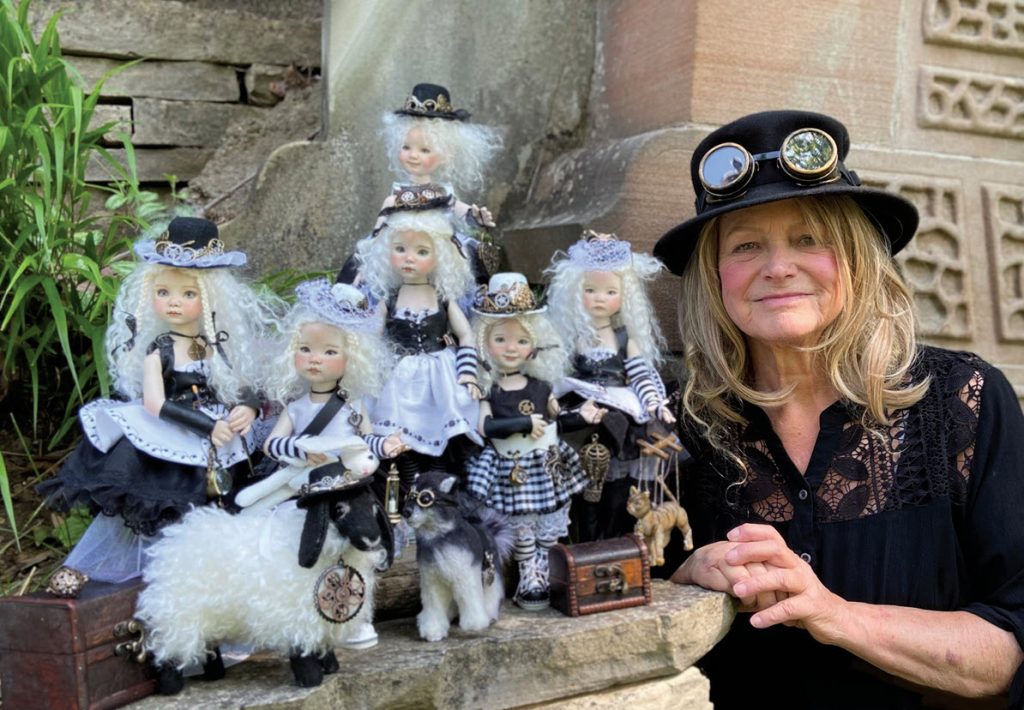 A fan of fantasy movies and novels, she is also an admirer of Robert Tonner's Ellowyne Wilde doll. At one point, Norton came across a "perfect pattern" in an old issue of DOLLS, and the rest is alternative history! "I found this pattern and I imme­diately thought of how much fun it would be to dress a doll in that manner. Ellowyne Wilde was 16 inches, and with a wom­an's body, so I knew that pattern wouldn't fit my dolls. I devised my own patterns, and I am very pleased with the result."
The 2023 white porcelain collection is limited to six pieces. Three are 13 inches, one is 12 inches, and two are 10 inches tall. Memorializing the fact that she has become an artist with Dianna Effner's Doll Dreamers Guild, Norton chose to use Little Darling sculpts 1, 2, and 3 for all six dolls. "Three of the dolls appear older than the others. The three small­er dolls and their outfits are right out of my head to complement the three more mature ones. They all in­corporate beautiful black-and-white dupioni silk from India, leather, laces, tulle, and some awesome steampunk-themed trinkets. The handmade shoes for these dolls were specially made for me by talented artists from around the world, such as Katerina Simakova of Aprilgirl KS, and Tamara Lipskaya, who made the little boots. The stunning mohair wigs were made by the amazing Nina Puppenfee. I actually sent one of the heads to Germany so she could make all six of them in white mohair with an exact fit."
Norton's debut white porcelain collection — It's All in Black and White — was released in 2017. The following year, she again used that stark color scheme. In 2019, she deviated from the two-toned effect and explored a "carnival sort of theme." Those dolls were decked out in purple and silver. In 2020 and 2021, she let her imagination run free as a guest at a regal affair and then a genteel debutante ball: "It was during the pandemic, and I wanted something rich and lavish. I did the Elizabethan col­lection for 2020, and the following year was 'Bridgerton.' That series inspired my Regency collection in pink and white."
There was a hiatus in 2022 due to a friend's accident, but in lieu of a white porcelain collection, Norton released "a summer floral mini collection in flesh-toned porcelain, and there were a couple of white mini collections out in time for Christmas over the years. This year's white porcelain collection goes back to the beginning color scheme."
As a creative, visual soul, Norton is always on the lookout for the spark that will ignite her next project and become her new obsession. That is how the white porcelain offerings began as well. "Years ago, I saw some beautiful pictures on a Facebook page called Art Dolls and Doll Artists. They were of porcelain dolls by a Japanese artist. They were in white porcelain and were dressed completely in white. That inspired me to try my hand at white porcelain. I know that in the old days, antique doll heads were poured in white, then washed to a flesh tone, but what I wanted was to use it and not disguise it."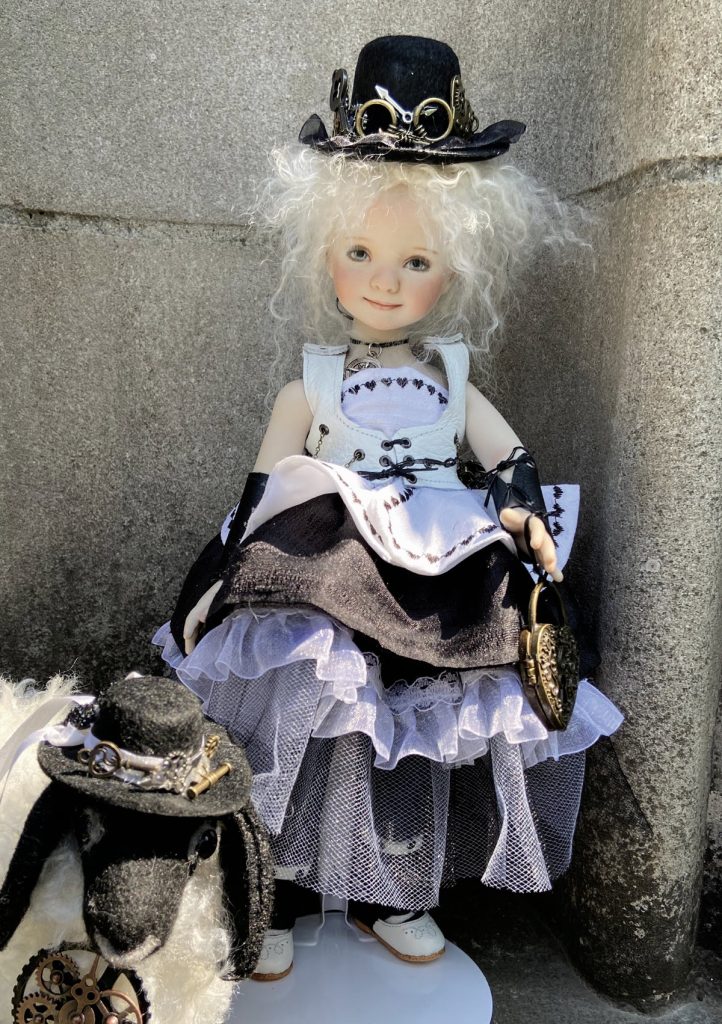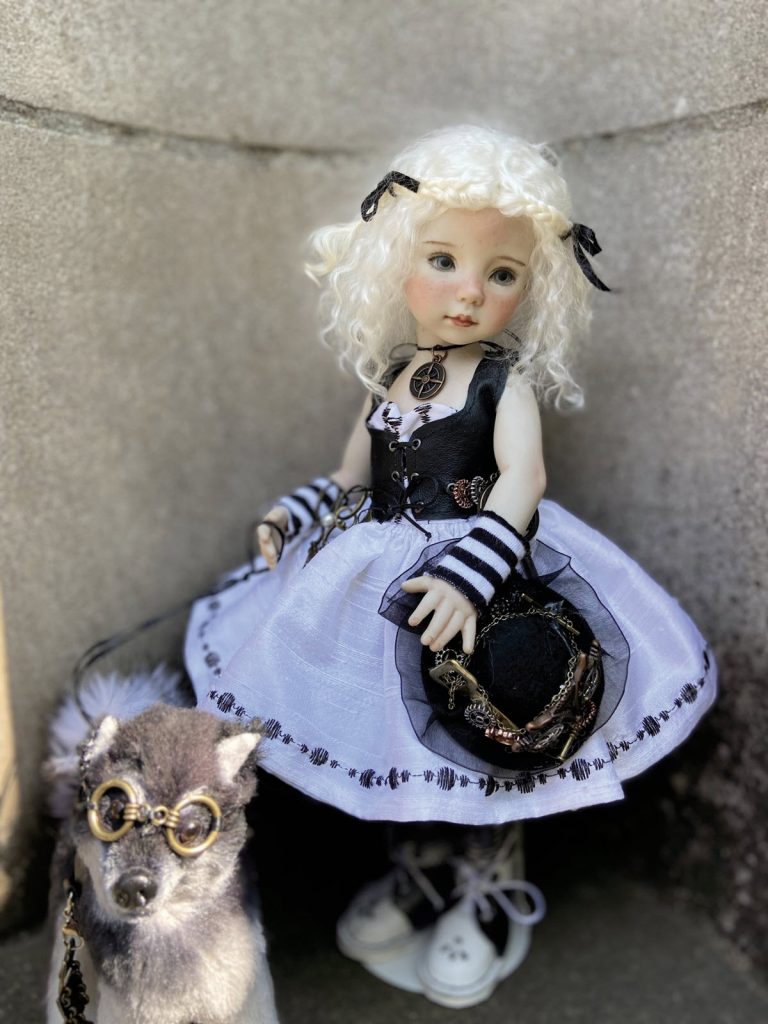 The thought of expressing herself in a monochromatic way caught fire in Norton's mind. "The thing that draws me to create the white porcelain collection is the creative free­dom to have fun and be a bit outrageous. And although the sculpts are Dianna's, the results are undeniably mine. I never feel pressured to come up with an idea, and it might change direction before I put it together. The only pressure is get­ting it done in time for publication! But I am a person who works better under pressure," Norton said. "I would like my porcelain collectors to realize that even though I have been made a Doll Dreamers Guild member and will spend a lot of my time painting vinyl Dianna Effner dolls, I will continue to produce distinctive porcelain dolls, as well as my special collections. I feel these collections look great in multiples, but each doll stands very well on its own as a solitary piece."
The 2023 Fantasy Steampunk collection, in its white porce­lain glory and black-and-white-themed costuming, is a tribute to sisters, storybooks, and self-confidence/self-expression. "The collection revolves around Alice Pleasance and her younger sister, Lorina Charlotte, and her older sister, Edith Mary. The other three girls are Hattie Cecile, Coella Alba, and Alice's little neighbor, La­vinia Rose, along with her canine companion," Norton said.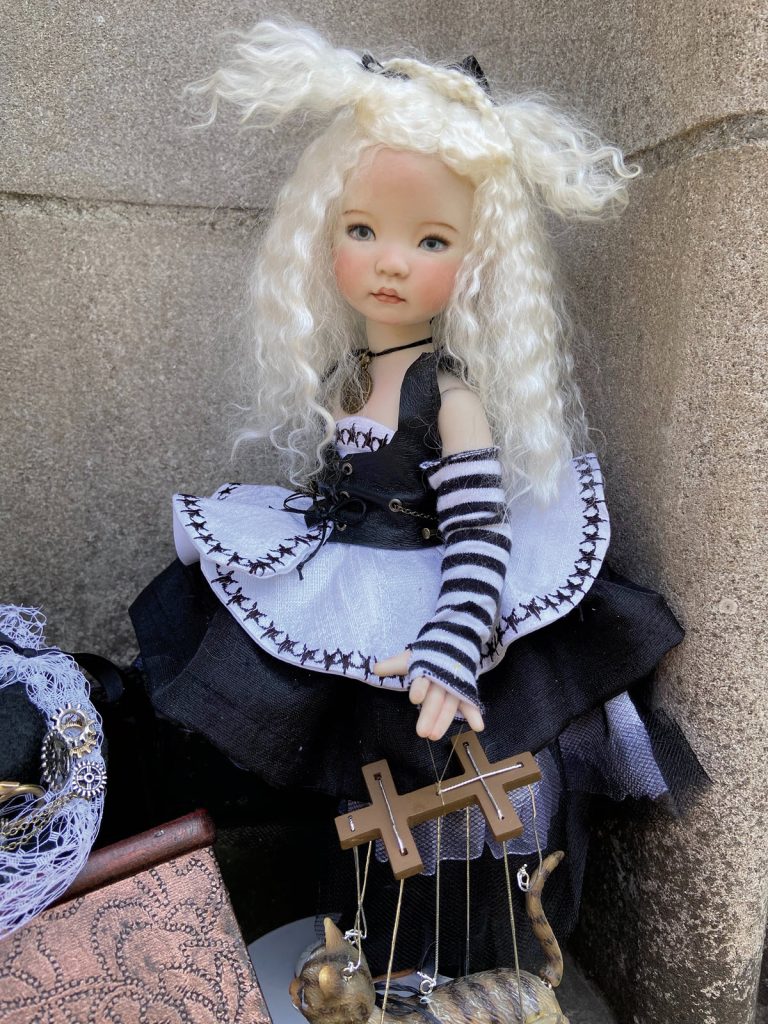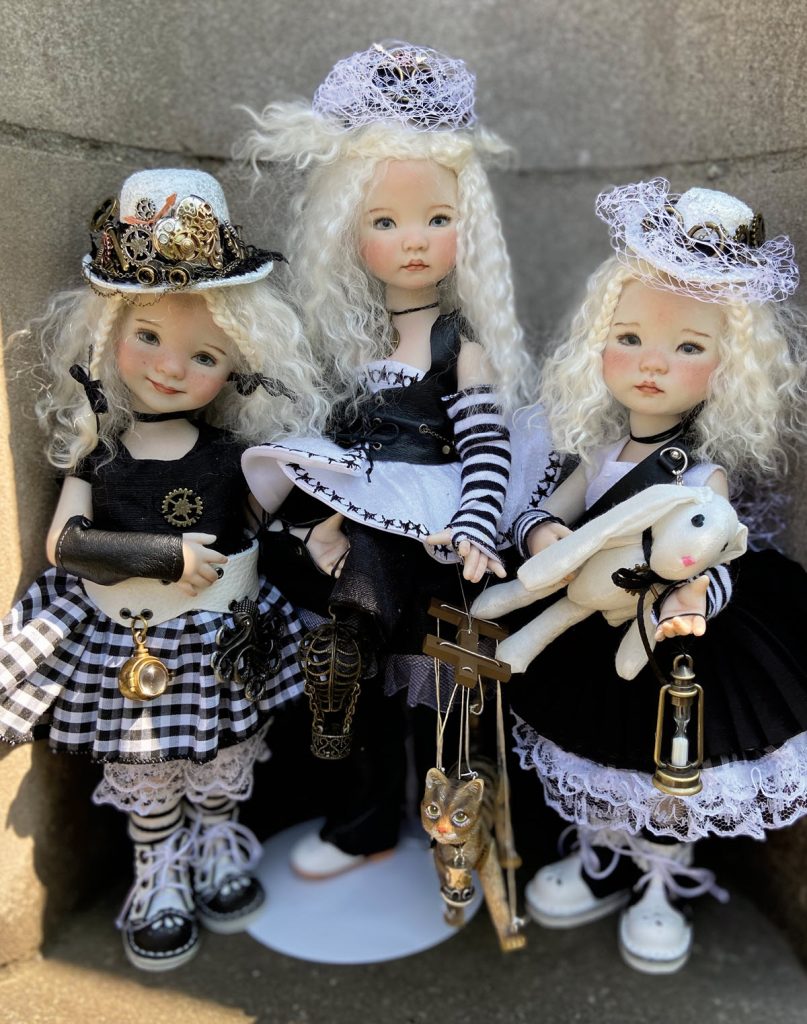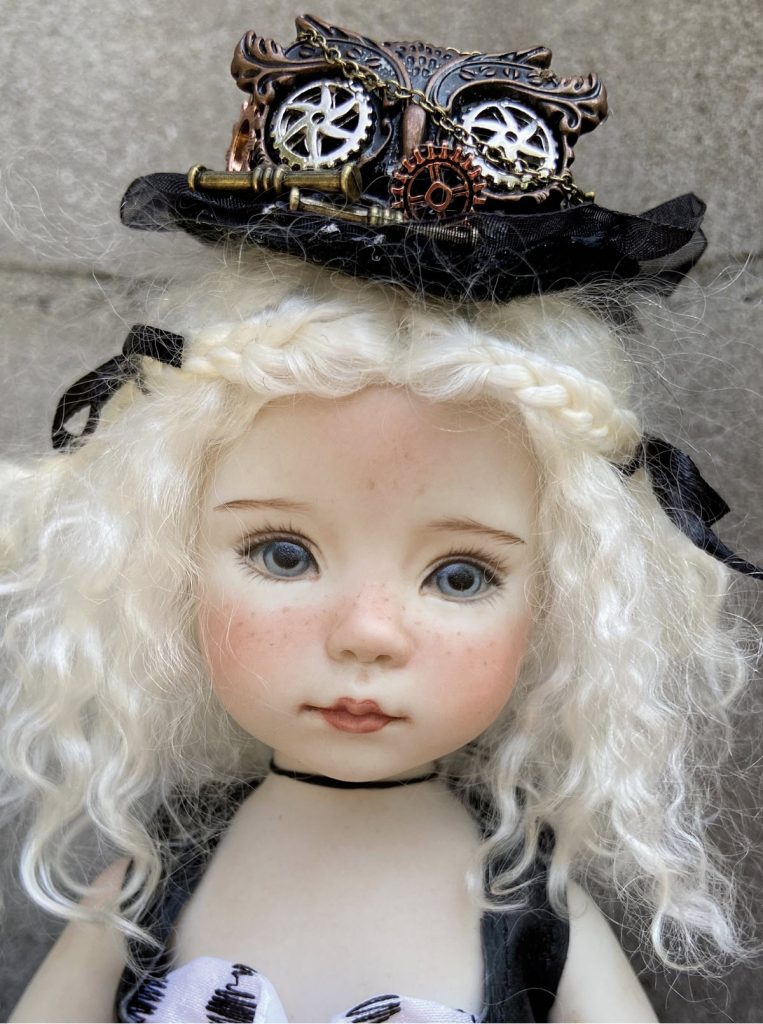 Each of the creations embodies a facet of their fairy-tale lookalikes, but each doll has a decidedly different aura about her. "Alice Pleasance is the keeper of dreams. She has the most fantastic imagination and is always aware of the time. She is not afraid to have a little sip from the 'drink me' bottle, regardless of the consequences. Lorina Charlotte is the younger sister to Alice, but she is also known by her nickname 'Bo Peep.' She spends time with her sheep, Mabel. The eldest sister is Edith Mary, and she loves to show off her 'cat' named Cheshire or Cheshie."
Lavinia Rose, who dwells next door to the sisters, "pretends she is Black-and-White Riding Hood when she is out and about with her sidekick, Punch. He is a husky/wolf crossbreed. Coella Alba car­ries a white rabbit and she is always measuring time, deter­mined not to be late. Her name means 'white rabbit.' Finally, Hattie Cecile is the wild child of the bunch. She is the clos­est thing to the Mad Hatter, and she's always got fun ideas. She is always on the go."
April Norton's 2023 return to black-and-white motifs proves once again that there is nothing black and white about dollmaking, literary icons, and what can spring forth from the mind of a veteran doll artist.