When you have the opportunity to chat with Ken Werner, president, consumer products, of the Middleton Doll Co., you find yourself in the presence of a man who takes his role seriously, but not himself. Werner's good-natured self-ribbing is evidenced by his job description: "chief baby-doll guy." And he further proves he is a good sport when he reveals his confirmation name: "Christopher; I thought I might be the reincarnation of Chris Columbus." Though a 15th-century explorer and a 21st-century corporate head may have little in common on the surface, Werner does share a spirit of adventure, a desire to forge into the un­known and an immeasurable curiosity to discover what is around the next bend. His visionary ways would make his maritime namesake proud!
Based in Belpre, Ohio, the Middleton Doll Co. has been associated with quality, lifelike dolls for nearly 30 years. Marking its official creation as 1978, the firm celebrated its 25th anniversary in 2003, and it's gearing up to celebrate another 25.
"The Middleton Co. has prevailed because its products are compelling, the quality endures and the value is apparent," says Werner. "The focus is always on design that serves two masters: the retailer and the retailer's clients. It's not just important to create product you can 'sell to,' but importantly it must 'sell through.' If what we create 'loves you back,' then we have done our job."
The Middleton Doll Co. has adopted this most basic human need as its marketing mantra: "The Babies that Love You Back." And, indeed, the 2007 line of Middleton dolls is a rainbow of cultures, ages, lifestyles and joyfulness. In the company's early years, when such realistic-looking creations were a rarity, there was a rash of distressed phone calls to local po­l­ice stations. Shoppers would look into parked cars at the mall, see what appeared to be a lone baby left on the backseat and would place alarmed 911 calls. The sculpt­ing and costuming were so spot-on that passersby were convinced these were left-behind infants!
Today, the dolls are just as panic-producing, but the public has grown accustomed to seeing dolls that appear real and ready for a hug. "With each collection, we attempt to get more 'real' than the last," Werner shares. "We believe that through diligent pursuit of design that mimics what's real and alluring about young children, we are able to keep the line fresh. Each doll must display bearing, enthusiasm, loyalty (to its mama or papa) and unselfishness."
Frank Weinstein, co-owner of Toni's Collectibles in Danville, Calif., wholeheartedly maintains the dolls' realism is one of the firm's most precious secret ingredients. "Children and collectors really bond with these dolls, and the dolls give love and comfort to many people. There's a beauty to their faces, and we find that the people who buy these dolls for their children and grandchildren often enjoy the dolls as much as the kids do."
One of the paths Werner and his colleagues are pursuing for 2007 is a promise to make more boy dolls, due to increased demand. He's also adding more diverse skin tones to the line. He is determined to make the 2007 array of dolls inclusive and insightful, embodying the warmth and wisdom of all people. Appealing to the little lads among us is nothing new for a Middleton doll, but a concerted effort to produce more lads is groundbreaking. For years now, tiny boys have been drawn to the Middleton magic.
"I still remember when Middleton gave each dealer a doll at its Toy Fair reception a while back," recalls Dorothy Kreowski, of The Alcove in Shell Beach, Calif. "My grandson was thrilled! Yep, I said 'grandson.' He had asked Santa for a doll, and no one took him seriously, including Santa. When his mom asked why he wanted a doll, his answer was priceless. 'I have to learn to be a daddy, don't I?' Needless to say, when Middleton allowed us to pick our very own doll to take with us that year, I chose a charming little boy doll for a dearly loved little boy, who will someday be a dearly loved daddy. He is now 12 years old and still has the doll. I hope he is practicing. The world needs more good dads," Kreowski adds.
The potential moms and dads who bring home the Middleton dolls reflect all segments of the buying public. They can be celebrating their centennial, or just learning how to tie their shoes. "In order to succeed and grow, we need to be a baby doll and doll accessory company for all ages. We have a 'crib to collector' mentality. Our new play line of dolls is for seven different age groups, from a very newborn to a 4-year-old. We then believe that a girl is mature enough to move into our Newborn Nursery Adoption programs, where we have a plethora of dolls and accessories. This includes a new furniture line that will launch in 2007. The Newborn Nursery can hold a young girl's interest until she is about 12 years old, and then, alas, we will lose her for a while. Through her early life, by that time, she may have already had ten or so different Middleton dolls. We think we can pick her back up in her mid-20s, when she will have the income and inclination for our collectible line."
Joyce Hoover, owner of Doll & Gift Gallery in Rogers, Ark., agrees Middleton mania is a family affair. "Many times I have three generations of collectors who shop together at our store, and we hear their stories about when each got her first Lee Middleton doll. The Lee Middleton Doll Co. is why I started my business more than ten years ago. I loved the dolls and wanted to sell them. When you love what you sell, it shows, and I think that is why we've been successful."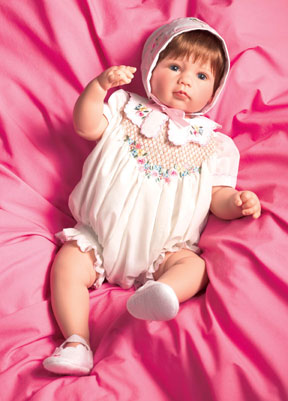 "These are quality vinyl dolls, with a history of creative and innovative designs," Ella Trumpfeller, owner of Texas Doll Designs, in College Station, Texas, opines. "They successfully make old customers come back, and yet attract new customers into the 'family fold.' I think they follow their own tried-and-true methods and then continue to build upon the creativity of their doll artists to produce new directions. This certainly helps them to appeal to generations of old and new."
Juggling the challenge of satisfying the die-hard collectors, while enticing new blood into the hobby, is a balancing act worthy of Cirque du Soleil. Werner and his creative team are up for the task. "Essentially, Middleton has been a single-artist company for the past five years or so, purveying the creations of Reva Schick. Occasionally, we did use sculpts from other artists, like Jane Pinkstaff, but without reservation, Reva was our diva! During 2007, we will continue to introduce new Reva dolls, but diversifying our artist roster is a definitive strategy. Since the late summer of 2006, Middleton has been aggressively vetting the works of several other artists. By mid-2007, we intend to re­veal to the doll world the wonderful sculpts of at least five other artists. While our pieces have been traditionally 'fancifully pretty,' our focus will be selecting looks from artists where more 'stark realism' is projected. With our Breath of Life collection, for instance, we have dabbled in this area, and we experienced good success. We now recognize that and will bring renowned artists to our new releases."
When Werner is pressed to name some of the talent he has been courting, he invokes the Fifth Amendment, the right to remain silent. "It needs to remain our little secret at this time," he explains. Although some of the artist hands behind the doll faces may be evolving, the commitment to excellence and the respect toward the collectors remain as strong as ever. "Middleton hosted the largest convention of its collectors this past summer, at its Belpre, Ohio, facility. If you were fortunate enough to have attended, you would have seen the activity of 300 collectors (many with their male partners), and you would have witnessed some collectors viewing their pieces with the utmost reverence. They exhibited a 'please don't ever touch' mentality. But most interacted with their dolls as one would with a human young child. We hosted a runway fashion show where the collectors were judged in two categories: Our dolls were re-dressed with store-bought clothes and others with handmade clothes. The show lasted almost three hours! Without a doubt, this was evidence that 'hands-on' was very, very important to these collectors." And the collectors are very, very important to the folks at Middleton Doll Co.