(Photo courtesy of Movie Star News)
One of my most memorable celebrity encounters — and there have been a few — involves a very well-known clothing designer, businesswoman, producer, philanthropist, actress, and singer named Cher. Yep, the one-name sensation has a remarkable résumé, and my path crossed with hers back in early 1999.
Cher — who legally changed her name to just that one-syllable moniker in 1978 — has lived a life that is packed with enough passion for 70 individuals. It's hard to believe that the dramatic performer (and I'm using that in connection to her theatrical, monologue-ish, soulful ballad singing) was born in 1946. According to those who knew her back in her early years, she was determined to become famous. She was mesmerized by the limelight and would pray that she could be a movie star when she grew up.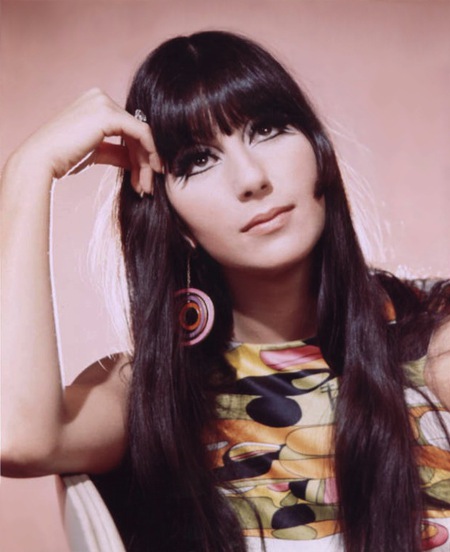 (Photo courtesy of Movie Star News)
Her mother, who acted under the name of Georgia Holt, had occasional parts on sitcoms and crime shows of the 1950s. She managed to get Cher and her younger sister, Georganne, roles as background players or walk-ons while she was on the set. This further fed Cher's desire to become famous. Mom Georgia did not have the most stable life, alternating between waitressing and auditioning for speaking roles. She married frequently, and had liaisons with different men in between the divorces and the next union. As a result, Georgia temporarily placed her two daughters in an orphanage, where they stayed for a few months until their mom could get her life straightened out.
It's not surprising, then, that Cher focused on the glamour and escapism of Hollywood. One of her acting idols was Audrey Hepburn, particularly in "Breakfast at Tiffany's." Cher identified with Hepburn's sleek, thin silhouette and her abundance of dark hair. Cher was determined to follow in Hepburn's footsteps, and she wouldn't "go lightly" to get there.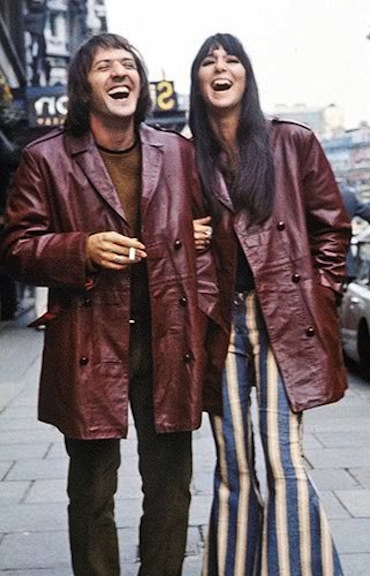 (Photo courtesy of Movie Star News)
At the age of sixteen, Cher bid farewell to her family, formal education, and a conventional lifestyle. She got jobs dancing at different go-go bars in Los Angeles and enrolled in acting school to help her improve her diction and talent. While she was working as a dancer, she kept her eyes peeled for anyone who could assist her. One of the folks that she met was a songwriter, talent scout, and promotions man for Phil Spector. His name was Salvatore Phillip Bono, but everyone called him Sonny.
When I had the chance to interview Cher — I think I was granted 15 minutes of her time on the day she was promoting her "Believe" album in New York City — I tried to pack as many questions as possible into that Warholian time-construct. I had 15 minutes with fame; I was going to make the most of it. However, I ended up not asking that many questions at all. Instead, I ended up listening as Cher talked about what her life meant after she encountered the "most unforgettable character" she ever met. Sonny had died in 1998, and though they had been divorced for 23 years at that point — legally ending their marriage in 1975 — she was forever associated with the man who recognized her abilities and who untapped her potential.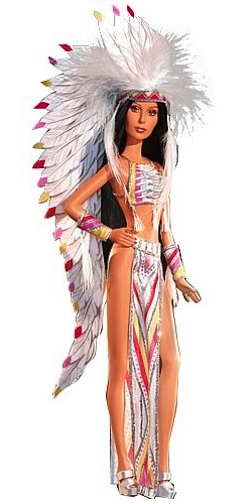 (Photo courtesy of Mattel)
That's what is so incredible about Cher. While thousands of little girls — maybe millions — have dreamed about becoming household names and movie stars, Cher actually became one. Beyond just headlining a movie, she won the industry's highest accolade, the 1987 Academy Award for Best Actress. And she accomplished this victory by beating out a spectacular group of "also ran" competitors: Sally Kirkland, Holly Hunter, Glenn Close, and Meryl Streep. In fact, Hunter and Close were nominated and lost for the roles that have defined their careers: "Broadcast News" and "Fatal Attraction." That's pretty amazing! On that same wavelength, billions of little girls play with dolls. How many grow up to become one?
In addition to her record-setting record sales — she's the only artist who has had a number-one Billboard single in each decade, from the 1960 through the 2010s — Cher has become an entertainer triple threat. She sings, acts, and directs. Her reputation as a comic actress is a solid one, and she honed her deadpan style and perfect timing from her years onstage with Sonny as a nightclub performer. It was their banter with each other and their audiences that netted them their CBS deal.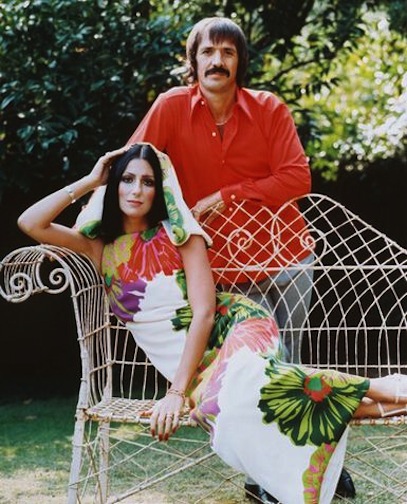 (Photo courtesy of Movie Star News)
While Sonny and Cher became musical-variety favorites on network TV, Cher also transformed into a fashion icon. Her interest in clothing was a lifelong preoccupation. As a matter of fact, when she was a sophomore in high school, she set her school peers' tongues wagging when she dared to wear a halter top to school. She was the first girl in her class to bear her midriff and the other students were scandalized. Cher was — naturally — delighted and energized. When she and Sonny first began to attract attention as a pop duo in the 1960s, she worked on launching a makeup and clothing line to capitalize on her heavily made-up eyes and penchant for bell-bottoms and fringed vests.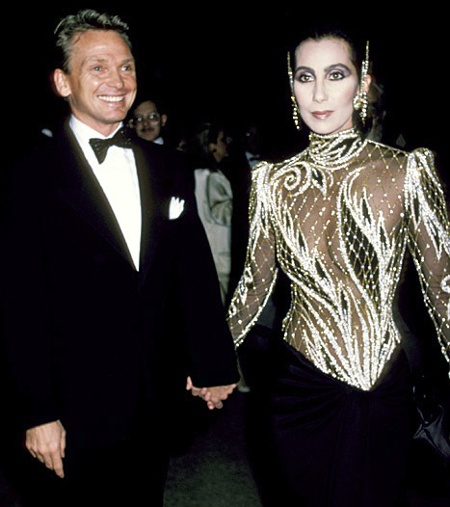 (Bob Mackie and Cher, Courtesy of Mattel)
Cher was never afraid to make a statement with her wardrobe, and her aptitude for knowing what to wear — and when to wear it — made her the ideal muse for costume designer Bob Mackie. Mackie had done stellar work for Carol Burnett and her variety show colleagues. When he met Cher, and began to design for her, his reputation skyrocketed. In true Cher style, she made her intentions known from the second she met him.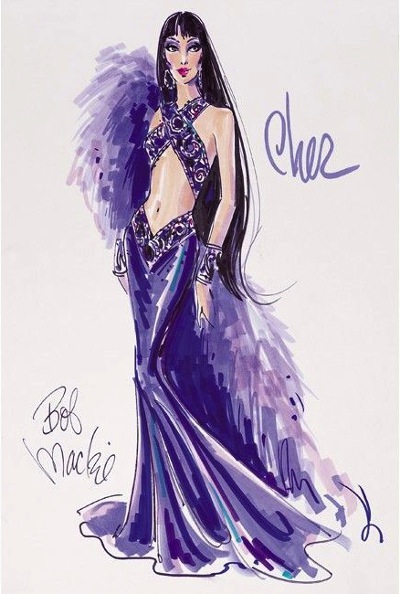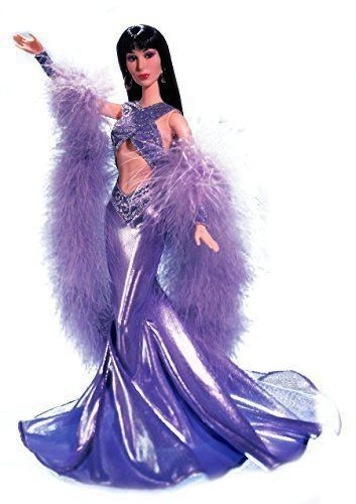 (Courtesy of Mattel)
Mackie told Women's Wear Daily that he met Cher when she was 21 years old: "It was 1967 and I was working on a loose thread on a beaded gown for Carol, and Cher came over and said, 'Oh, someday I'm going to have one of those.' We became friends after that."
Their partnership as designer and inspiration has lasted 43 years. Cher's 2014 tour was the first time since the 1970s that he had not provided outfits for her stage performances. Both expressed heartbreak over that time-schedule conflict. Mackie has called Cher his "little sister," and even though there is only a six-year difference in their ages (Mackie is 76), she's often likened him to "the dad I never had." The two shared a like-mindedness about what best suited her body and her attitude.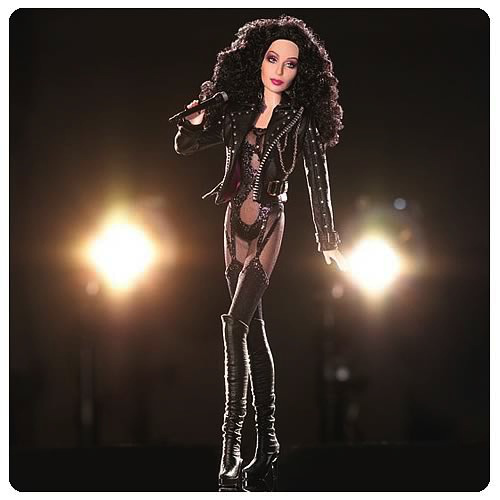 (Photo courtesy of Mattel)
That is what we should all take away from Cher turning 70 years old. She might have sung about "turning back time," and she's definitely had cosmetic procedures over the decades that she's been in the public eye, but she has never turned her back on who she was, who she became, who helped her along the way, and why her past matters. When I interviewed her back in early 1999, the Bob Mackie line of dolls based on her legendary costumes hadn't debuted yet. We talked about the Mego line of dolls that celebrated her and Sonny, and she expressed her belief that a new line of dolls showcasing her cutting-edge looks was long overdue.
"My fans have taken a lot of crap for being my fans," she told me. "They've been harassed and told that I'm not cool. I know doll collectors get that same sh** thrown at them. I'll settle it all now — collectors are cool. My fans are cool. I'm cool. Are you cool with that?"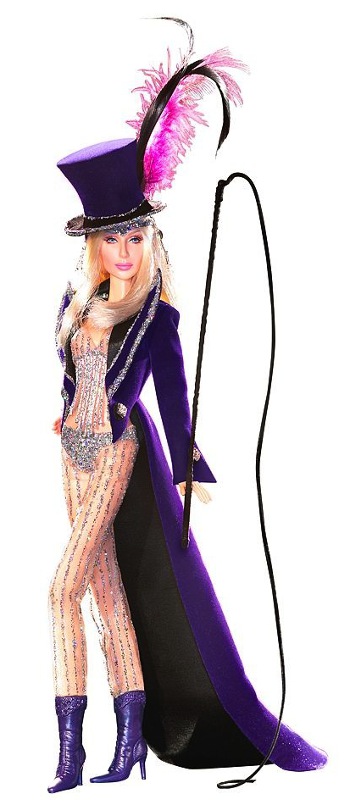 (Photo courtesy of Mattel)
Yes, Cher and speaking her mind — some things just remain eternal.