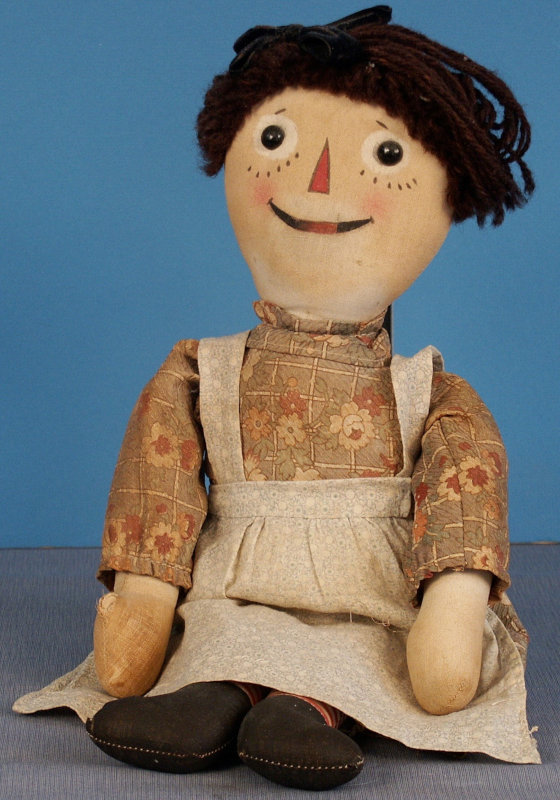 By Jan Foulke
Q: I am settling an estate, and I found this old rag doll in a box with some other dolls which I was able to identify. I am wondering whether this rag doll would be of interest to a doll collector or if I should just put it in the scrap heap?
A: Oh, don't put it in the scrap heap! Yes, it would be of interest to a collector, because you have found an original Raggedy Ann doll designed by Johnny Gruelle, who wrote stories about her. If you look on the front of her torso, there should be a black stamp that reads "Patented Sept. 7 1915." While you are looking for the stamp on her torso, also look for her wooden heart inside her torso. The first Anns were given candy hearts, just like in the Gruelle books, but the candy melted and became sticky, so wooden hearts were substituted. But what didn't change was the message on the heart: "I Love You."
You might not have recognized the doll as Raggedy Ann because over her 100-year history she has gone through some design changes, one of which was her hair color, which originally was brown, not red as we know her today.
Raggedy Ann Stories by Johnny Gruelle was first published in 1918, and the first doll came out at the same time. The publisher was P. F. Volland. The dolls were made by a jobber for Volland, and so collectors refer to these early ones as Volland Raggedy Anns. It is obvious from the dates that Gruelle always had in mind a doll to accompany the release of the book.
The inspiration for the book was Gruelle's daughter Marcella, who died in 1915 when she was just 13 years old. Raggedy Ann's origins were based on an old rag doll that belonged to Johnny Gruelle's mother, which he had found in the attic. He refurbished it, giving it a smiling face. The old rag doll became Marcella's favorite companion.
Gruelle made up stories about Raggedy Ann to tell Marcella. Raggedy Ann was always the optimist with her smiling face and sunny disposition, always looking for the good in any person or situation. The book was an instant hit and was soon followed by Raggedy Andy Stories and many other volumes, some of which are still in print today.
It is great fun collecting Raggedy Ann dolls and books. There is a multitude of material to choose from. The early Volland dolls are the most desirable and expensive, but there is merchandise to fit every collecting level and budget. Here is a partial listing of the makers of commercial Raggedy dolls over the years:
P.F. Volland: 1918-1934
Exposition: 1934-1935
Molly-'Es Doll Outfitters: 1935-1938
Georgene Novelties: 1938-1963
Knickerbocher: 1963-1982
Applause Toy Company: 1983-present
Hasbro: 1983-present
Aurora World: 2012-present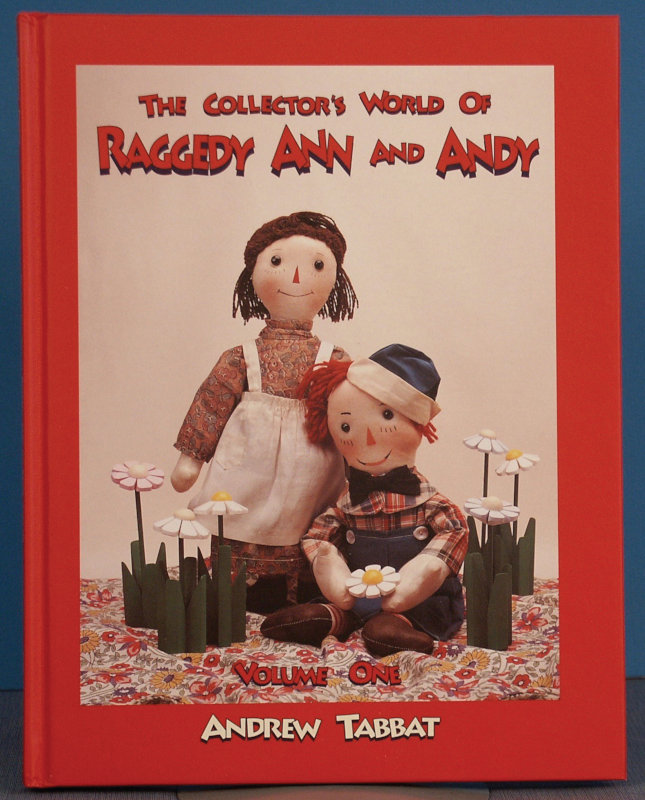 In addition to commercial dolls, various artists, including R. John Wright, have created their own versions. There are also dolls of other characters from the books, such as Beloved Belindy and the Camel With the Wrinkled Knees. But the dolls and books are just the beginning — Raggedy Ann and Andy have been so popular over the years that you can find tea sets, games, stationery, figurines, puzzles, sand pails, music boxes, blocks, mugs, ornaments, and even a U.S. postage stamp!
There has to be some very special quality about a doll, a very strong emotional appeal, for it to remain popular, even cherished, for over 100 years. Deservedly, Raggedy Ann was given the honor of being inducted into the National Toy Hall of Fame in 2002.
Oh, and by the way, an early Volland Raggedy Ann in very good condition, with no holes and little fading, wearing original clothing and hair, sells on the current retail market for $800 to $1,000. Glad you didn't throw it away!
Jan Foulke is an authority on antique and vintage dolls, with over 40 years of experience in the field. She's the author of the full-color reference book "Jan Foulke's Guide to Dolls" and writes the Antique Q&A column in each issue of DOLLS magazine. Send your antique doll questions to Jan Foulke.
Subscribe now to read Foulke's column in every issue and to get access to her past columns in DOLLS online archive of past issues!