By Jan Foulke
Photos courtesy of Foulke Archives

Q: I was curious about this figure. I'm not sure it's a doll, but do you know anything about it? Age? Origin? Purpose?
A: Collectors refer to these types of figures as "nodders." They have molded clothes and are unjointed except for the heads, which swivel or nod. They are strung with an elastic cord knotted on top of the head and pulled through to the rear or feet and knotted again. Because of the knotting, some collectors refer to them as "knotters," but that term is less common.
Most of these toys date to the 1920s and 1930s. They usually run 3 to 4 inches tall. The majority of them were made by the Hertwig & Co. porcelain factory in the small town of Katzhutte in Germany. Founded in 1864, it became a huge success, employing nearly everyone in the village and fabricating an unbelievable quantity of product. Their primary production was china and bisque doll shoulder heads along with their lower arms and legs, half-bisque dolls, all-bisque dolls, bisque and china novelties, figurines, and half dolls (more commonly called "pincushion" dolls).
Nodders are fun and whimsical. Many were produced in boy-and-girl pairs. Easily found is an Irish set painted in green and white, a Native American pair, a bride-and-groom set, and a bellhop set, as well as a variety of single boys and girls — even Santa Claus and a particularly rare Uncle Sam.
A favorite and harder-to-find group are the animal nodders. These are animal families, but they are dressed like humans. The families usually consist of a mother, father, brother, and sister. It is fun to look for these, generally found one by one and assembled into the family. There are elephants, bears, rabbits, pigs, and frogs.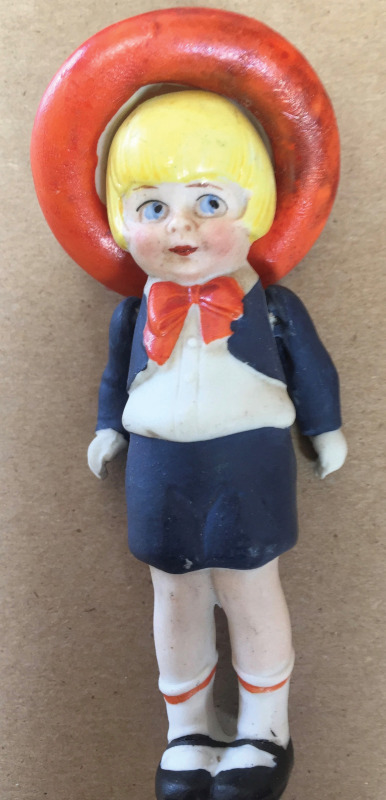 Another group of nodders that are very collectible feature characters from popular old newspaper comic strips. They are incised with the name of the character on the back, so there's no mistaking them. The Perry Winkle character shown here is from the "Winnie Winkle" comic strip that ran in the funny papers from 1920 to 1996. Martin Branner did the story and art for the first 40 years; then it was taken over by others. At its height, it was running in more than 150 daily and Sunday papers.
Perry Winkle is actually a variation on a nodder because it is his hat, not his full head, which nods. His hat is a separate bisque piece strung, just like the nodders, with an elastic cord running from his hat to his rear. This variation is a rare and hard-to-find item. You must be very careful when cleaning and handling bisque dolls from this period, because most of them were cold-painted and do not have fired paint. This means that if you use a harsh cleaner and scrub brush, you will take off all the paint.
Jan Foulke is an authority on antique and vintage dolls, with over 40 years of experience in the field. She's the author of the full-color reference book "Jan Foulke's Guide to Dolls" and writes the Antique Q&A column in each issue of DOLLS magazine. Send your antique doll questions to Jan Foulke.
Read the rest of Jan Foulke's Antique Q&A column in DOLLS October 2020 issue.
Subscribe now to get access to DOLLS online archive of past issues!