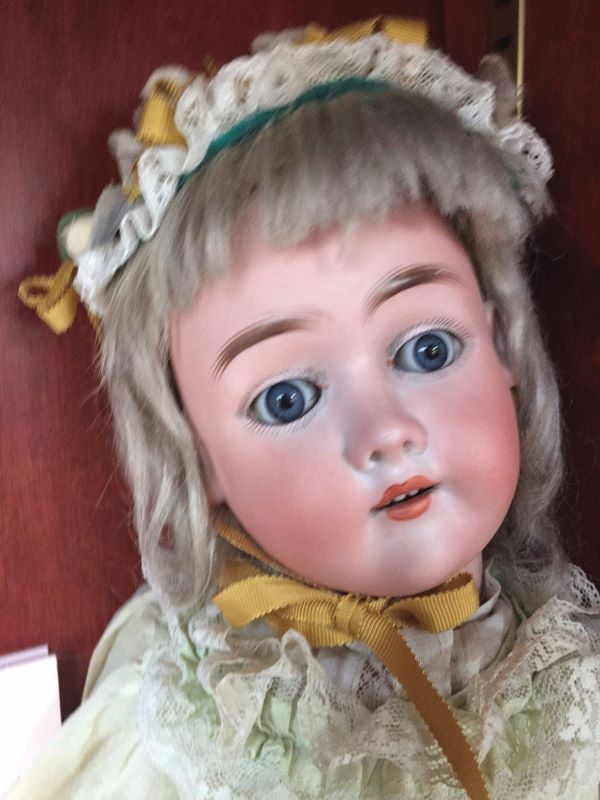 By Jan Foulke
Q: I have recently started to collect German antique bisque dolls. I have several marked Heinrich Handwerck. Now I have found one marked Max Handwerck. Did this company change its name or are these two different companies?
A: They are two different doll factories, but both of them were located in Waltershausen, Germany, which was an important doll-producing area. It was first the home of the J.D. Kestner factory in the early 1800s. Gradually, other doll factories, such as Heinrich Handwerck and Kammer & Reinhardt, followed. The area became famous for its dolls, usually of very high quality.
The Max Handwerck factory was a fairly late arrival to the area and only started its production in 1899-1900. Within several years, Max died and his wife Anna kept the business going. This was not as large a factory as the Heinrich Handwerck works, so of course not as many Max Handwerck dolls still exist today. Actually, even though Max Handwerck was located in a town which had a reputation for high-quality products, their dolls were more of the economy variety. Even today, they are not regarded as highly as the dolls from the Heinrich Handwerck factory.
In 1901, Max Handwerck registered the trademark Bébé Elite for bisque-head dolls on composition ball-jointed bodies. Obviously he was trying to appeal to those buyers who were impressed with a French name at a fraction of the French price. Bébé Elite was advertised as having enamel teeth, sleeping eyes, and wigs. These heads were made exclusively for Max from his own designs by the F. & W. Goebel porcelain factory (well known today for their Hummel figurines).
Most dollmakers did not own porcelain factories, so they had to have their heads, limbs, and all-bisque dolls made for them. The heads could be exclusive models produced for a specific dollmaker or stock heads which the porcelain factory could sell to many different doll producers. J. D. Kestner was an exception, in that he had both a doll factory and a porcelain factory, allowing Kestner to make complete dolls and also manufacture heads for other doll factories.
Not all Max Handwerck dolls have mold numbers, but of those that do, commonly found are 283, 286, 287, and 297. One outstanding face is mold 421, which has lovely, high-quality bisque. It must have been their top-of-the-line doll. This is harder to find, but it's a doll well worth searching for. The Max Handwerck factory was in business for over 30 years.
Jan Foulke is an authority on antique and vintage dolls, with over 40 years of experience in the field. She's the author of the full-color reference book "Jan Foulke's Guide to Dolls" and writes the Antique Q&A column in each issue of DOLLS magazine. Send your antique doll questions to Jan Foulke.
Read the rest of Jan Foulke's Antique Q&A column in DOLLS November/December 2020 issue.
Subscribe now to get access to DOLLS online archive of past issues!