By Jan Foulke
Q: This cloth doll is not marked. I have been told that it may be an Italian Lenci doll, but no one to whom I showed it was sure. Can you help me make a positive identification?
A: Yes, your doll is definitely a Lenci! Elena Sca­vini, whose nickname was Lenci, started to make dolls during World War I while her husband was away serving in the army. After the war, the Scavinis went into fulltime doll manu­facturing. Their 1920 catalog showed 50 different designs. Lenci dolls were high-quality luxury items. A 19-inch doll could retail for as much as $20. Smaller dolls sold for under $10, but that was still a substantial amount at that time.
In the mid-1930s, the Scavinis experi­enced hard financial times due to a series of mishaps and war between Italy and Ethopia. This called for some economies, and a new line of dolls was developed that could be produced at a lower cost. This group had names as defined by their sizes and faces, rather than model numbers, like most of the earlier Lenci dolls. Their faces are all similar, with more of a dolly look than a character one.
Lucia was 14 inches,
Laura was 16 inches.
Mariuccia was 17 inches.
Benedetta was 19 inches.
Henriette was 25 inches.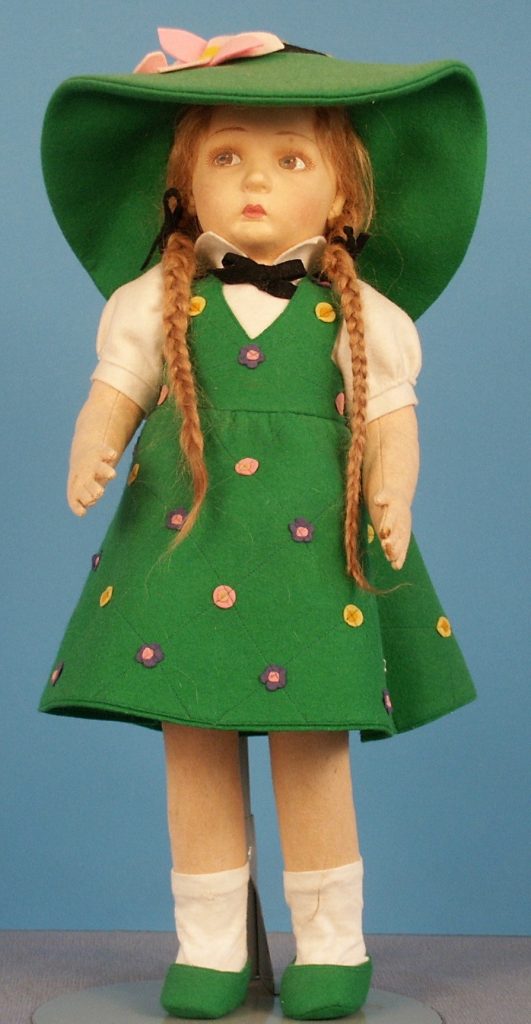 These dolls are lovely, but they do not have all of the fine details of the early dolls. The complete doll was no longer all felt; woven cloth was used for the body and felt only for the head. The legs were not shaped with multiseams. Face painting was attractive but lacked some of the detail of the eyes and mouths. For the most part, the costumes were not as elaborate, with fewer cut-out felt deco­rations, applied flowers and ruffles, and hats. Shoes were a simpler design. Mohair was used for wigs, but the hairstyle was often simpler.
Your doll is the 19-inch Benedetta. We are showing a Benedetta from our Foulke archives. Like yours, she has a beautiful face, with brown painted eyes featuring eye shadow, stroked upper and lower lashes, and white dot highlights. Her hair is in a simple style with braids. Her attractive outfit consists of a green felt jumper with applied flowers and quilting stitch with a matching hat, not as elaborate as earlier Lenci outfits, but still very appealing. This model is not an easy one to find and makes a lovely addition to your doll collec­tion. Enjoy her!
Jan Foulke (retired) is an authority on antique and vintage dolls, with over 40 years of experience in the field. She's the author of the full-color reference book "Jan Foulke's Guide to Dolls." Subscribe now to read Foulke's columns in DOLLS online archive of past issues!