By Jan Foulke
Q: My grandmother left this little doll. We would like to know something about it. I was told to look on the back of the head for information. It is incised with a "K" and "R" on each side of a six-pointed star, the letters "S&H," and the number 23. Can you tell me anything about her? Does she have any value?
A: You have a genuine antique doll with a bisque head and a composition body produced during the 1920s by the Kammer & Reinhardt firm located in Waltershausen, Germany. Their trademark is the "K" and "R" on either side of the star. Her head is made of bisque, an unglazed porcelain. Typical of this period, the head features glass sleeping eyes and an open mouth with teeth. She still retains her original brown mohair wig styled in a short bob popular in the 1920s. Her ribbon hair bow also looks original.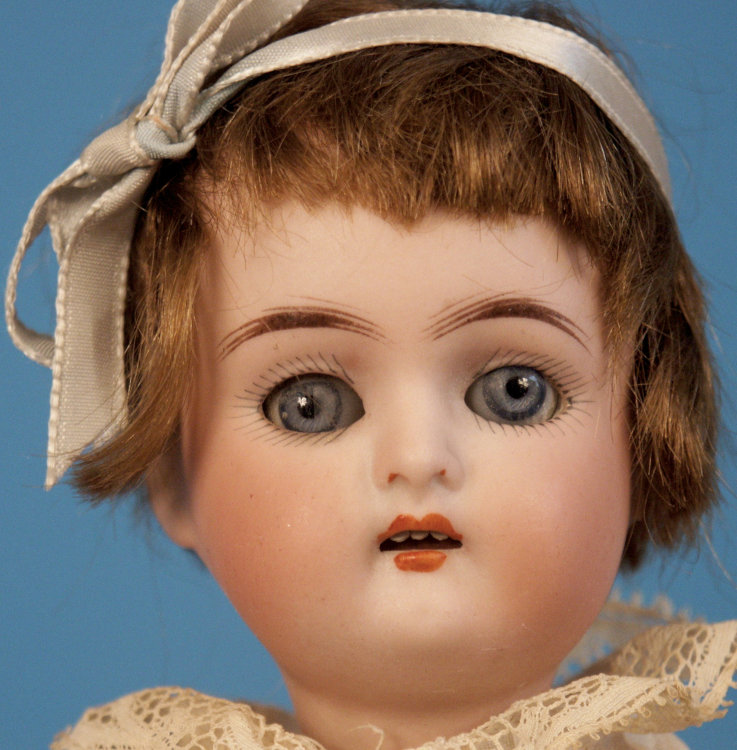 K&R was a doll factory but not a porcelain factory; they did not make their own heads. In 1902, K&R made a deal with the Simon & Halbig porcelain factory to produce heads for K&R; hence the initials S&H on your doll's head. It is not known what porcelain factory made K&R heads previous to that time. Very few doll companies had their own porcelain factories, so it was common practice to have heads made by an outside source.
K&R started business in 1886. It produced quality products and soon grew into a substantial factory complex with multiple buildings, both large and small. It developed an excellent reputation worldwide for producing fine dolls. In addition to workers in the factory, there were as many people, sometimes whole families, who worked in their homes on doll parts and accessories such as eyes, wigs, clothing, and shoes.
K&R was foremost in improving their doll heads and bodies. Over the years they registered numerous patents. They added sleeping eyes, real eyelashes, and made many changes in their jointed composition bodies to improve the joints and allow better and more natural movements and manipulation of the parts.
As to the number 23 on your doll's head, that is the height of the doll in centimeters. I'm often asked about this number in relation to bisque dolls — many collectors assume it is a mold number and want to know why they can't find it in my books. The K&R "dolly face" dolls do not usually have a mold number. Sometimes you might find one marked 191, 290, 402, or 403, but generally you find only the centimeter size number, representing the height. There are about 2.5 centimeters to an inch, so your doll marked 23 would be about 9 inches tall. A 50 cm doll would be about 20 inches tall.
Yes, she has value. The fact that she is factory-original adds to her value and makes her a prize for a doll collector. K&R dolls of this size and in perfect condition, all original, retail at doll shows for about $200 to $225. Enjoy your family heirloom!
Jan Foulke is an authority on antique and vintage dolls, with over 40 years of experience in the field. She's the author of the full-color reference book "Jan Foulke's Guide to Dolls" and writes the Antique Q&A column in each issue of DOLLS magazine. Send your antique doll questions to Jan Foulke.
Subscribe now to read Foulke's column in every issue and to get access to her past columns in DOLLS online archive of past issues!