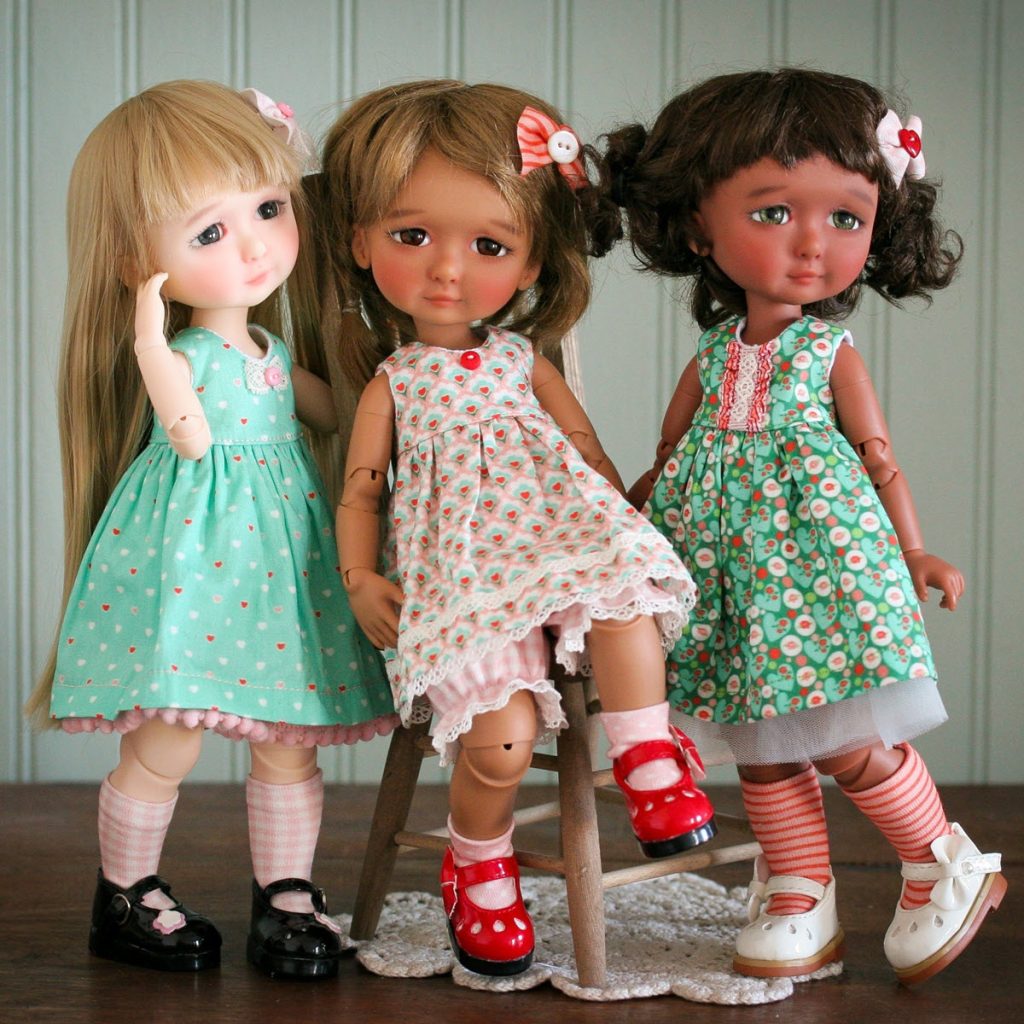 By Stephanie Finnegan
Virginia Lee grew up on a farm, and the impression made by this rustic upbringing has subtly lingered within her. Currently residing in a small Illinois town, she can easily channel her appreciation for "nostalgic farm life aesthetics and the charm of old quilts and tiny print calicos." She also sees hints of her paternal grandmother come through in her work: "She was a great seamstress, who made all of her clothing and sweet dresses for me and my sisters in the 1970s. Although I didn't get into sewing until later in life, I can see the influence of this in my styles and fabric choices."
The Past Is Present
Lee's creations are evocative of a bygone era, many seem­ing to have emerged from a history book that features children of the Great Depression or the pre–World War II years. Well groomed, clean, wholesome-looking, and clad in garments that appear to be of an earlier period, the dolls are a bridge between fashions of the past and the contemporary world's fascination with ancestry and genealogy.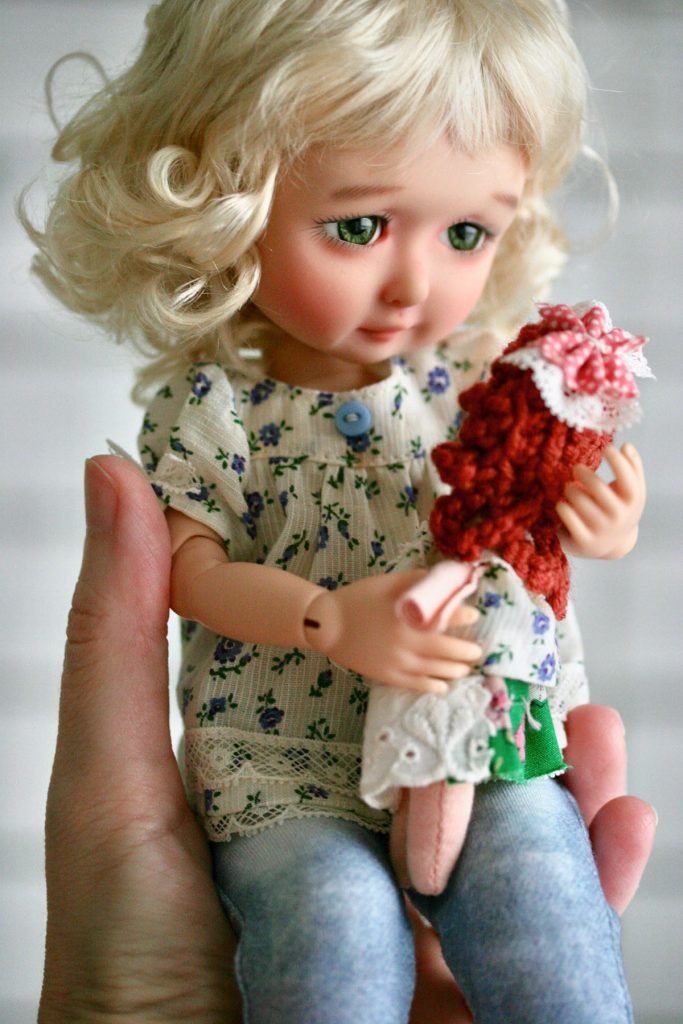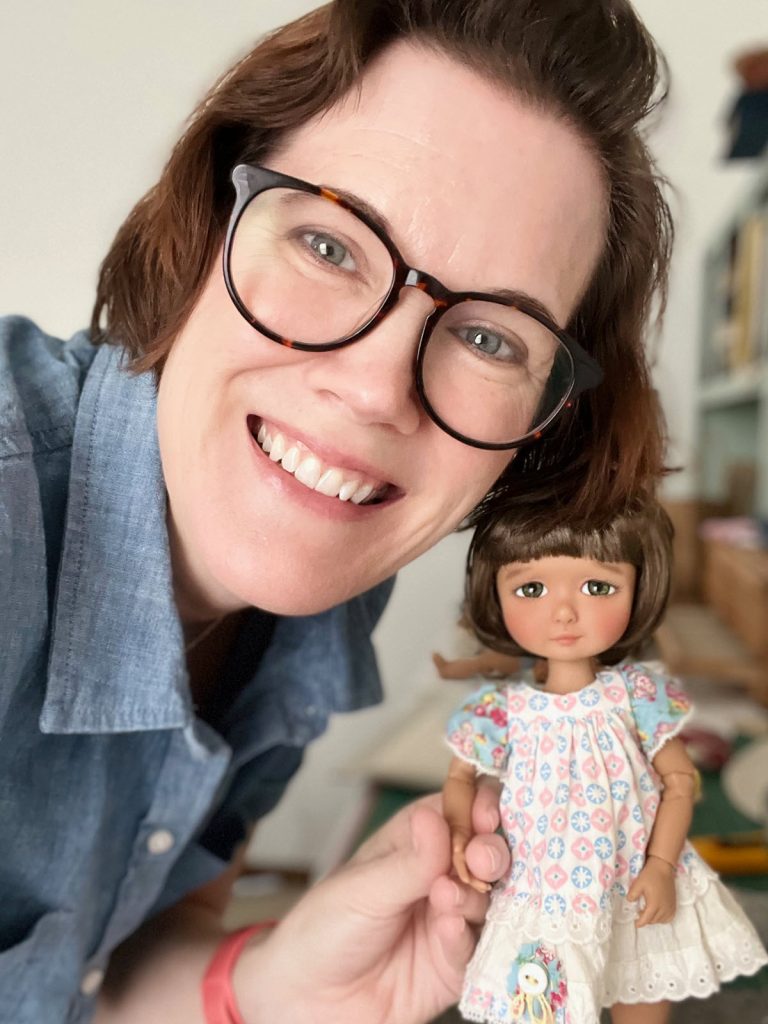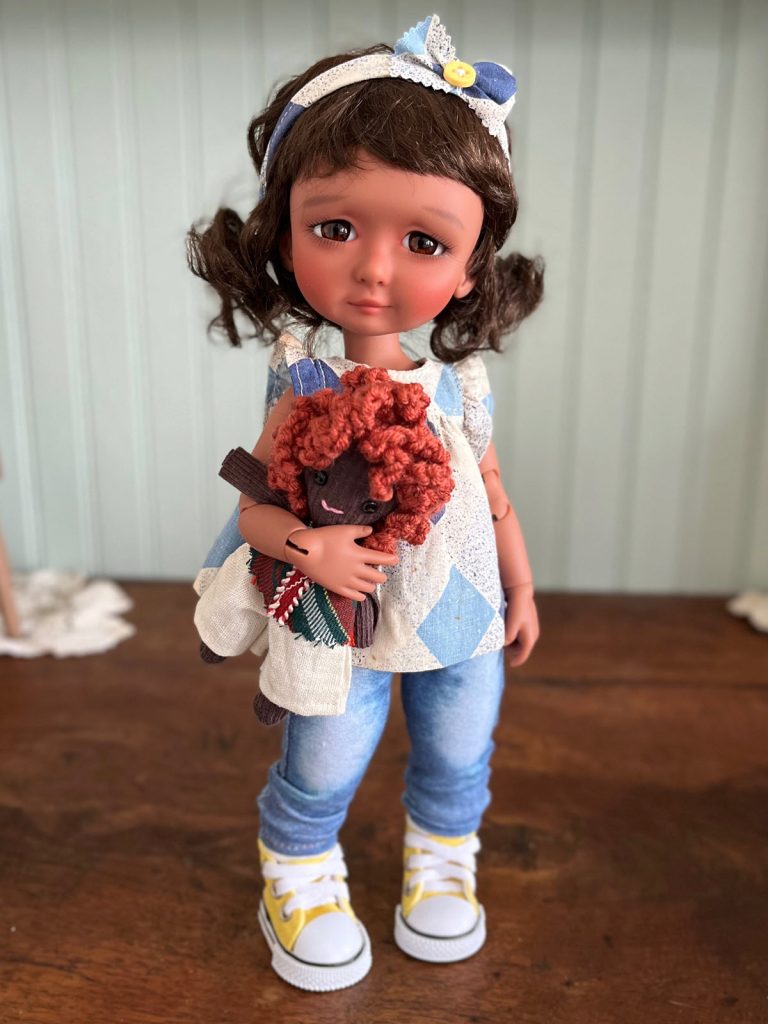 "All of my sculpts have a childlike quality and tend toward a sweet, nostalgic look. The new dolls take that even further, drawing inspiration from dolls of the past and vintage illustra­tions of children," Lee said. "I always have a certain look in mind when I start sculpting and do research to find good photo ref­erences. Once I start, though, I often find the sculpts change a lot before they are done. At some point, I have to relax control, to let the process evolve into something hopefully better than I imagined at the start."
Lee's Plum doll is the first sculpt in her Bubba line of ball-jointed dolls (BJDs). "Plum" refers to the head, while "Bubba" refers to the body. She said, "When I make new head sculpts, they will have different names and will be released on the Bub­ba body. So, when I release new clothing for the Bubba line, collectors know it will fit all of the individual dolls in that line. I have two new sculpts already in production for the Bubba line, as well as smaller versions for my renewed Charm line."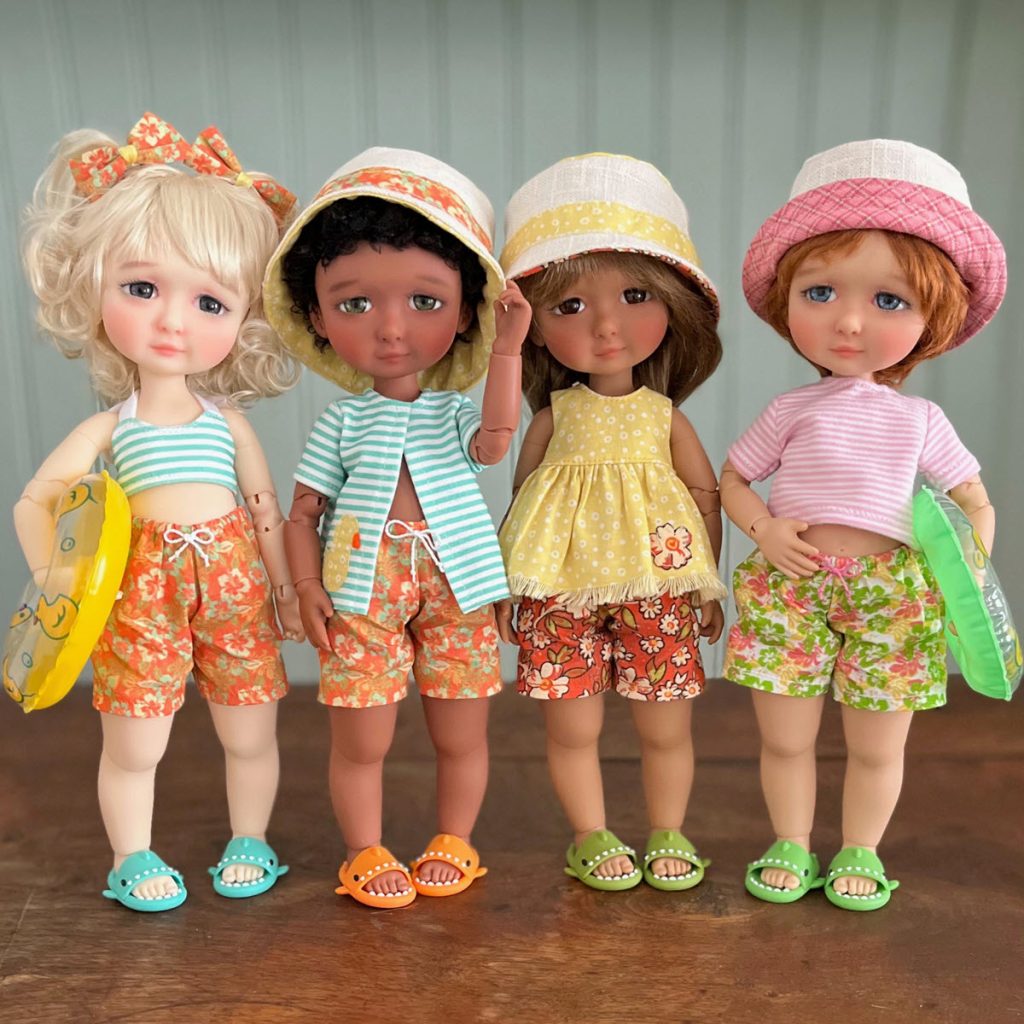 Interestingly, the artist's dolls each take on an undeniable life of their own when they leave Lee's studio and arrive at their brand-new abode — their collector's home. She said, "My dolls do have individual names based on their head sculpts, but collectors are free to change that name in their personal collection, if they wish. In fact, they often will have the dolls as twins, or they will have one as a boy and one as a girl. They change the dolls to their liking."
The current Forever Virginia collection beautifully focuses on clothing sourced from vintage doll clothes, bringing forth a message of recycling, repurposing, and rediscovering the virtues of well-crafted clothing. Lee said, "The fabrics are all unique and scarce, which also informs what I can make from them. I love the idea of using these pre-loved fabrics and giving them a new life again as a treasure in someone's collection."
Just as she does with her sculpting, Lee lets her spontaneity and her versatile inner voice guide her. She is never afraid to stray from an original first impression and finds that this freedom to follow her instincts works wonderfully well. "None of the designs have a specific plan when I start sewing, so it's always fun finishing them off with contrasting pockets or little lace and button details. I just work organically that way until I'm satisfied with the result," she said. Her improvisational abilities mean that her dolls' wardrobes are personalized and fresh, heartfelt and unique.
"I like the thought of my dolls appealing to very different people and touching their lives for different reasons. But it's def­initely the 'feel' of my styles that attracts collectors to my dolls. I'm not an artist that does lots of different styles; I have a consis­tent visual voice and that is the thread that connects," Lee said. "I think my dolls help provide a creative outlet for collectors. Even if you don't sew or create for them, you choose the dress and pose and imagine their feelings. It is a very creative hobby that I am happy to promote through my dolls."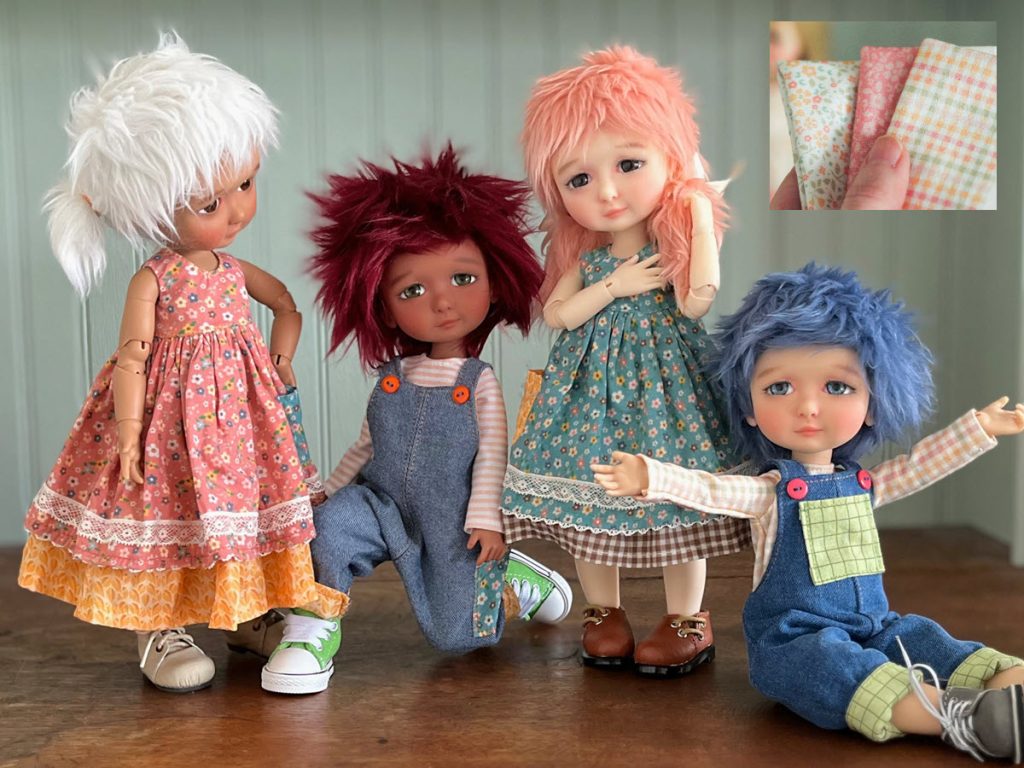 Doll Community Engagement
Visitors to Lee's website are charmed by the number of interac­tive components that populate the platform. Like a gracious host­ess inviting her friends over to sit for a spell, Lee's site offers a bevy of instructional how-to videos, along with shopping links, sewing patterns, fabric portals, and galleries of lovely doll photos and ac­cessories. Lee was a professional graphic and web designer before turning to dolls, and that talent is evident in her Forever Virginia site. "I am constantly tweaking my website and exploring different media channels to try and communicate better and bring my craft across to others," she said. "The how-to videos are for my collectors, to help them feel comfortable learning the basics of BJD care. My long-form videos offer step-by-step visuals for making my sewing patterns. In addition to these, I've started taking little videos of the dolls and making works in progress. All of these help educate my collectors and communicate better visually. I want people to be able to enjoy the dolls they purchase from me as much as possible."
One of the methods by which Lee wants to help her collec­tors feel more immersed and active in the hobby is via her Cut & Sew Dress kits. This is a very clever way for collectors who might be needle-and-thread challenged to still feel the sense of accom­plishment connected with making a dress. It is a DIY way to cre­ate a dress without having a seamstress background or any prior fashion experience.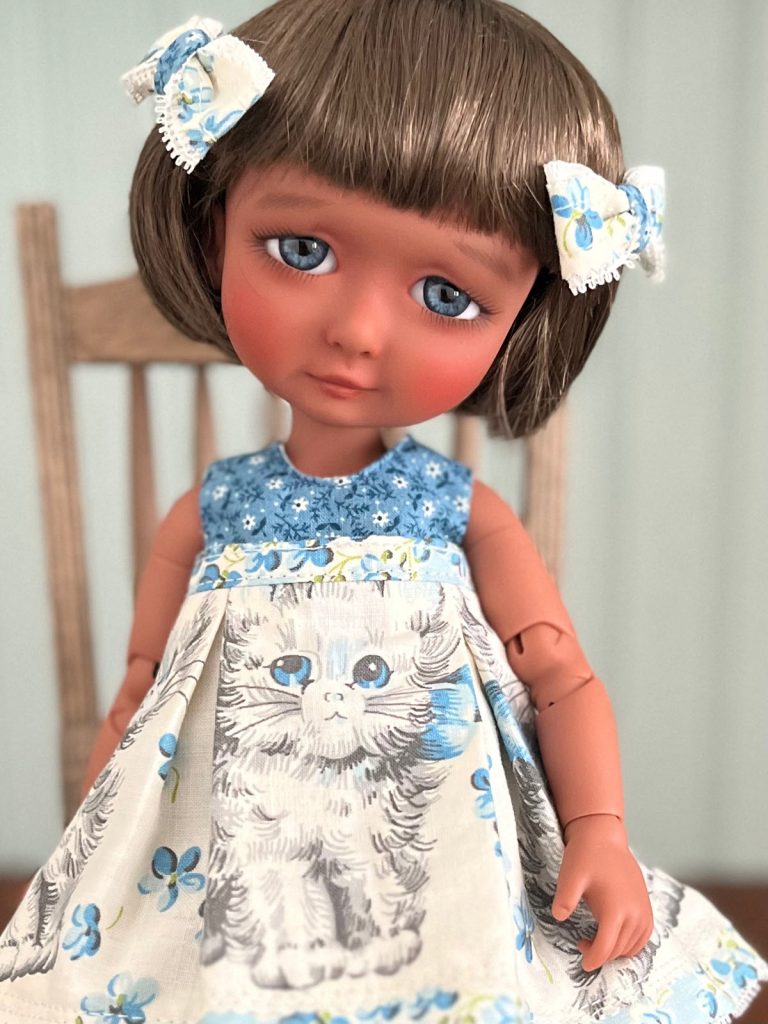 "The Cut & Sew Dress kits are very easy to assemble and are suitable for beginners. I created them to enable collectors of all skills to be able to make clothing for their dolls. There are directions and video links on my website, which explain everything, and the fabric is ordered through my Spoonflower link. Plus, I'm always available for questions if they need it!" Lee said. "Patterns can be intimidat­ing sometimes, so this makes it very straightforward. I just want my collectors to have fun with the dolls, and making something themselves and having it turn out well gives such a feeling of pride."
Garbing a BJD is one of the hobby's great pleasures. BJD col­lectors don't have their dolls sitting unattended on a shelf or kept behind a closed curio cabinet door. These dolls are designed to be handled, dressed, re-dressed, and dressed once more. That is why the fabric and sewing portions of Lee's business are so crucial and relatable. "I have created custom fabric for many years and recently renewed that aspect of my doll art," she said. "My fabrics are printed by Spoonflower, and my account there is called Tiny Fabric. For myself, I like to create doll-scale prints (especially knits) that can be harder to find on the market and combine those with vintage woven fabrics in my outfits. For other sewers, it's a fun opportunity to explore different styles they want to have for their projects, such as seasonal novelty prints at doll scale."
When all is said and done, Lee's dolls are there to provide happiness and joy, smiles and serenity. She said, "I conceived the Bubba line as a true comfort doll with a pleasing, round form and face. The name 'Bubba' can be used to describe a person you love with all of your heart. I want my Bubbas to be a special someone near to your heart that you look to when you really need comfort."