(Photo: HBO/Moxie Firecracker Films)
If I were to pick any person on the planet with whom I have a surprising number of things in common, it certainly wouldn't seem that a 92-year-old multimillionaire heiress, New York City socialite, and world-famous fashion designer would top the list. However, if the nonagenarian in question is Gloria Vanderbilt, then I would have to say, "Yep, it's extremely odd, but true." In fact, for all of us doll devotees at "The Doll Chronicles," we all have much in our personal lives that corresponds with Ms. Vanderbilt's public and private obsession with dolls.
For the next few weeks on HBO, and longer on HBO GO (the streaming service), a fascinating film about GV and her son, news anchor Anderson Cooper, is playing. The documentary, "Nothing Left Unsaid," is an extended conversation between these two very well-known figures. What's so intriguing about the dialogue is that we, the viewers, and son Anderson get a glimpse into Gloria's turbulent past as she lets bombshells drop with a laissez-faire, off-handed aplomb. An extremely funny moment occurs when she ruminates about her first marriage as a young teen to Pasquale (Pat) di Cicco. Anderson mentions that di Cicco was always described in newspaper accounts as a talent agent, and he asks if that occupation was true.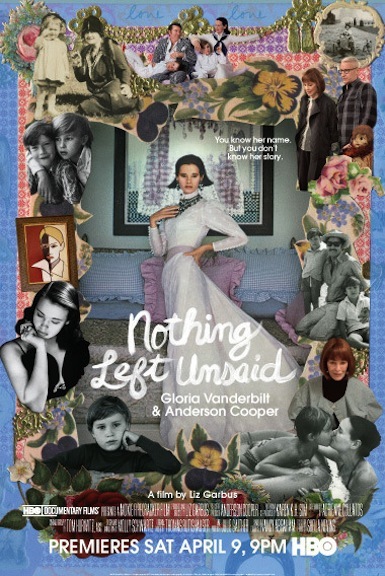 (Photo: HBO/Moxie Firecracker Films)
Without missing a beat, and not even blinking, Gloria answers: "Well, he was in the business, sort of. He was married to Thelma Todd, an actress from a long time ago, who — how can I put it — died under mysterious circumstances … You know, people seemed to suggest that he had something to do with it."
Anderson is visibly shocked as he manages to stammer: "And m-marrying someone who was accused of killing his wife — that didn't give you pause?"
"No," his mom replies. "I thought he was just waiting for someone like me and then everything would be okay." Seeing Anderson's raised eyebrow, GV declares: "I was 17, for Godsakes!"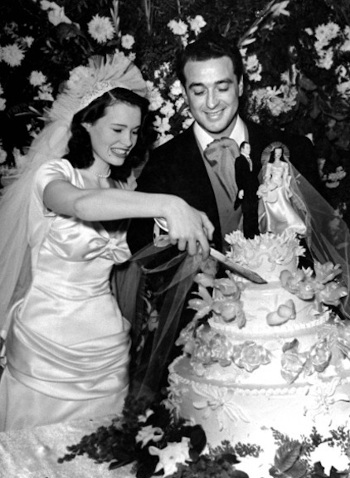 (Photo: HBO/Moxie Firecracker Films)
That marriage didn't sit well with young Gloria. She admits that she walked down the aisle with the older gentleman (about 15 years her senior) in order to attain independence from her paternal aunt, who was her court-appointed stern guardian, and her disinterested, aloof mother. Gloria explains how di Cicco had a bad temper and humiliated and abused her. She tells about going to her family doctor as a young woman of 20 with an enormous black eye, lying about how she got the shiner: "I fell on something," she fibbed.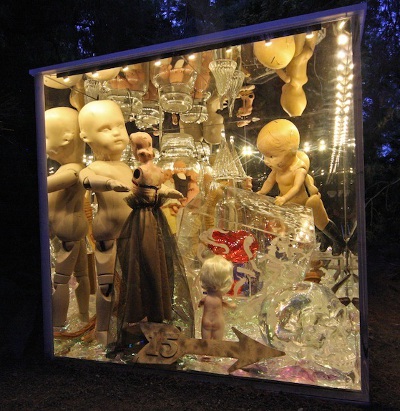 ("Hearts Desire," large scale version of dream box, Courtesy of Grounds for Sculpture)
That memory of being beaten and belittled has informed many of her life's choices, and so has her triumph over adversity and her shattering of expectations that were always set too low for her. Her firm belief that she possesses a "diamond-hard heart that can't be shattered" has colored much of her artwork, which includes dream boxes, collages, dollhouses, and dolls. These outlets re-invent the facts of her life and re-interpret them as controllable fiction. Like Gloria says at the start of the sit-down interview with her son, quoting from William Faulkner, "The past is never dead. It's not even past."
Being able to cite extremely insightful phrases from Faulkner, Gloria proves that she is much more than a debutante who grew up in front of the cameras. She is a woman of intellect and ingenuity. In fact, in 1968, LIFE magazine dubbed her "a feminine version of the Renaissance Man."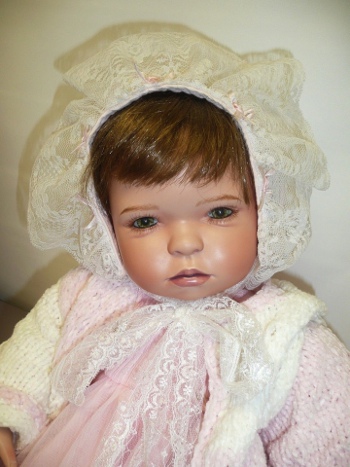 (Photo: Gloria Vanderbilt Archives)
I know that's definitely true because I had the chance to meet and interview Gloria Vanderbilt several times in the late 1990s about her Danbury Mint and MasterPiece partnerships. She was actively involved in promoting different lines of dolls based on childhood photos and memories from her days as a "pampered uptown princess." She also loaned her name and likeness to a series of dolls that chronicled her fashion achievements (she is credited with launching the designer jeans craze). Her opulent childhood — she was born in 1924– corresponded with the nation's economic decline as the Great Depression sparked and raged on, restricting salaries, destroying industries, evaporating jobs, and wiping out stock portfolios.
Not really touched by the national strife, young Gloria was the heir to the Vanderbilt fortune, which amounted to millions and millions of dollars. (This was at a time when many U.S. families were living on $15 to $20 a month.) Gloria's heartache unfolded as newspapers trumpeted unemployment and social upheaval. Soon her family's dysfunction would be joining the banner headlines, chronicling her personal sadness and loneliness as EXTRA! EXTRA! Sensational News. Due to her mother's neglectful ways (hobnobbing and gadding about all over Europe) and her aunt's determination to keep Gloria at home in America, raised as an American girl, the two women butted heads in the "trial of the century." They squared off to gain custody of the "poor little rich girl." From 1934 through 1936, legal documents were filed; testimony was heard; and a judge had to make a Solomon-esque decision. The court ruled that Gloria was to be raised by her aunt, Gertrude Vanderbilt Whitney, and her mother (Gloria Morgan Vanderbilt) could have visitation rights.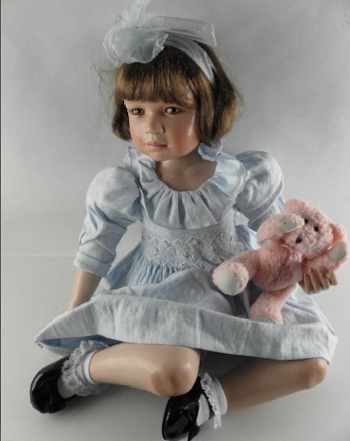 (Photo: Gloria Vanderbilt Archives)
Having one's internal anxieties played out before a country's curious gaze — early forerunners of the paparazzi swarmed outside the courthouse to catch even a momentary glimpse of her — made Gloria into a very interesting young lady. She blossomed into both a shy, retiring girl AND a young woman who gravitated to the spotlight for attention and validation. It also emphasized and solidified her connection to dolls. Gifted with artistic ability — her aunt Gertrude was the founder of the Whitney Museum — Gloria had spent hours and hours drawing portraits of the people who surrounded her. Once she had their images perfected, she was able to cut them out and turn them into paper dolls. At that point she made a connection about dolls that informs her work to this day: "We project onto them our hopes and dreams. In a doll, we have proof of an ideal made tangible. To possess a doll reaffirms our own feelings of self-esteem. We may add to our collection of dolls as our feelings about beauty and style develop, but the dolls we already have remain constant and unchanging, forever enchanting."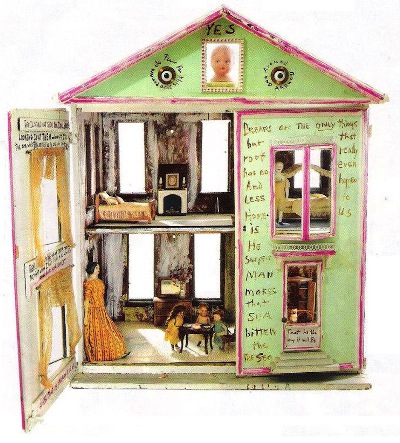 (Photo: Town and Country magazine)
While 10-year-old Gloria's world was turned upside down by the lawsuit, her paper dolls remained as she wanted to see them, doing exactly what she wanted them to do. She was able to control where they went, what they wore, and what they did. As she became a pawn in a custody battle, she exerted her control over the world she could manage and manipulate — her dolls and their dollhouse.
One of the times I met Gloria Vanderbilt was for an interview for a book I was writing about famous dollhouses throughout the ages. She was restoring her dollhouse from her childhood and didn't know what she was going to ultimately furnish it with or change it into. Just as she had assumed many incarnations throughout her life — wife, actress, model, artist, businesswoman, doll designer, author — she knew that her dollhouse could become anything her mind envisioned. It didn't have to be mired in reality; rather, it could evolve into a symbol of her hopes and dreams. That's one of the essential parts of the documentary, when she speaks with her son about the tales we tell ourselves about our pasts — some are memories of what actually did occur, and often others are wishes masked as reminiscence. If we tell ourselves a story often enough, we do begin to believe it's true.
Married four times, Gloria had two sets of two sons with two of her husbands. (Her estranged mother, with whom she made up as an adult, but still felt stiff and restrained toward, commented about the number of boys: "Gloria, you're starting your own baseball team!") The first two boys, Stan and Chris, were born to her union with "genius" conductor Leopold Stokowski (Anderson Cooper says he knew him as "the man who shakes hands with Mickey Mouse in 'Fantasia"") and her last two boys, Carter and Anderson, were born during her fourth, and final, marriage, with actor-author Wyatt Cooper. Gloria described her fourth marriage as her happiest time, when she seemed to finally find what she had been searching for. Her husband, Wyatt, died in 1978 after 15 years of wedded bliss. Her sons with Cooper were 12 and 10, respectively.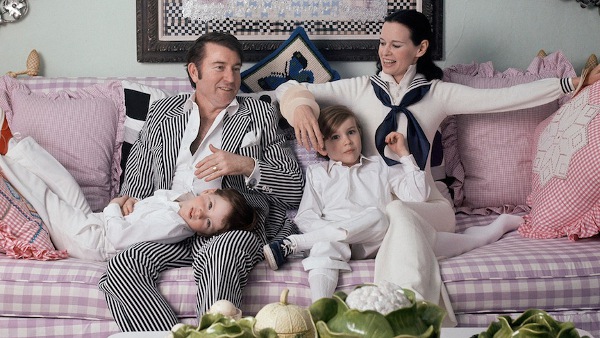 (Photo: HBO/Moxie Firecracker Films)
Sadly, Anderson Cooper's older brother, Carter, committed suicide on July 22, 1988, in front of his mother. He jumped off the ledge of the family's terrace apartment and was killed. Gloria doesn't acknowledge it as a suicide and says that he fell off the balcony, or that he climbed over the rail, held on, and then let go. It was interesting to see how Anderson Cooper could compartmentalize his grief and talk about how an "impulsive action can be a suicide; it doesn't mean there had to be planning or forethought."
Again, the doll collages and doll dream boxes that GV creates have helped her to come to grips with the tragedies that have befallen her. They have given her a release for her thoughts and memories, tales and truths, lies and experiences. The dolls have given her a purpose: "Memory is a driving influence, memories I absorb and reinvent to changing effect because I have changed, but do not want to let them go. Color, too, intoxicates, inspires, so does the beauty of a person, who has something I can't quite catch. They become muses, which I become obsessed to define, reveal something of their mystery."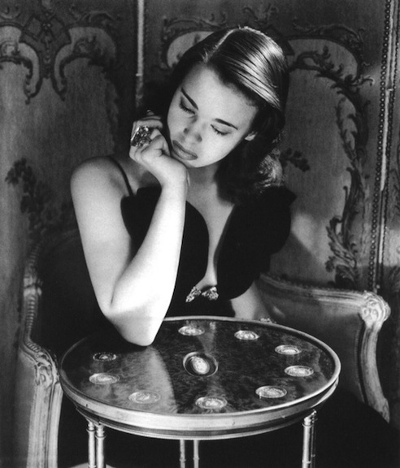 (Photo: CNN)
When Anderson Cooper is asked by the filmmakers to explain the fabled "faraway look," which always seems to define his mother's eyes, he is noticeably at a loss for words. He simply acknowledges that it is "sadness" and perhaps that is what has fueled much of her work and her decisions. He felt her sadness early on in his own childhood and pledged to "take care of her from the time I was about 10 years old."
This HBO documentary that mines the loves and losses that haunt and strengthen a bond between wife and husband, child and caretaker, mother and son, is a compelling and intoxicating Mother's Day treat.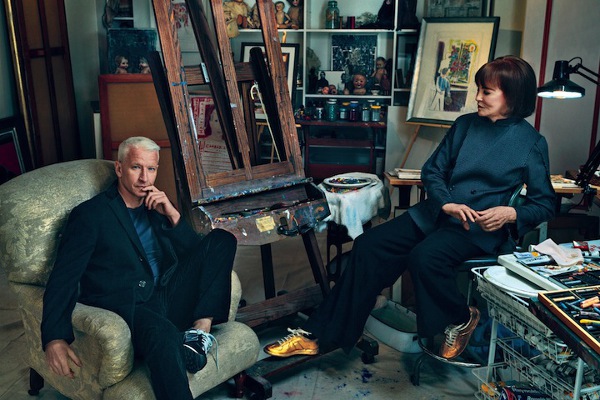 (Photo: CNN)