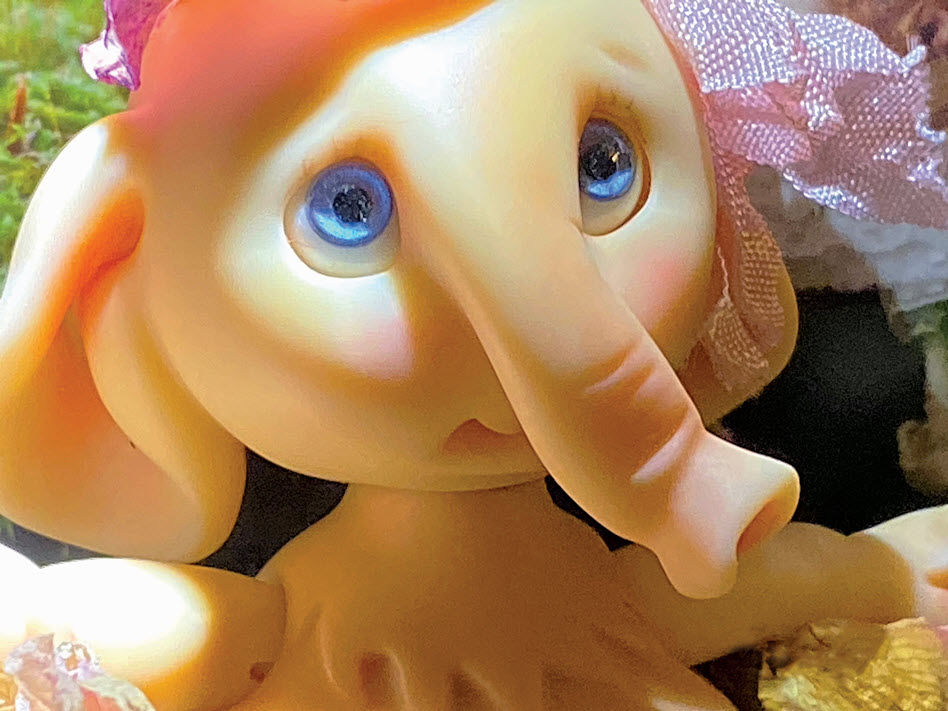 It can be hard to find a tribe — or a flock — to call one's own. That is why Rose Lacefield and her "Flocklings" are such a rare and wondrous achievement. This talented, creative doll artist lives with her ever-expanding family and critters in Washington state. Her gaggle of kids, grandkids, pets, and barnyard denizens provide her with joy, entertainment, and inspiration. She calls this group her Flocklings, and they resonate across her daily activities and within her sought-after ball-jointed doll (BJD) characters.
"If I had to describe my dolls to someone who was unfamiliar with them, I'd use the terms: happiness, smiles, storytelling, family, love, hardworking, and friendship. These are all words from the Flocklings to describe our dolls," Lacefield said. "We also like to say they are marvelous flights of imagination and they get into adventures."
Lacefield and her husband, Gary, preside over a tight-knit flock of 11 children and 17 grandchildren. All of her children are "much loved and adored," and they've all traveled unique paths in joining the Lacefield home. The origin of this deeply connected family is akin to a sweeping epic fairy tale.
"Years ago, my sister, out of the blue, called and urgently said three little native boys needed a home — and fast! They were found abandoned in a hut in the woods. No one was willing to take in three young boys, so they were going to be split up. To make a long story short, my husband and I said yes, and our path instantly turned a hard right. And we have never looked back," Lacefield said. "Six more babies in similar condition were sovereignly brought to us over the next 12 years. Our nuclear family was complete!"
Having the strength to take on a formidable challenge is part of Lacefield's makeup. She listens to her instincts, and her inner voice often advises her to fearlessly tread the path less taken. This acceptance of events unfolding in a mysterious way occurred when her 10-year career at a papermill's personnel office came to an abrupt end.
One night, her love of sculpting became more than just a fond memory. "In a quiet moment, in a night of comforting crying babies, I happened to discover Camille Allen's perfect little polymer-clay babies on the computer. Something instantaneously turned on inside me. That night, I searched until I found my son's eraser clay and sculpted the first (primitive) baby with it. From that day on, dollmaking became my passion.
"It dawned on me that the doll magazine article was actually a prophetic word from God. He had this all splendidly planned out, and it happened in His perfect timing. He had planted a seed and now it was beautifully beginning to bloom," she said. Mirroring this heartfelt belief that everything happens for a reason, the artist pointed out her own surname. "The name Lacefield perfectly fits our flavor of life. In the summer, we actually do have a lacy field of chamomile and daisies. It is amazing."
Her family works alongside her on their farm, where they commune with nature and with their own impish, mischievous natures, too. They also assist Lacefield with her doll requirements. "The Flocklings have become an important part of the dollmaking process. Each one involved earns a paycheck for doing so.
"Hali, #1 Elf, is my right hand. She helps with shipping and the sewing of preorder undies. We can't bear to send a bare doll out into the world! Shay, the 'real' Jemima, places the dolls in their wraps and ties the ribbons around them. Justice decorates the face masks. Two granddaughters, Abby and Evie, are learning to take photographs and stop-motion for posting. A third granddaughter, Kaiya, is carefully blushing the bodies. The boys sometimes help drive and deliver the boxes to the post office — no paycheck, though. They prefer a coffee and ice cream stop!"
Collectors around the world respond to Lacefield's handiwork. Her dolls, which truly embody childhood innocence, magical escapism, otherworldly sprites, and the long-lasting bonds of friendship, charm fans globally. Her dolls might represent different species, different skin hues, different personalities, but they are all tied together through Lacefield's sculpting and storytelling. Her dolls are ambassadors of goodwill and good intentions.
"We consider our collectors to be an extension of our family. I share their comments with the family and their requests for prayers. Treasure boxes full of goodies arrive for the Flockling from our collector friends living all over the world," Lacefield said. In turn, the artist delights in being able to surprise a person with the unexpected gift of one of her creations. "I have had opportunities to do this for individuals who especially needed a gentle break from their problems in life. What better gift than a doll to bring cheer! God graciously did that for me, and it's now my turn, as a dollmaker, to do that for someone else. It just doesn't get any better than this."
Find out more at www.bbflockling.com.