(Sybil Crawley from "Downton Abbey" as a fierce feminist.)
Photos Courtesy of Kyle Hilton
Among my favorite toys as a child were my paper dolls. I know that in this modern age of interactive devices and virtual-reality glasses, admitting to a penchant for paper dolls makes you a throwback to antiqued, more genteel times. I'm sure there are folks who imagine I must be as old as Methuselah and most likely hitched a ride with Fred Flintstone to the one-room schoolhouse. ("Move over, Pebbles, I've got to squeeze in beside Bamm-Bamm! Today we're going to invent the wheel!")
No, I'm not THAT ancient, but I did, indeed, love all the different paper doll books that I would buy or visiting family friends would bring my way. I was known to be a doll lover as a little kid and also a bookworm, so paper-doll books were a perfect marriage of both. I ended up accumulating a lot!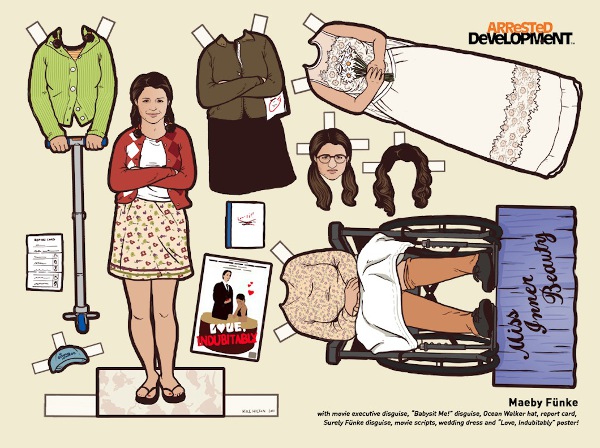 ("Arrested Development" gets the Hilton paper-doll treatment.)
That's one of the reasons why I love the work of artist-illustrator Kyle Hilton. A onetime designer for Grin Designs, a provider of packaging and ideas for toys and home goods, Hilton has been an active and hands-on participant in the world of making-believe-meets-manufacturing. I've had the chance to interview him on a few occasions, and his work is a hybrid of all the things that I most enjoyed as a juvenile and as a grown-up pop-culture fanatic. Kyle has made a name for himself as an artist who translates iconic TV, movie, and literary characters into dressable, downloadable paper dolls!
It's the best of both worlds: Kyle draws amazing replicas of recognizable people — surrounded by their familiar hairstyles, wardrobe choices, accessories, and achievements — and posts them to the Internet, inviting curiosity seekers to print them out and cut away! It was this artistic avocation — a pastime to fill his downtime — that led to his discovery.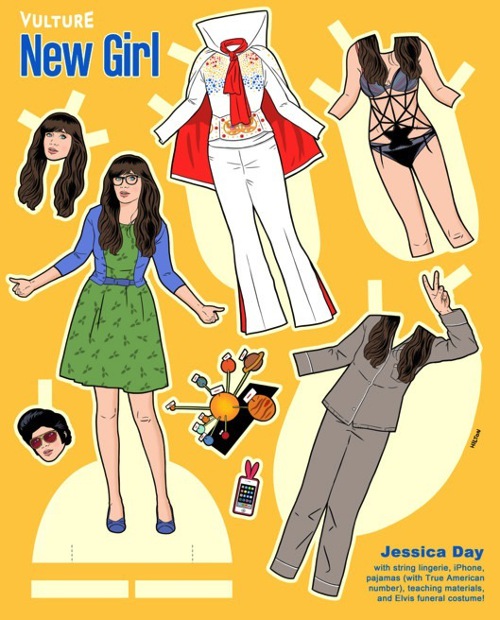 (Zooey Deschanel's Jess character is turned into a "living" doll.)
"I had been posting a series of illustrations on my blog of different characters I liked from television and film as paper dolls, and a few of them made their way to some popular blogs and got circulated around the Web a little more widely than I expected. One caught the eye of a writer at Vulture.com, which is New York Magazine's website covering pop-culture news, and I was hired to do some similar paper doll–style drawings of the characters on 'Downton Abbey' for Vulture specifically. That was the real turning point in illustrating becoming a steady job for myself," Kyle shared with me.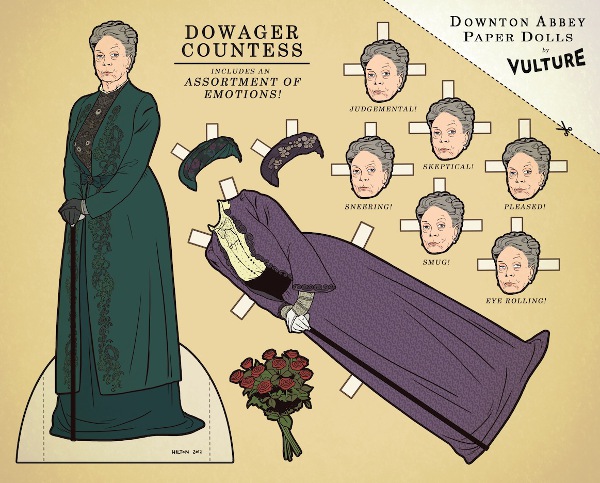 (The Dowager Countess of "Downton Abbey" brought Kyle great acclaim.)
"These 'Downton Abbey' dolls got a lot of great feedback and hits online, and ultimately ended up getting a small mention in the New York Times Art Section, which then led to getting to do some small portrait work for the New York Times Magazine," he recounted. "From there, I've been really humbled by the kinds of magazines and art directors I've gotten to work for, and it's just become a process of slowly improving my portfolio one job at a time, and then jobs opening up doors for other jobs. And somehow, now [seven] years has gone by and I am thankful every month I haven't had to get a 'real' job quite yet. (Maybe next year, we'll see!)"
Kyle's characters never descend into becoming caricatures. They straddle the line between realistic portraits and fanciful homages. There is a lot of truth, meticulous detailing, and spot-on mirroring found in his creations. This doesn't happen by chance; Hilton is a devoted researcher and perfectionist.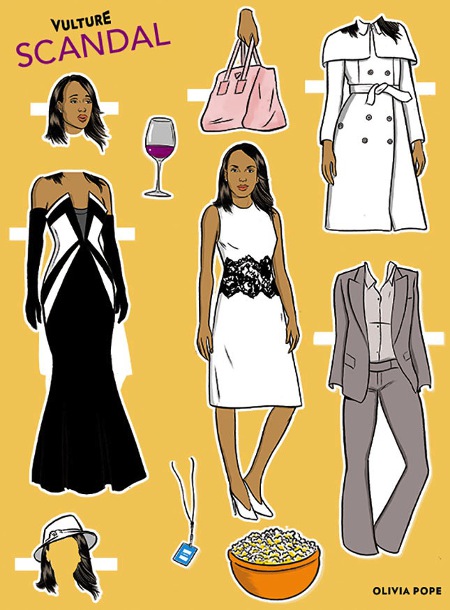 (Olivia Pope, the fashionable fixer on "Scandal," gets converted into a paper doll.)
"On the art and literary history dolls, we tried to present the figures in their most recognizable way, so a lot of the information and accessories are based on well-known facts. But there's still a lot of research into more obscure facts about them, in addition to a lot of research on their actual clothing and accessories, which is the 'funnest' part to me," he explained. "We have a doll of Emily Dickinson that comes with pieces of furniture from her room, which fortunately there's a lot of great photo evidence of, so all her accessories are as accurate as possible."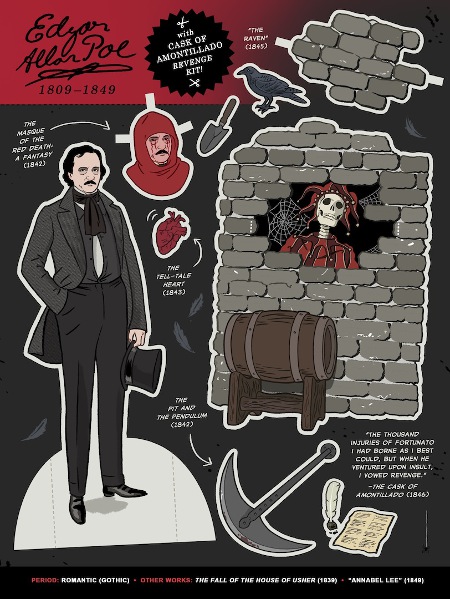 (Edgar Allan Poe as a literary paper doll)
Another challenge for Kyle, when he was hired to do a historical literary figure, was making the individual's face recognizable but also a tad more attractive than it might have been in reality. He had this drawing dilemma when he was tapped to do Edgar Allan Poe: "The poses and 'personality' of the illustration is definitely taken with creative liberty. Poe is not the most pleasant-looking person in photographs — or in real life, I imagine — so there's a fun dance of trying to make him accurate, but also kind of 'alive' in a fun way for the Chronicle book."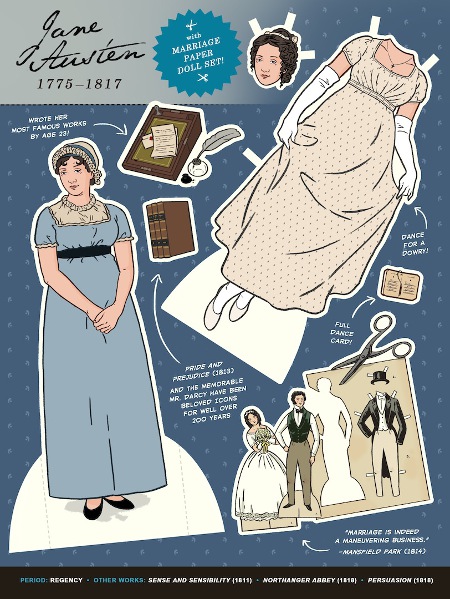 (It makes sense – and sensibility – to turn Jane Austen into a paper doll.)
The Chronicle publisher scouted Hilton to do a variety of art and literary paper-doll books for them. He had a field-day capturing the likenesses of such well-known painters as Henri de Toulouse-Lautrec and Jackson Pollock. For Toulouse-Lautrec, the paper doll is accompanied by a bottle of absinthe and a can-can dancer's shapely leg! Pollock, too, is paired with a bottle of booze (which proved to be his downfall) and cans of drip-coated paint.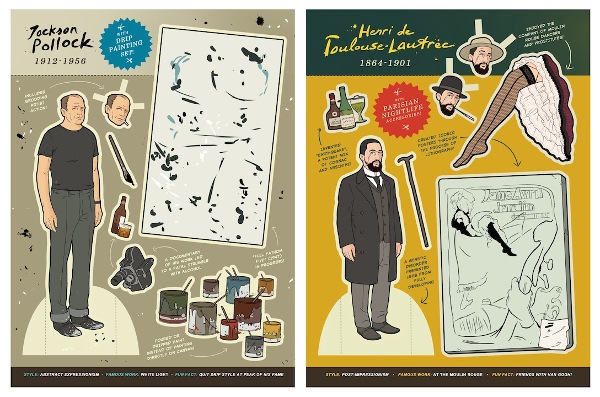 (Pollock and Toulouse-Lautrec surrounded by their successes and downfalls)
Still, it is his unique take on celebrityhood that most defines his portfolio and has elevated him to a go-to visual commentator. "A lot of the conceptual, imaginative stuff I get to do is for magazines that cover entertainment news, so there's always a fun challenge of making something stylish and imaginative, while still making sure a likeness comes through on a celebrity or popular figure," he admits. "I have to remember to be more active and keep my blog current with new work these days, for it's easy to get lazy and forget how important it is to keep putting stuff out there. Blogging on places like Tumblr has created more opportunities for me than anything else."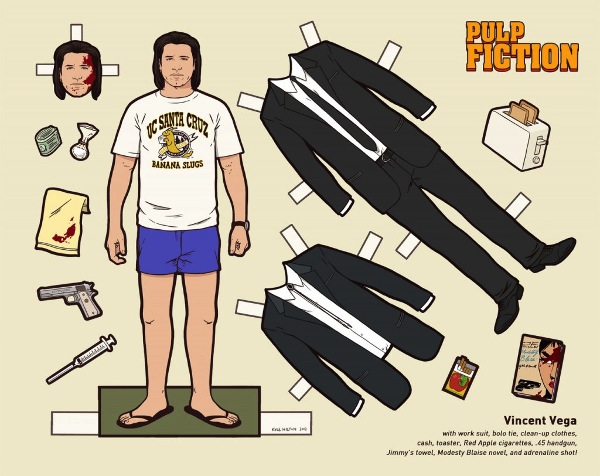 (John Travolta's comeback role as Vincent Vega)
A lover of comic books, movies, music, and TV programming, Kyle Hilton has found his ideal niche. He's been able to merge his college major at the University of Southern Mississippi with a profitable, flourishing career. It is a feat that he appreciates, and does not take for granted.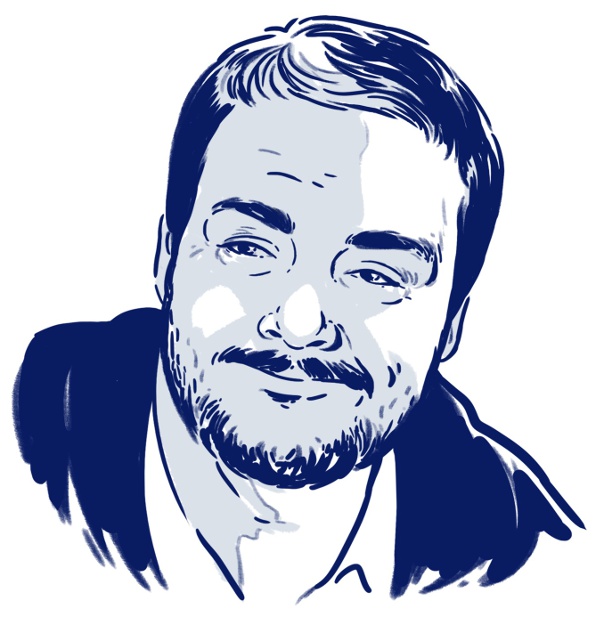 (Kyle Hilton's self-portrait)
After all these years as an illustrator/chronicler of hit TV shows and onetime-wonder blunders, he still adores what he does: "When I have a free afternoon, and the TV is right there in the other room, I find myself drawn to it. I can't help myself. I love to watch it, and I can always say that 'binge watching' is preparation for an upcoming project!"