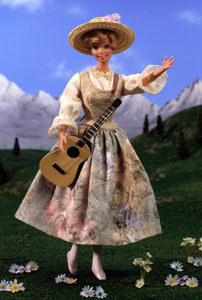 In 1995, for the 30th anniversary of the movie, Mattel unveiled the "Sound of Music" Maria doll. Barbie had tough shoes to fill in the role of the beloved governess.
Sound of Music Dolls
Well, I can't imagine that Twitter is one of Carrie Underwood's favorite things these days. After (and even during) her musical acting debut in NBC's presentation of "The Sound of Music," on December 5, the Internet chat sites were alive with the sound of snarking. People everywhere got into the act of condemning Ms. Underwood's performance, pointing out that her range was nonexistent and her acting chops were not fine-tuned in the least.
Sadly, many of these cyber snipers had made up their minds to take out the long knives even before Underwood began her attempt to scale that epic Rodgers and Hammerstein score. She could have climbed to the very pinnacle of operatic perfection, and still she would have been slammed. Truth be told, the film version is so beloved that Carrie and her co-stars were fighting a losing battle from the very beginning.
Carrie Underwood is no Julie Andrews. There, I said it. She doesn't look like Julie; she doesn't sing like Julie; she doesn't act like Julie. She's NOT Julie Andrews. And that was the prime factor for all the people who shot out snide and demeaning tweets.
As a country performer, a pop singer, and a reality-TV show sensation (she won "American Idol," after all), Carrie Underwood is tops. She has critical and peer acclaim. Plus, her record and iTunes sales show that she must connect with the public; she just didn't in this particular incarnation. In fact, despite her delicate, doll-like charm, I don't believe we'll be seeing a line of "Sound of Music Live" dolls anytime soon. Maybe some very talented repaint artist will tackle the new versions of the von Trapp family, but I don't think the American viewing public will be clamoring for a tiny Carrie to carry and call their own!
Over the weekend, when the postmortem on the live experiment was being fully indulged, Underwood released a very brief statement. To paraphrase, she tweeted that the "mean people" need to "find Jesus."
I'm not a theologian, and who knows how many folks were religious or non-religious during the WWW pile-on. I don't think it was a matter of finding the Lord or any personal savior; I think it was more the chance to take potshots at someone and something that was different. Plus, let's face it, an untrained actress has a pretty big nun's habit to fill when she is following in the wake of Julie Andrews.
This holiday season really is a tribute to the enduring personality of the British songbird. Julie Andrews was born in England in October 1935. She's been a star in London since the age of 13 and gained prominence "across the pond" on the eve of her 19th birthday when she made her Broadway debut in "The Boy Friend."
Andrews assumed the leading roles of so many theatrically mesmerizing characters. She was the original Eliza Doolittle in "My Fair Lady," Guenevere in "Camelot," and both Victor and Victoria in "Victor/Victoria." Despite all her rave reviews and box office success on Broadway, she never snagged a Tony Award. She always received a nomination but never the trophy. That's quite unbelievable.
On television—in a live 1957 broadcast that predates Carrie's attempt by 56 years—Julie was the fairy-tale heroine in Rodgers and Hammerstein's "Cinderella." Her tour-de-force emoting was watched by 107 million viewers! ("Sound of Music Live" tallied about 12 million folks tuning in.) But she probably cemented her reputation with her roles as two very different nannies: Mary Poppins and Maria. Mary Poppins is sweet but stern, seemingly all business but secretly all about overturning business and its grasp on people's better natures. Maria, on the other hand, is good-natured, good-hearted, and selfless. Devoted to her faith, but then meeting a man and his family that move her unexpectedly, she learns that service to God can be done through everyday, familial actions (and fighting the Nazis, to boot)!
Folks have become so adamant and vocal with their reactions to the NBC outing that the original Julie Andrews vehicle is gaining sales once more as a DVD and as a video download.
The Andrews express is bound to pick up even more steam with the limited release this week (December 13) of "Saving Mr. Banks," which examines the all-out maneuvers Walt Disney had to perform to convince author P. L. Travers to permit her fictional creation Mary Poppins to become a Disney production.
Throughout the "warmedy" (it is comedic and heartwarming, and also a little cynical), the specters of Julie Andrews and Dick Van Dyke fly high. On December 20, the film will go into wide release, ushering in memories for movie-goers of just how "practically perfect" Andrews was in her Poppins performance.
Sound of Music Dolls Through the Years
Throughout her long, illustrious career, Julie Andrews has been a muse for doll artists and manufacturers alike. Her iconic roles have been immortalized in doll form by many of the leading talents in the doll world: Madame Alexander, Mattel, and Robert Tonner.
What's fascinating is that her cinematic success was not a sure thing. Her legendary performance as Eliza in "My Fair Lady" is the stuff of folklore—people who saw her in that role say they got goose bumps and chills up and down their spines. Yet, when Jack Warner bought the rights and decided to make it into a big Hollywood movie, he cast Audrey Hepburn—a non-singer—in the highly demanding role.
Dubbed by a ghost singer—the talented Marni Nixon—Audrey might have looked the part, but she wasn't anything like the way Julie played it onstage. This was 50 years ago, so there was no Twitter, Facebook, or Instagram. Critics took to the daily papers to voice their displeasure with Audrey Hepburn as Eliza. They all pointed out: "Audrey Hepburn is no Julie Andrews."
That same year, 1964, Julie made her big-screen debut in "Mary Poppins" and she won award after award after award. In fact, when she got the Golden Globe for Best Actress in a musical comedy for Poppins, she gave a sweet and beautifully composted acceptance speech. Then, at the conclusion of her thank-yous, she deadpanned: "And, finally, my thanks to a man who made a wonderful movie and who made all this possible in the first place, Mr. Jack Warner."
So, for her versatility and her veracity, this month is dedicated to Dame Julie Andrews, Order of the British Empire, who has delighted international audiences for nearly 60 years. If you're lucky enough to own one of her doll likenesses, take it out of its box or remove it from its curio cabinet positions. Bring it into your family room or living room and place it amid the holiday décor.
With her onetime thrilling soprano, which defied logic, Julie Andrews is as synonymous with Christmas merriment and holiday happiness as Santa, snow, whiskers on kittens, bright copper kettles, and warm woolen mittens.
Her career is one of our favorite things. And this slideshow features our favorite Sound of Music dolls.